Last year, as the director of the district telecommunications branch, with a salary of 20 million VND/month, Mr. Bien suddenly applied for leave to start a business at the age of 50.($1=24,000 VND)
In the morning of February, early in the morning in Ca Mau, Mr. Pham Van Bien drove straight to take his 5th-grade son to school, went to a restaurant for breakfast and coffee, and then returned to a 1,200m2 hydroponic vegetable farm in An commune. Xuyen, Ca Mau City.
"After the stressful beginning days, now I'm slowly enjoying the results," he said.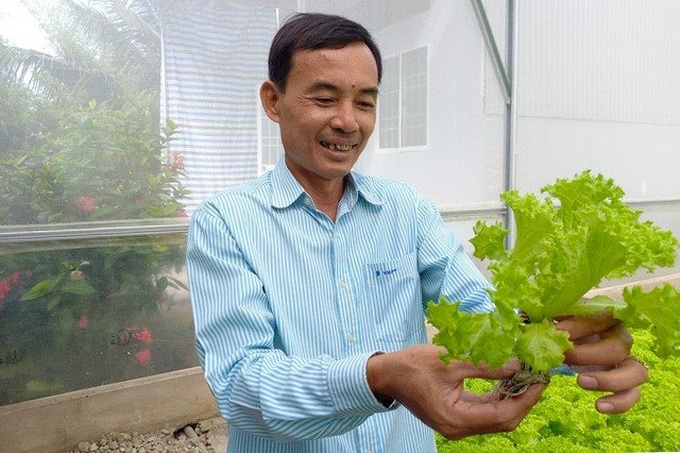 Mr. Bien harvests hydroponic vegetables (Photo: Provided by the character).
Starting a business at the age of 50
The older he gets, the more he wants to balance work and life. Having elderly parents, young children often have to pick up and drop off, his wife is busy with business, Mr. Bien thinks it's time to spend more time with his family.
Seven years ago, he rekindled his dream of growing hydroponic vegetables while on a business trip to Dalat. The characteristic of hydroponic vegetables is that growers use water pumps and water coolers that work throughout to provide clean water for each root set of vegetable pots through water pipes.
With that method, growers do not use much fertilizer, but only need to add trace minerals and macronutrients through the water system. Grown in a greenhouse, plants are not affected by abnormal weather changes, and at the same time control diseases. Insects also cannot penetrate, so growers do not need pesticides.
"There, vegetables are green, clean, and very popular, but in my hometown, I don't have this model," recalls Mr. Bien, a master of Business Administration.
After that, he often visited hydroponic vegetable farms in Da Lat, Ho Chi Minh City to learn experience, read more books. In his head, he outlined a plan: budgeting capital, hiring workers, finding outputs and mastering planting techniques.
When he felt ready, Mr. Bien applied for leave to the surprise of the company's director. "He told me to think again, and I said I'd thought about it," he said.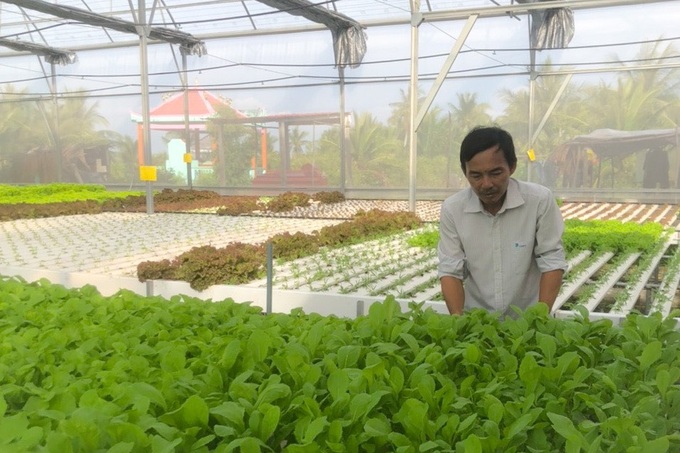 The vegetable garden gives Mr. Bien an income of 100 million VND/month (Photo: provided by the character).
Kieu Anh, 25 years old, his daughter Bien was also surprised by her father's decision. "Three strives all their life to get that position, the income level also helps to stabilize the family life. I thought he would keep doing that job until he was old," she said. The eldest daughter wondered, the father laughed and said: "I've been doing the same job for decades, if it doesn't change, when will I know".
The only person who knew and supported his decision at that time was his wife. The couple invested 2 billion VND, of which half borrowed from the bank for Mr. Bien to do business.
The family's 1,200m2 large fruit garden, 11km from the house, was cut down by the owner and replaced by a hydroponic vegetable growing system, greenhouse. Four times a day, Mr. Bien ran back and forth. "Before my father only went out in the morning, came back at night, the desk job was leisurely, now naturally it has to be dirty and hard. I didn't dare to tell him, but sighed to my husband, 'I don't know if I did it right or wrong'" Kieu Anh recalls the early days.
Pressure to create value
Although carefully calculated, at the first planting, Mr. Bien lost income. More than 2 tons of vegetables to the day of harvest partially have root rot. The whole large vegetable flap suddenly collapsed. A portion of lush vegetables brought to the wholesale markets offered for sale was rejected.
"The vegetables my family grow are imported vegetables, so they are about 15-20 thousand more expensive than domestic ones, both expensive and not good, so no one buys them," he said. Vegetables reach the age of harvest but have no output, garden owners have to bring them as gifts, over-age trees have to carry the whole car and throw them away.
After only 45 days of starting a business with a loss of more than 30 million VND, Mr. Bien worried about sleepless nights. "There were a few months that I lost 4kg, black body," he said.
"Normally, Dad laughs and talks all the time, but those days he doesn't say anything, his face is always thoughtful," said Bien's daughter. Vegetables will have to be sown after 7-10 days, but Kieu Anh saw that after the first vegetable crop, his father did not allow workers to sow seeds anymore. The son thinks the father has given up.
But Kieu Anh doesn't know, my father is just stopping to find output for the product and go to learn more knowledge about hydroponic vegetable growing. He was away from home for three days, from Ca Mau to a cooperative in Ho Chi Minh City to ask for help on how to treat root rot in vegetables. When the notebook of knowledge about hydroponic vegetable growing was full of words, feeling confident in his heart, Mr. Bien returned.
"I grow vegetables according to VietGap standards, then ask someone to introduce me to bring my vegetables to the supermarket," he said. Instead of massively planting vegetables as before, Mr. Bien planted them in moderate quantities. He monitors vegetables from the time of sowing, spraying biological drugs to prevent root rot. Any tree showing signs of disease, he and his workers removed, to avoid spreading to other trees.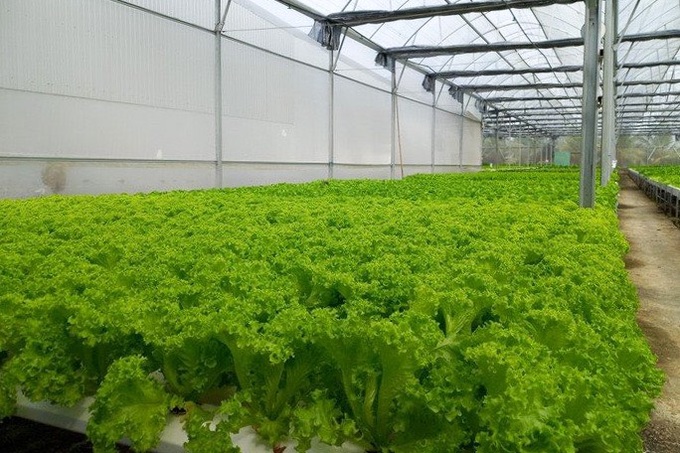 Mr. Bien's lush vegetable garden (Photo: Provided by the character).
After four months of starting a business, Mr. Bien's vegetables first set foot in the supermarket. The vegetable purchasing points in the market were given vegetables, tasted delicious, offered to sell, and had guests who also came to Mr. Bien's farm to visit. Seeing the large scale of the vegetable granary, the growing process meeting VietGap standards, they began to place orders.
Currently, every month, Mr. Bien's family sells more than 2 tons of vegetables to the market, 70% is delivered to supermarkets, the rest is imported to big agents. Profit after deducting expenses is about 100 million dong. He created permanent jobs for four local workers .
"This is a low-cost vegetable growing model with high quality and price, the first time available locally. Mr. Bien's creativity not only brings economic value to his family, but also creates jobs . work for people in the commune," said Mr. Quach Thanh Nha, chairman of the People's Committee of An Xuyen commune, Ca Mau city.
Mr. Bien said that being a salaried employee has pressure and being an owner also has pressure. But the pressure of an employee is created by others for him, and when he is an owner, it is created for himself.
"If I don't dare to give up the immediate benefits in the face of great pressure, I will not realize the value now. When I overcome the difficulties, not only my income increases, I have time for my elderly parents, to pick up children and relax their minds," he said.
He advises young people to start a business when they are determined and dedicated to a certain field. Regardless of age, it's never too late to start a business. Like me, after half a life, people can still create their own success," he contemplated.
You might be interested in