The subject of mountain climbing thought it was difficult, but it did not make it difficult for the sisters.
For a long time, mountain climbing (trekking) has been known as one of the adventure sports, always bringing challenges, requiring its pursuers to possess their own physical strength and skills. However, today, not only professional athletes but also many people are interested. Even for them, trekking is like an experiential travel model, exploring nature and the result is a "collection" of the mountain peaks they have climbed.
Rising up the climbing trend of the sisters
On social networks, there are always small groups set up, gathering people with the same interests to conquer the peaks. In, most of the members are men and they often exchange photos of unique landscapes on the climbing journey or share some experiences of conquering difficult roads.
However, recently, groups about climbing have been continuously created, the number of members participating has also increased rapidly. What is more remarkable is that it has attracted the attention of many women. At the same time, climbing models on tour or "guide" climbing services are also enthusiastically welcomed.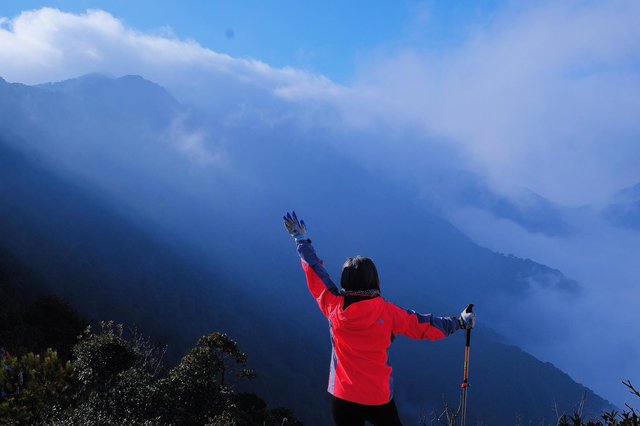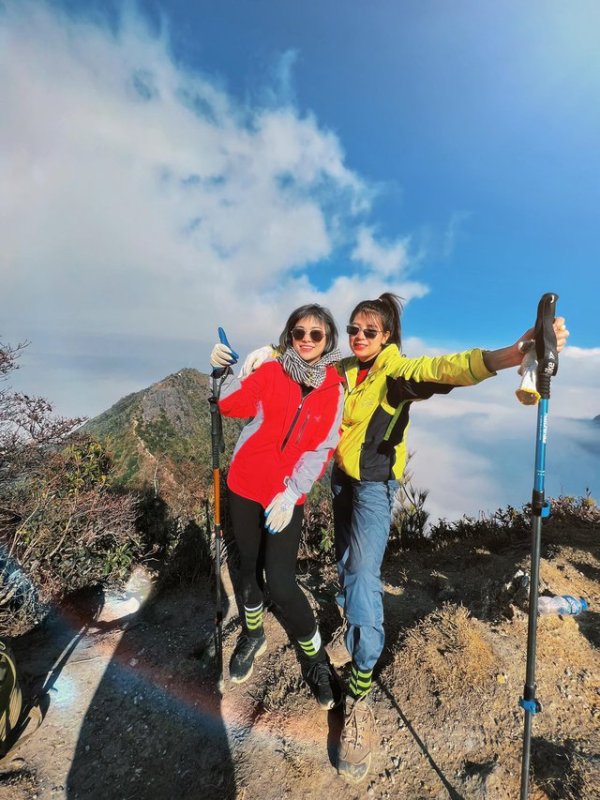 Linh Dan has climbed the mountain for the first time after many years of cherishing her dream.
In fact, in our country there are not too many mountain peaks that people are allowed to conquer. However, compared to the difficulty, it is also a big challenge for those who pursue this subject. In particular, most of the goals of mountain climbers are always the roads in the North of Vietnam. They even set up the top 15 mountain peaks, sorted by difficulty level that must be set foot on the conquest journey. If Ta Xua or Chieu Lau Thi and Lao Than are the "national" journeys, suitable for first-time climbers, then Nam Kang Ho Tao or Pu Su Ling – although not the highest peaks, are two roads. the most difficult, is the striving goal of the mountain climbing sister association.
Linh Dan (31 years old) has just marked her first journey with mountain climbing. According to her share, although she had cherished a plan to climb Fansipan since the 12th grade, she could not do it because she couldn't find someone with the same passion: "Until the end of last year, when a friend came up . The sound of the invitation to climb Ta Xua, I agreed and was ready to go. When climbing, my legs hurt, but when I come back like nothing, I still go to work as usual This year, I also set a goal to go 2 more mountains."
Usually climbing with "strangers" for the first time
Since many years ago, Linh Ngo (45 years old) has owned a long list of mountain peaks, from high to low, from large to small, spread across the country. In the North, Linh has climbed Ky Quan San, Ta Lien, Lao Than, Lung Cung, Nhiu Co San, Ngu Chi Son, Ta Chi Nhu, Phan Xi Pang, and Ta Xua. In the South, she conquered Chu Yang Sin, Ta Nang Phan Dung, Ta Giang, Chua Chan mountain, Chua mountain, Madagui, K50. Even in September 2022, she followed other passionate people to trekking in Nepal.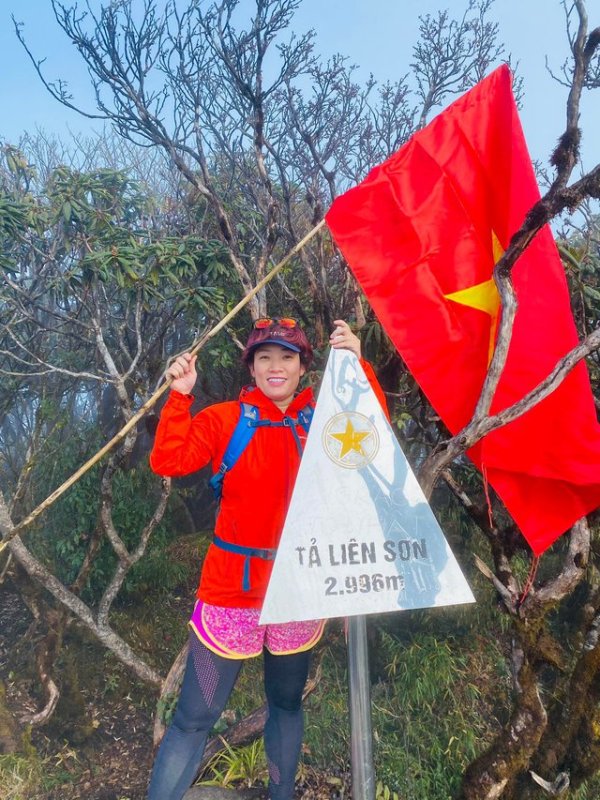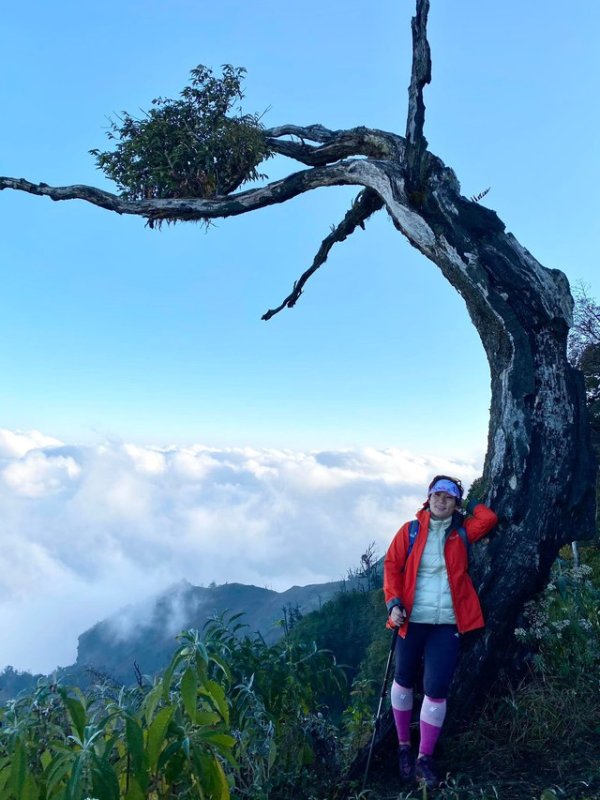 Ms. Linh Ngo.
Remembering the first time climbing the mountain, Linh Ngo said: "I posted on a group meeting to invite anyone with a plan to join me and an acquaintance read the article and went with me. That trip, the group was all male, only one female, and only knew 1 out of 10 people.
"After a few climbing trips, facing quite a bit of difficulty, gaining more experience, I set up a group of people with similar interests, even if I did not know each other. I also take on the task of scheduling, connecting service parties and instructing the members what to prepare and how to practice to practice conquest skills."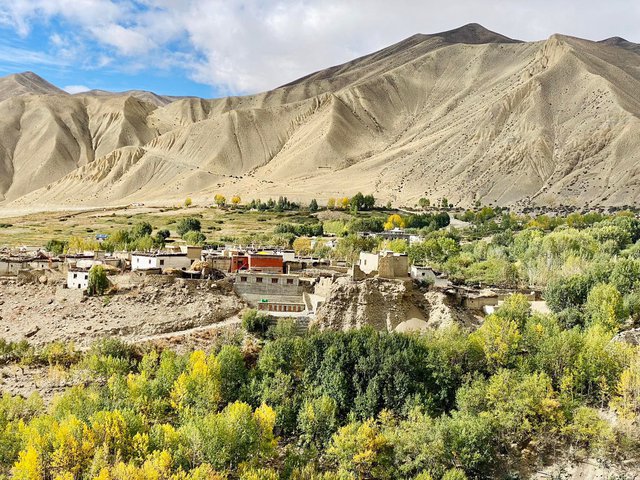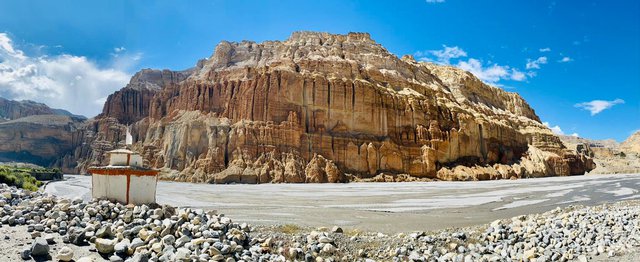 The trekking route of Linh Ngo in Nepal.
It is known that there are routes that Linh and her teammates scheduled 2 months in advance, but sometimes people only invite each other 1-2 weeks before. In general, because it is a hobby, it will also depend a lot on the feelings and interests of the members.
For the first time climbing the mountain, Phuong (34 years old) immediately conquered Phan Xi Pang and went on a tour. Like Linh Ngo, Phuong only got to know her teammates during the process of reaching the top together. But it is also a chance for them to have many more journeys.
"The next arcs, we will refer to ourselves and make our own schedule, suitable for ourselves. Because we are self-sufficient, we will check the weather forecast in advance, contact the poter ourselves, set up the food and drink menu, assign to buy snacks, instruct each other to bring things, the most important thing is a flashlight to Go night".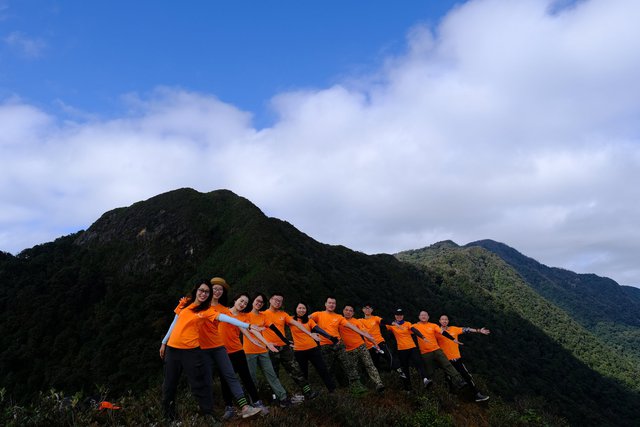 Phuong and her friends met during the climbing journey.
Different climbing styles
Maybe when asked, everyone said that they have passion and dream of conquering the mountains. However, whether it can be done, or how to make the dream come true, is another matter. In this trekking subject is also divided into 2 extremes, some people are also the last time. But there are people who go for the first time very much and want to go to more mountains, go every year, like the characters mentioned above.
When asked about this year's plan, both Linh Dan, Linh Ngo and Phuong all set a goal to conquer 2-3 mountain peaks. And everyone's climbing style is not the same.
"Usually, I only climb when the weather is good, when the weather is bad, it's delayed. There are also bows we climb in a row, but sometimes 1 mountain this week, 1 mountain next week", Phuong's choice is probably similar to many others.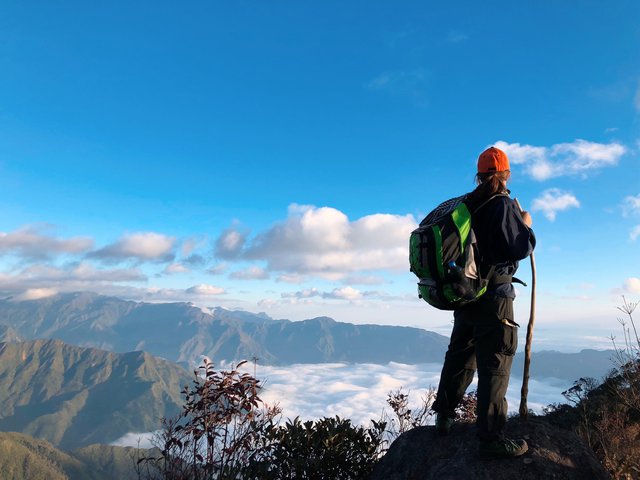 Regularly sharing pictures and motivating people with the same passion for mountain climbing, but few people expect that Ms. Nguyen Thi Bich Van is 59 years old. Falling in love with this adventure sport since driving through 3 Indochina countries, since then, she has always spent time learning and conquering the roads. Because she lives in Gia Lai, every time she goes to the North, she often plans to conquer a series of peaks at once.
In just 1 week at the end of August, beginning of September 2020, Ms. Van went to Ta Xua, Ta Chi Nhi, Lung Cung and Chieu Lau Thi palaces. Back in December 2021, she waved the flag to welcome dawn on Fansipan, followed by the journey to the top of Ngu Chi Son, Bach Moc Luong Tu, Lao Than, Nhiu Co San, lasting 22 days. Next to 2022, she spends 12 days climbing Ta Lien Son, Pu Ta Leng and Nam Kang Ho Tao. And yet, after the 2023 Lunar New Year holiday, Bich Van and her friends made an appointment to climb the top of Pu Si Lung, Po Ma Lung – Chung Nhia Vu and Khang Su Van.
"Pu Si Lung is one of the most difficult roads, usually people will climb separately and rest, while she only takes a day off and then climbs Po Ma Lung – Chung Nhia Vu and Khang Su Van. In total, it took 9 days, of which 7 days of climbing and 2 days of rest ," Van said. Thus, in just 3 years, Ms. Nguyen Thi Bich Van has completed the journey to conquer 15 most famous peaks in the Northwest.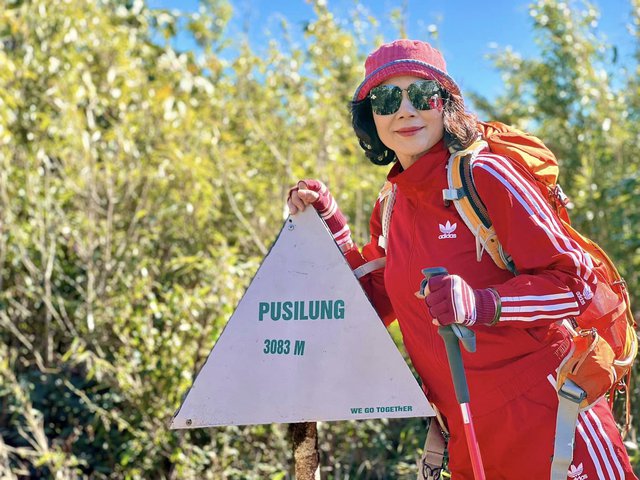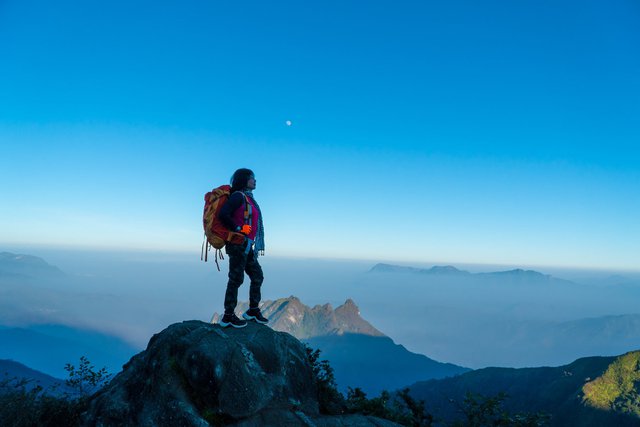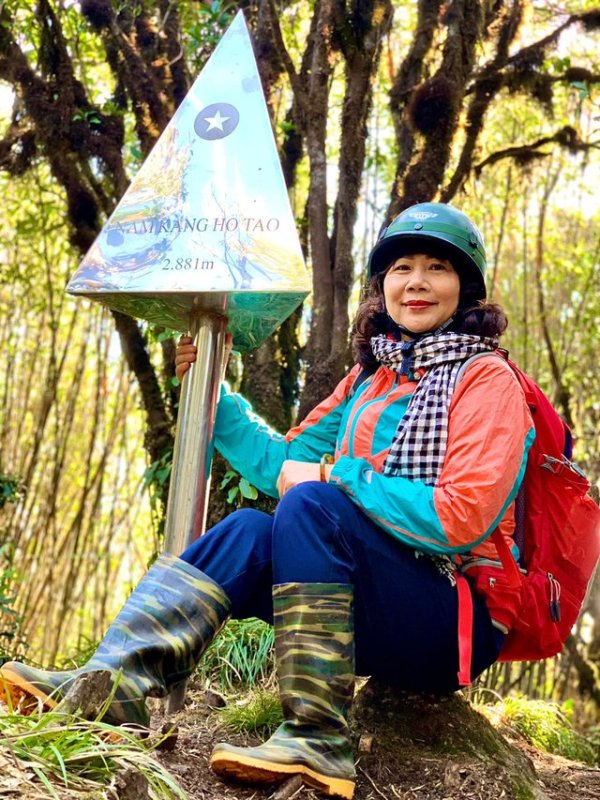 The most difficult trekking arcs have been visited by Ms. Van.
Not only that, this woman also has a unique climbing style, not afraid to challenge herself with difficult conditions. Sometimes she shortened the route, sometimes she tried to discover a new climbing direction, different from the majority. According to sharing during the climb Khang Su Van on February 6, normally people would climb 2 days and 1 night, but she set a goal to complete in 1 day, experiencing all kinds of weather, from sunny to rainy. .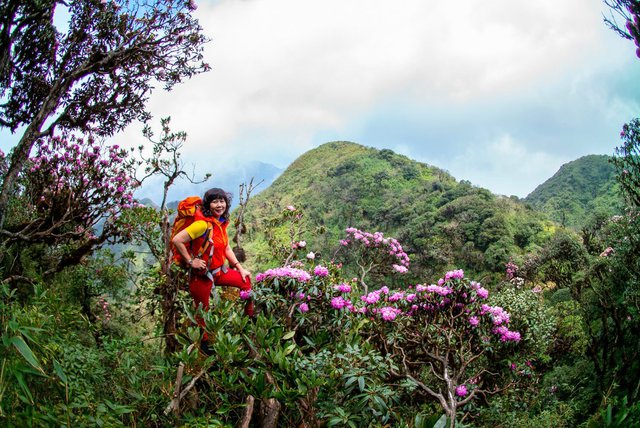 Ms. Van chose the right azalea season to have the most impressive journey of "hunting flowers on rocks" at the top of Pu Ta Leng (Lai Chau).
"Do you know that above the top of the mountain are clouds, floating clouds of various colors when the sun appears or sinks into the night, below are the majestic undulating mountains inside are majestic trees. A thousand-year-old ancient trees, tall, beautiful, ghostly and mossy, below are murmuring streams flowing through, but the mossy green rocks are wet with the sound of insects, making the mood extremely relaxing. Climbing is not about conquering the top of the mountain, but overcoming yourself ," said Ms. Van.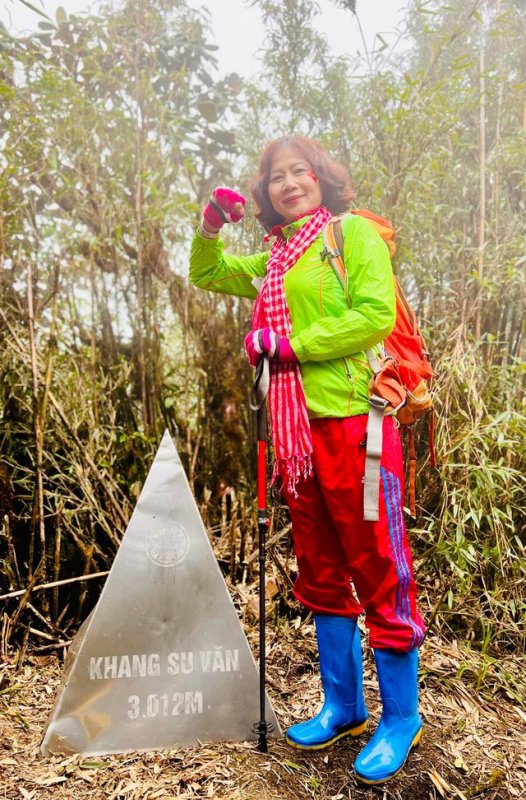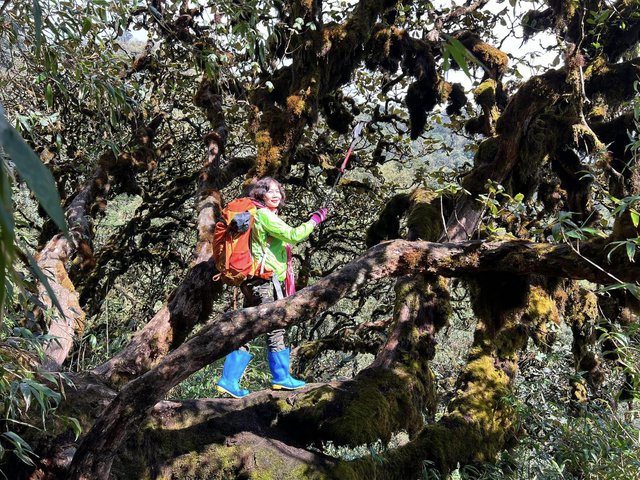 Ms. Van loves Vietnam and wants to explore and see more of Vietnam.
After "excellent graduation" in mountain climbing with 15 Northwest peaks, Ms. Van's journey to follow her passion continues with new and challenging journeys ahead. Right at the time we contacted to write this article, she was in Vi Xuyen, Ha Giang and on the journey to discover Tay Con Linh mountain from a new direction.
Not as gentle and elegant as what people assume about women, it seems that the hobbies of Ms. Van, Ms. Linh or Ms. Phuong need people who are brave and have good will and good physical strength more than money.
Photo: Internet (Vinlove.net)
You might be interested in