Destinations close to nature, and deserted are the suggestions of Tran Dang Dang Khoa, Ngo Tran Hai An, and Dang Thuy Duong in the new year.
Below is the sharing of trends and points to visit at home and abroad in 2023 by three travel bloggers Ngo Tran Hai An, Tran Dang Dang Khoa, and Dang Thuy Duong. They are all people with 100,000 followers on Facebook, and Instagram, and have traveled all over Vietnam and dozens of countries around the world.
Dang Thuy Duong – 34 years old
Thuy Duong has been to more than 40 provinces in the country, 30 countries and territories, 60 cities around the world, has more than 150,000 followers on Facebook, Instagram.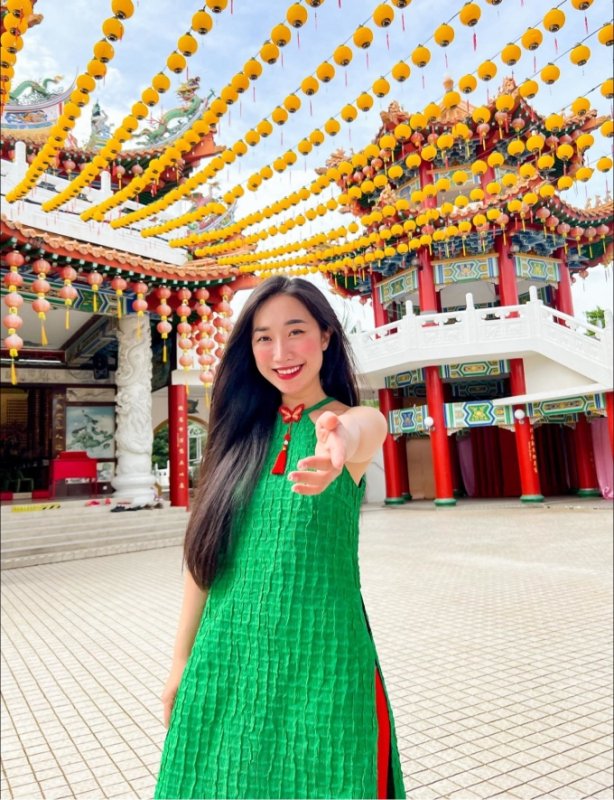 Thuy Duong during a trip to Malaysia in December 2022. Photo: NVCC
Predict tourism trends 2023
People will go to places that are close to nature, unique, increase the experience and go to remote places, instead of close, popular places.
Suggestions for playing Lunar New Year
Duong suggested going to Dien Bien, visiting Peach Blossom Island, and going to Moc Chau to see plum blossoms in bloom. Duong said that if you want to enjoy the atmosphere and taste of Tet, you should go to the Northwest. "This place gives me a very Tet atmosphere, from the climate to the food. The taste of Tet is very strong. The South is too hot, there is no air," Duong said.
If going abroad, Duong will not choose Taiwan or mainland China. Because these places celebrate Tet like Vietnam, the shops are closed, the service is not as full as usual. South Korea and Japan have a long time and procedures to apply for a visa, and guests are not proactive in planning. Europe is also not suitable because it is "too cold". Duong suggests warm places like Thailand, Malaysia. These countries are stimulating tourism, tickets and hotel rooms, food and services are cheap.
Where to go in 2023
Duong suggests people go to Da Nang , Phan Thiet to swim and rest, to Ha Giang and Dien Bien to experience backpacking, to Da Lat to enjoy the pleasant atmosphere and delicious food. Around the world, she thinks people try to go to Iceland or Ladakh (India) to enjoy a trip back to nature. These are places with fresh air, suitable for inhaling chest tightness after more than two years of having to stay at home because of the epidemic.
Ngo Tran Hai An (Demon Coc Tu) – 42 years old
Hai An has more than 110,000 followers on his personal page, has visited 63 provinces and cities and 47 countries and territories around the world.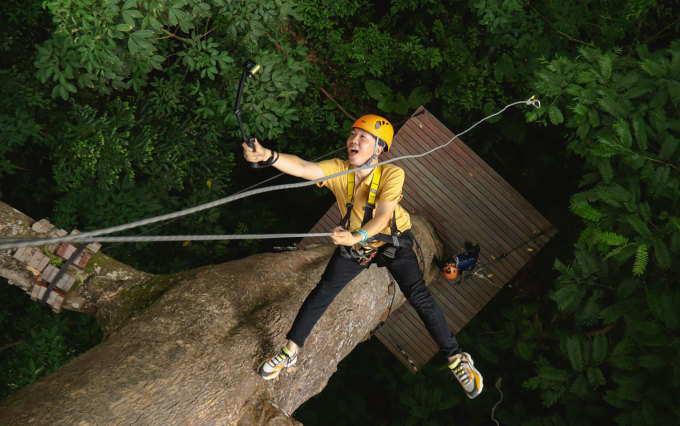 Hai An swings a zipline in Phuket, Thailand. Photo: NVCC
Predict tourism trends 2023
Instead of going on a tour with strangers, this year's tourists will tend to go with their families and groups of acquaintances because they are still afraid of spreading the disease. Hai An also predicts that people will move towards adventure travel, camping, places near nature and spending more time for themselves.
Suggestions for playing Lunar New Year
Hai An does not advise people to travel for Tet. This is a time for family reunion and rest. People should avoid going to crowded places because of the lack of services, overcrowding, and high costs during Tet. Trips should be made after the 5th. An directs people to places as far away as Quang Binh, the Northwest, and avoids crowded places like Da Nang and Hoi An .
If going abroad, Hai An suggests going to Europe like Switzerland, Italy. January and February is not the peak season in Europe, as foreigners have just returned from a long Christmas and New Year holiday.
Where to go in 2023
Hai An suggests visiting new destinations in the sea and islands such as Cu Lao Mai Nha in Phu Yen, Cu Lao Xanh in Binh Dinh. These are new destinations, unspoiled, few people. If going abroad, instead of too familiar places like Paris, people can explore the beautiful scenery in Pakistan, go to Nepal to climb Everest, learn about culture – history in Egypt, Israel.
Tran Dang Dang Khoa, 36 years old
Khoa has more than 350,000 followers on social networks, has traveled to 63 provinces. In 2017, Khoa started a 3-year motorbike journey around the world , through 65 countries and returned to Vietnam in June 2020.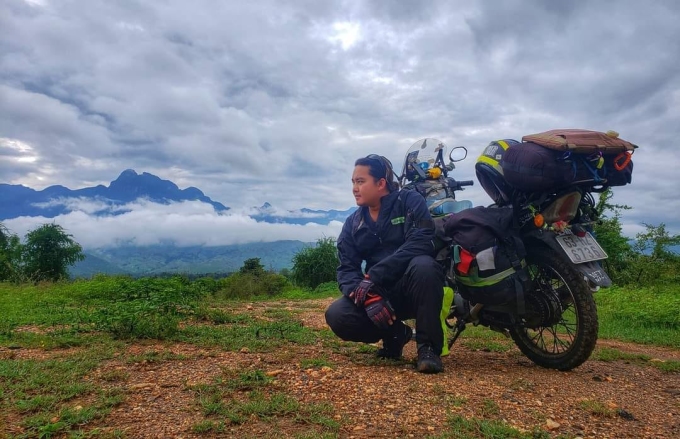 Tran Dang Dang Khoa during his trip to Africa. Photo: NVCC
Predict tourism trends 2023
Visitors will go to new, deserted places and places where visa exemption or simple application. In addition, tourists will go to familiar destinations, low costs, and convenient flight routes because many people need to recover their economy after two years of the pandemic.
Suggestions for playing Lunar New Year
Like Hai An, Khoa believes that the Lunar New Year is a time for rest, family reunion and Tet everywhere is crowded, services are overloaded, making people lose their joy, which should be avoided on New Year's Eve. If you want to go out, visitors can go to nearby places and take the initiative in means of transportation without too much effort.
Where to go in 2023
After Tet, Khoa recommends going to places like the Philippines and Taiwan because the weather is nice. Farther is Egypt, Mongolia, Ladakh (India). In the country, sea and islands are suggested, but the priority is given to deserted and unspoiled spots because the epidemic is still there, it is still advisable to limit places that are too crowded. In addition, he also suggested Ba Vi (Hanoi), Moc Chau (Son La), Mang Den (Kon Tum), Da Lat, Central Highlands, Ca Mau cape, Phan Thiet (Binh Thuan), Vung Tau . These are places that either help people immerse themselves in unspoiled nature, or increase the experience of the trip.
Photo: Internet (vinlove.net)
You might be interested in