Phan Thiet tourism is not only known for its natural beauty, pristine and poetic beaches, but also famous for its sacred and majestic temples. If you have the opportunity to set foot in this beautiful land and want to enjoy the scenery and pray for peace, then immediately save the list of addresses of these famous temples in Phan Thiet.
Addresses of temples in Phan Thiet
1. Phu Son Pagoda
Which temple in Phan Thiet is the most famous? Phu Son Pagoda is also known as Phu Linh Tu Pagoda. This temple was built quite a long time around the 18th century and was repaired many times due to the destruction of the war. Currently, the temple is very peaceful and dignified. Visitors from all over the world come to the temple, not only offering incense to the Buddha, wishing for luck and peace, but also being immersed in a peaceful space to calm their minds and relax. Coming to Phu Son Pagoda, you should throw away all thoughts and worries of life, to get an incredible sense of relaxation.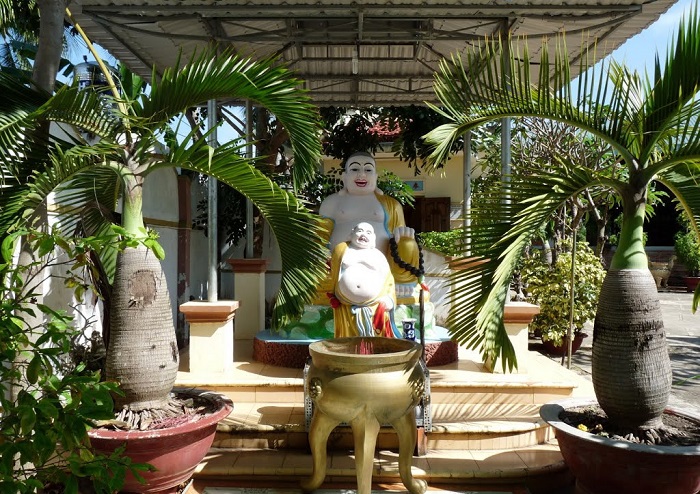 Peaceful space at Phu Son pagoda
*** Address of Phu Son Pagoda: Located in Hai Thuong Lan Ong, Phu Tai, Phan Thiet.
2. Giac Hoa Pagoda
An ancient temple built in 1956 by the monk Thich Long Hoa and for the people of Phan Thiet, the temple is an indispensable part of their spiritual and cultural life. Although the temple has been around for a long time, over time it has been repaired many times, the temple looks very new, but still retains the inherent ancient beauty. Coming to Giac Hoa Pagoda – This famous temple in Phan Thiet  , you will see the spacious temple grounds, built with many worship rooms and divided into many distinct zones. Surrounded by natural bonsai, bringing a peaceful and comfortable space. Therefore, the temple not only attracts the attention of Buddhist followers, but also frequent visitors from all over the world.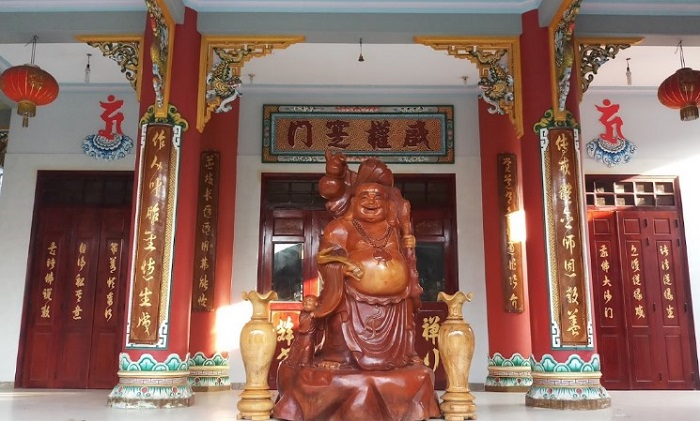 Admire the Buddha statue at Giac Hoa pagoda
*** Address of Giac Hoa Pagoda: Located at 55 Thu Khoa Huan, Phu Thuy, Phan Thiet.
3. Lien Tri Temple
It is known that Lien Tri Pagoda, also known as Bamboo Pagoda, is a Buddhist temple built in 1740 and is  the  most famous sacred temple in Phan Thiet . This temple was built with a unique design in the shape of a word, with the main hall placed in the front, and behind the Patriarch. After more than 300 years of history, overcoming many ups and downs, but Lien Tri pagoda still retains its original shape, so the pagoda has great value in the Buddhist culture of Phan Thiet. Therefore, this is also a spiritual tourist destination in Phan Thiet  you must definitely visit.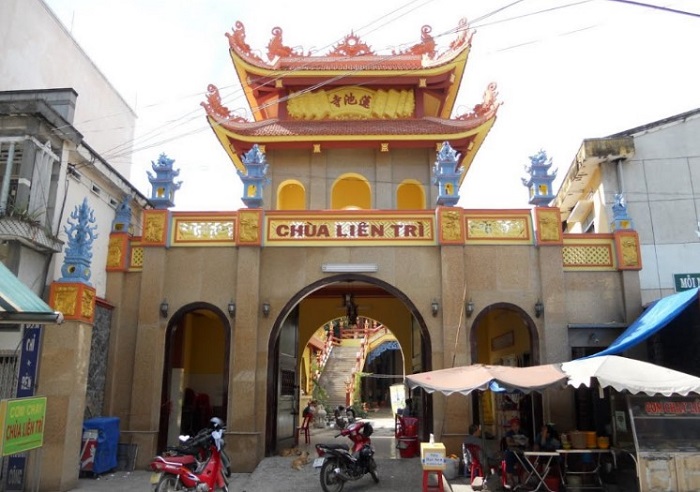 Welcome gate of Lien Tri Pagoda
*** Address of Lien Tri Pagoda: Located at 1B – 3B Nguyen Van Cu, Duc Nghia, Phan Thiet.
4. Thien Quang Temple
You may not know that Thien Quang Pagoda is a place of spiritual and cultural activities of Buddhist followers. The pagoda is designed quite large, outside the temple gate is erected 2 words 'Dai Tu' and 'Dai Bi', inside is a large campus with many Buddha statues, further respecting the dignified beauty. In particular, the pagoda's architecture is beautifully painted with golden lipstick, making any visitor here wholeheartedly praise. Surely,  this temple in Phan Thiet  will be an ideal spiritual destination for offering incense and sightseeing.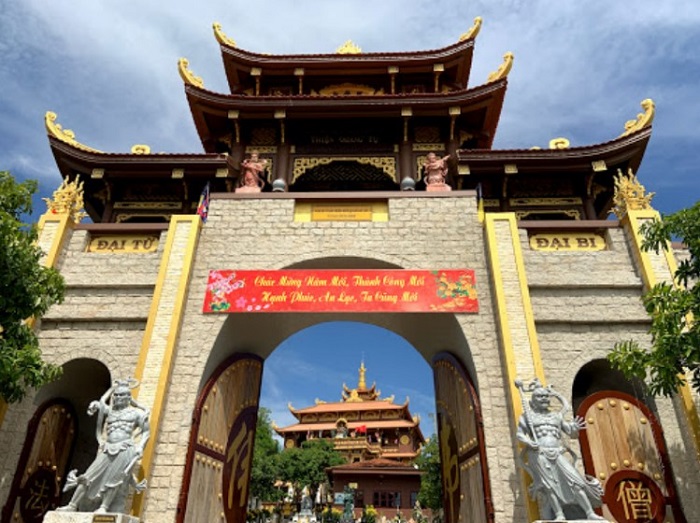 Sightseeing, praying for peace at Thien Quang Pagoda
*** Address of Thien Quang Pagoda: Located at Ho Quang Canh, Thien Trung, Phan Thiet.
5. Linh Long Temple
Which temple should you go to when traveling to Phan Thiet?  The next destination you should consider is Linh Long Pagoda. The temple with a spacious area, was built in 1811 and has been restored many times so far, but not so that it loses the beauty of the previous design. When you arrive at Long Linh Pagoda – The most interesting temple in Phan Thiet  , you will be overwhelmed by the impressive grounds of the temple. Around the area of ​​worship and ceremony, there are fresh flower gardens, creating a peaceful and pure space. In particular, the temple also owns a lot of Buddha statues such as: reclining Buddha in Nirvana, Buddha statues under the Bodhi tree, …. You can come to visit, explore, as well as learn about The stories about Buddha are very interesting. Besides, near Linh Long Pagoda, there are many Famous tourist destination in Phan Thiet , for you to combine sightseeing.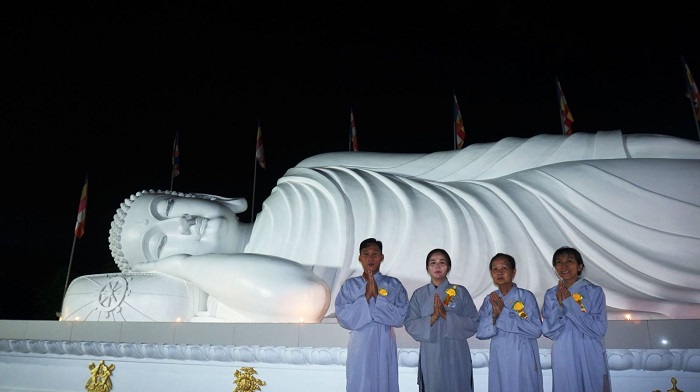 The reclining Buddha statue in nirvana at Linh Long Pagoda
*** Address of Linh Long Pagoda: Located in Mui Ne, Phan Thiet.
6. Thanh Minh Tu Temple
If you want to find a peaceful place to relax your soul, then Thanh Minh Tu Pagoda is the destination you cannot miss. The temple is located in a prime location, in the coastal urban area of ​​Phan Thiet city, so it is easy to find. Arriving at the temple, the first thing you see is the ancient wooden design, roofed with yin and yang tiles, and impressive dragon carvings. The surrounding is decorated by large old trees, but the flower garden is blooming, all creating a peaceful space, helping people to feel unusually relaxed. In particular, this temple in Phan Thiet is also famous for being sacred, so when you come here, don't forget to pray for health and peace.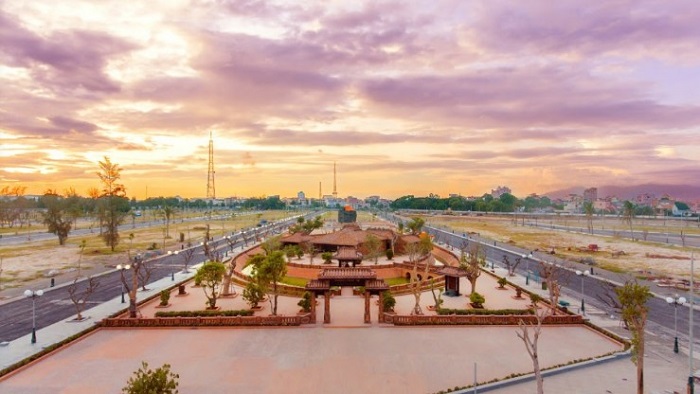 The entire space of Thanh Minh Tu temple
*** Address of Thanh Minh Tu Pagoda: Located in Mau Than, Phu Thuy, Phan Thiet.
With the list of addresses of temples in Phan Thiet above, it will partly help you have more choices to make your travel journey more complete. And do not forget, no matter what time you go to, pay attention to polite and discreet clothing to show respect and respect. 
Photo: Internet
You might be interested in