Since the beginning of the year, Phuong has participated in running tournaments in several provinces and cities, and every time, she takes the opportunity to travel to the place where the tournament is held.
Ho Le Anh Phuong, 27 years old, works in construction in Ho Chi Minh City; he said that since the beginning of the year, he has participated in 4 running races in Da Lat, Quy Nhon and Ho Chi Minh City. He also participated in running in Con Dao, Ben Tre, Can Gio or Vung Tau. Every time like that, Phuong "takes the opportunity to go out and explore local tourism" before or after the competition.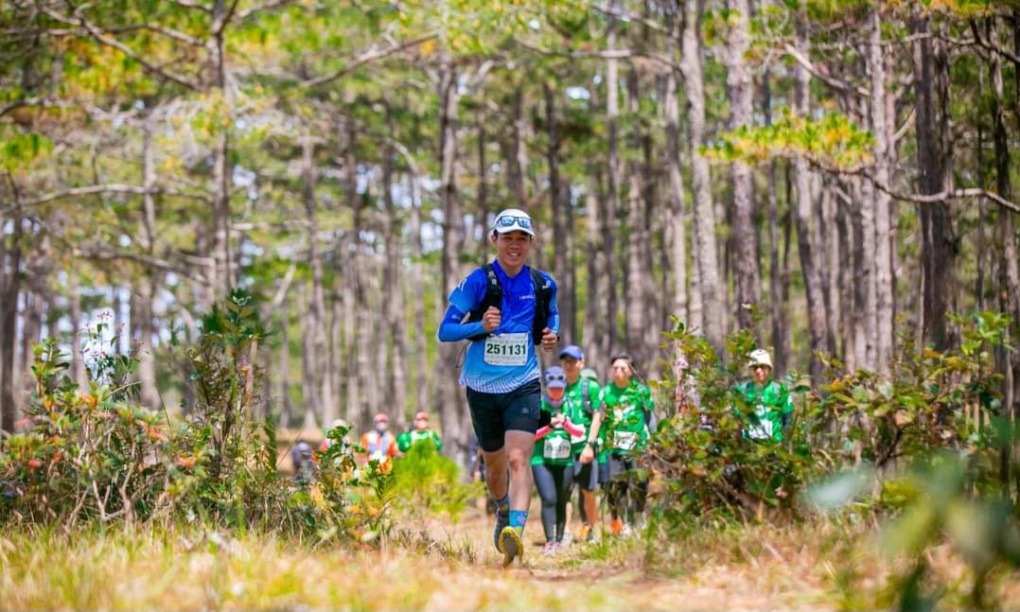 According to travel market research company Outbox, travel activities combined with participation in running races are called race-cations, a combination of the words "race" and "vacation". This is a new type of tourism, belonging to sports tourism, where tourists spend their vacations participating in amateur tournaments.
The United Nations World Tourism Organization (UNWTO) defines Sports Tourism as actively or passively related to the travel experience where tourists participate in or observe a competitive sporting event held at a specific location.
According to Outbox, race-cation groups and regular tourists have "different travel destination motivations". Normal tourists want to visit a destination for fun, sightseeing and relaxation, while race-cation tourists choose a destination because of sporting events. They want to participate in sports tournaments to challenge themselves and exercise, then consider travelling.
In addition to improving health, many other factors help motivate tourists to seek the trend of tourism combined with participating in sports tournaments. Some people participate because "it's fun", some want to improve personal achievements, enjoy the scenery experience at the tournament venue, or people who have the habit of trekking or hiking want to "change things up".
For Hoang Phong, a 27-year-old engineer in Ho Chi Minh City, participating in a running race somewhere is a type of "healthy travel" with his family on the weekend. "Trips combined with running marathons not only help me exercise physically but also have the opportunity to visit the destination," Phong said. So far, he has participated in three marathons.
At the Vietnam Race-cation conference, taking place within the framework of the 2023 Ho Chi Minh City International Tourism Fair, experts identified that one of the notable behavioural characteristics of Vietnamese tourists this year is the search for health value and mental balance when travelling. This trend is market-shaping, especially after the pandemic, health tourism has been more clearly and widely accepted.
In 2023, Vietnam will have over 35 large-scale running events, attracting about 190,000 participants. Mr Ngo Manh Cuong, the VnExpress Marathon Organizing Committee representative, one of 5 tournaments with over 10,000 participants, said the tournament was first held in Quy Nhon in June 2019. After 4 years, the tournament has expanded its competition scale to 6 provinces and cities, including Quy Nhon, Nha Trang, Hue, Ho Chi Minh City, Hanoi, and Ha Long. In 2023, the tournament will be held in 5 provinces and cities. At each destination, the race is expected to promote products, cuisine, and tourism services to attendees, promoting the local economy.
Read more: Vietnam Trail Marathon attracts 4,300 runners
An Outbox survey conducted in August shows that nearly 45% of respondents regularly combine travel when participating in marathons outside their residences. Race-cation trips usually last 2-3 days. Costs range from 5 to 10 million VND, including items such as accommodation at the destination, transportation, sports accessories, technology items, sports apparel, and food to support health and entertainment activities outside of competition time. Accommodation is the most spent category. Race-cation guests tend to travel with their families or in groups. This creates spillovers in spending, bringing revenue to the destination.
However, race-cation is still quite new in Vietnam. Mr Le Truong Hien Hoa, Deputy Director of the Ho Chi Minh City Department of Tourism, said the city has many advantages to develop sports tourism products. The group of potential race-cation customers aged 25-27 is concentrated. The city's active tourism businesses can easily carry out promotional activities. Accommodation services meet both quantity and quality to serve sports tournaments. However, no travel company in Ho Chi Minh City currently exploits combos or tours to participate in the race.
Meanwhile, sports tourism is identified as one of the 7 pillars of Ho Chi Minh City's tourism industry. Mr. Hoa said that Ho Chi Minh City plans to develop according to the "event within an event" model to attract visitors and increase tourism service revenue. Specifically, the race can be organized within the framework of a tourism week, with many other activities and festivals surrounding it. Tourists participating in the run can stay to have fun and experience. In addition to marathon tournaments, Ho Chi Minh City is developing golf tourism products and aiming to expand bicycle racing tournaments.
Mr. Phuoc Dang, CEO of Outbox, commented that the running movement in Vietnam is growing quickly because running tournaments are organized regularly. However, "whatever is a movement will pass". The issue that needs attention is that parties from destination tournament organizers to tourism businesses effectively take advantage of the blooming time to shape the professional running brand and create a premise for tourism activities associated with sports in the future to attract domestic and foreign tourists.
"Organizing a race at a famous location is unnecessary to attract customers. For a race-cation to become a sustainable attraction product requires the cooperation of many parties from the destination, the race organizer, to tourism businesses," Mr Phuoc said.
Without tours related to running events, Mr Phong often has to follow news from running groups and communities on Facebook to register to buy tickets. Each ticket ranges from 450,000 to more than 2 million VND, depending on the running distance. However, after buying the tickets, he also had to "design the tour" for his family.
"Having tours or combos that include air tickets, hotel rooms and race tickets will be convenient for tournament participants, reducing pre-trip planning steps," Mr Phong said.
Also read: Vietnam's central city organizes first off-road race, attracts sexagenarian
You might be interested in