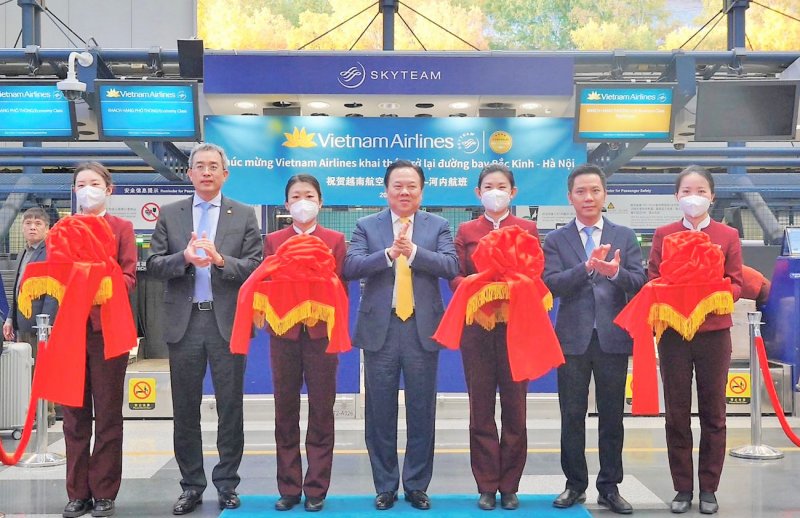 HCMC – Vietnam Airlines yesterday, March 19, re-started its regular air service between China's Beijing and Vietnam's Hanoi City after a three-year pause caused by the Covid-19 pandemic.
According to Vietnam Airlines, Flight VN513 departed from Beijing at 15:30 and arrived at Hanoi at 17:55 yesterday.
All the passengers of the flight were welcomed by representatives of Vietnam Airlines and local agencies.
The airline now operates the Hanoi-Beijing route three times per week and expects to raise its number of flights beginning in the middle of the year.
It also plans to open a new route to Beijing Daxing International Airport.
China is one of Vietnam Airlines' largest international markets. Until now, this carrier has resumed most of its flights to China, including between Hanoi, HCMC and Guangzhou-Shanghai, along with flights between Hanoi and Beijing.
In the coming months, Vietnam Airlines will resume four flights between Danang and Guangzhou, Danang-Shanghai, Danang-Chengdu and Hanoi-Chengdu, and place wide-body Airbus A350 aircraft and Boeing 787s into operation for the Chinese routes.
After China gave the green light on March 15 to tourism companies to organize group tours to Vietnam, Vietnamese travel companies and air carriers have rolled out their plans.
You might be interested in