In the North, there are famous shrimp and fish sauce dishes, in the Central region, there is shrimp paste, oyster sauce, and in the South, there is shrimp paste and Ba Khiet fish sauce.
Shrimp paste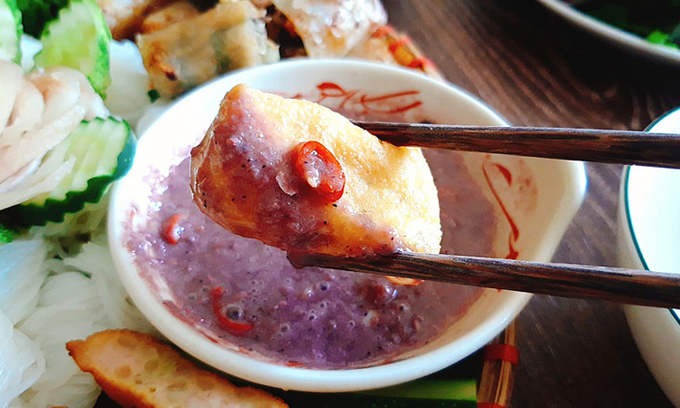 Photo: Bui Thuy
Shrimp paste is made mainly from shrimp, shrimp or clams and table salt, after fermentation, the fish sauce has a dark purple color, a thick, smooth, salty taste, a sweet taste and a characteristic strong smell. This is a typical spice in the North, used in many dishes such as vermicelli, eggplant and shrimp paste… Particularly with vermicelli, shrimp paste is like the soul of the dish, fish sauce is seasoned with sugar, chili, lemon (kumquat) to taste, add boiling oil, beat until frothy and then dip with boiled meat, fried yellow beans, fried rice, raw vegetables of all kinds…
In provinces like Thai Binh and Hai Phong, there is a famous fish sauce dish . Fish sauce is made from fish meat, also known as red crab. Cay after cleaning, pounding, mixed with salt incubated in jars, jars from 7 to 10 days and then brought out to dry in the sun and dew. Finally, add hearing and yeast to create aroma. The fish sauce turns pink, fragrant with lemon, a few cloves of garlic smashed and stirred to dip melon, salted eggplant, but the best is to dip boiled vegetables. Noodles with mam Cay served with bacon, pork rolls and marjoram vegetables are also very delicious.
Scallop sauce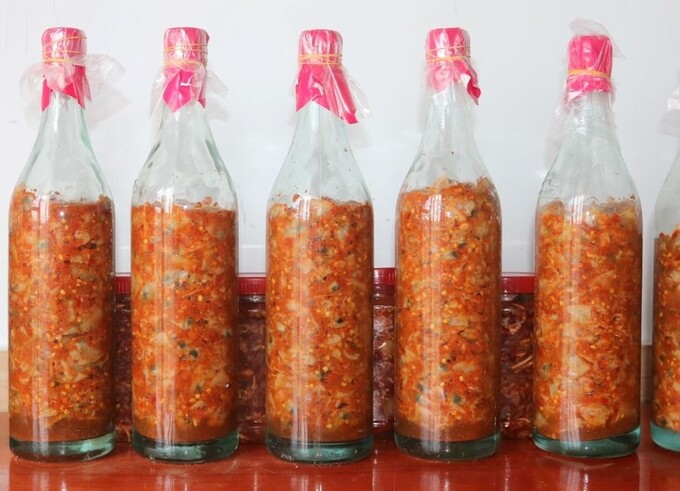 Photo: Quahueonline
In Lang Co Sea area, Phu Loc district, Thua Thien Hue, there is a famous oyster sauce dish. Scallops are also known locally as choke, a specialty in Lang Co lagoon. Scallops are peeled, sand is washed, drained, then salt is finely pounded, mixed well, chili and galangal are added. After 8-10 days, the fish sauce can be eaten. When the fish is cooked, the body floats to the top, the bottom part is opaque like fish sauce. The higher the scallops, the more fish sauce underneath, indicating that the fish has been kept for a long time and can be eaten immediately.
When eating, take out a sufficient amount of fish sauce, pound a little garlic, add sugar and spices to taste. Fish sauce is best eaten with hot rice or used as a dipping sauce for pork belly, raw vegetables.
Fish sauce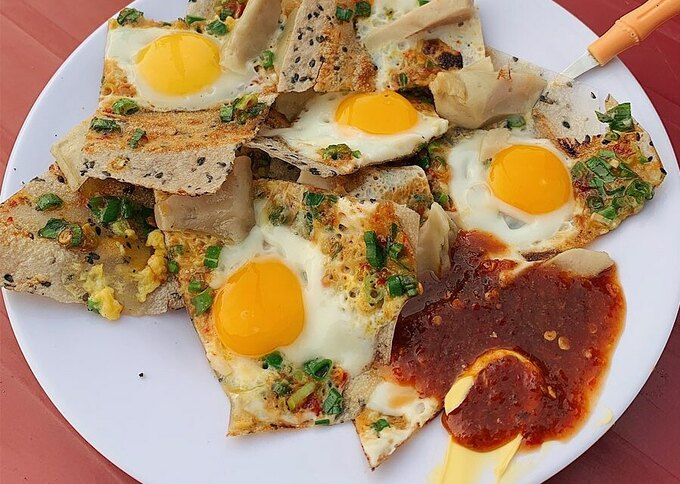 Photo: wheretoeat.inphanthiet
In the provinces of Ninh Thuan and Binh Thuan, there is a famous dish of rice paper with fish sauce. Mam ruoc is also used as a condiment for grilled rice paper and fruits such as toad, mango, guava… Mam is made from shrimp but has a completely different color and taste from Northern shrimp paste. The fish sauce has a reddish-brown color, light aroma, not too salty, people often mix more chili, sugar, tamarind to make the mixture sour, spicy, salty, sweet, harmonious and attractive. In Hue, fish sauce is a popular ingredient in local dishes such as beef vermicelli, mussel rice, braised meat sauce…
In Binh Dinh, there is a unique dish of squid sauce, which is made from rice squid with soft and sweetmeat, soaked with salt, so it has a black color secreted by the ink bag. Gourmets are not afraid of this but think that the squid bag is the essence that makes the fish sauce more delicious, if the squid is cleaned and the ink bag is removed, the fish sauce will decrease in taste. Squid sauce has a fragrant aroma, when eaten with chili, garlic, and lemon, it can be eaten with delicious hot rice.
Sour shrimp paste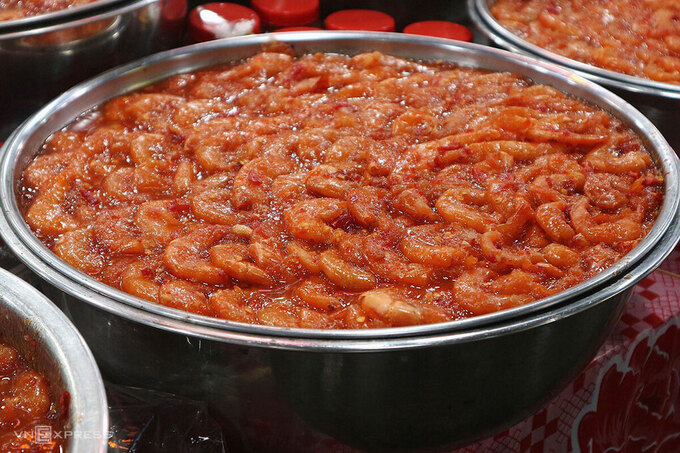 Photo: Ngan Duong
Hue's famous fish sauce is made from fresh shrimp, soaked in wine and then salted, mixed with galangal, garlic, chili, and a little fish sauce and sugar. After the incubation period, the shrimp will turn bright red and fragrant. The sour shrimp paste is red and the shrimp is still intact, with the sweet and fatty taste of shrimp, the pungent taste of galangal and chili, the sour taste of fermented spices. This is also a popular dish in family meals in Hue, best when eaten with boiled pork and steamed rice. In addition, it is also used in steamed shrimp rolls, a popular snack in the afternoon.
Dates shrimp paste is a famous specialty in Go Cong town, Tien Giang. The name shrimp paste comes from the way it is made. Ground shrimp, silver shrimp with sweet and firm meat are bought, cut off the eyes, marinated with wine, salt, sugar, garlic, chili and then incubated, then rub the shrimp through a sieve. The shrimp meat that has been dried for about 20 days in the sun will be deliciously scrubbed with shrimp paste. Shrimp paste with a deep orange color, mixed with a little vinegar, lemon, sugar, garlic and minced chili will be a unique dipping sauce for boiled bacon with rice paper, fresh vermicelli, and raw vegetables.
Three-kid sauce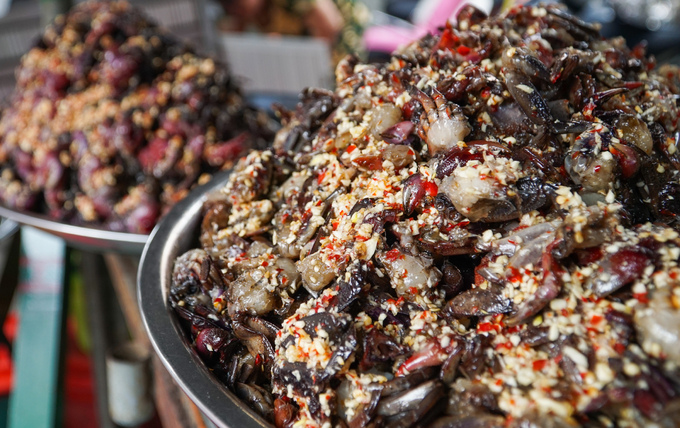 Photo: Quynh Tran
This is a familiar dish in the daily meal of Westerners. The fish sauce dish is made from the three-kid crab, a species of crab with a large claw, living in brackish, salty water, stretching along with the coastal provinces from Soc Trang to Ca Mau, most in U Minh. Because of the three tiles on the back, it is named three-knot. The following three slices are salted for enough saltiness, then mixed with spices such as lemon, garlic, chili, sugar… for harmony, flavor, served with hot rice very delicious.
Ba Khiet fish sauce is sold a lot in Western markets, especially at Chau Doc market, An Giang, visitors can come across dozens of delicious specialty fish sauce dishes from fish, shrimp, and ba Khiet which are presented attractively. Follow vnexpress
You might be interested in