Related article: Discovery Quang Nam, Vietnam (P1)
4. My Son temple tower area
Recognized as a world cultural heritage, located in Duy Phu commune, Duy Xuyen district, nearly 70km from Da Nang city, about 45km from Hoi An, this place with more than 70 Champa temples and towers contains historical, cultural, architectural and artistic values were created over a long period from the 4th to 13th centuries.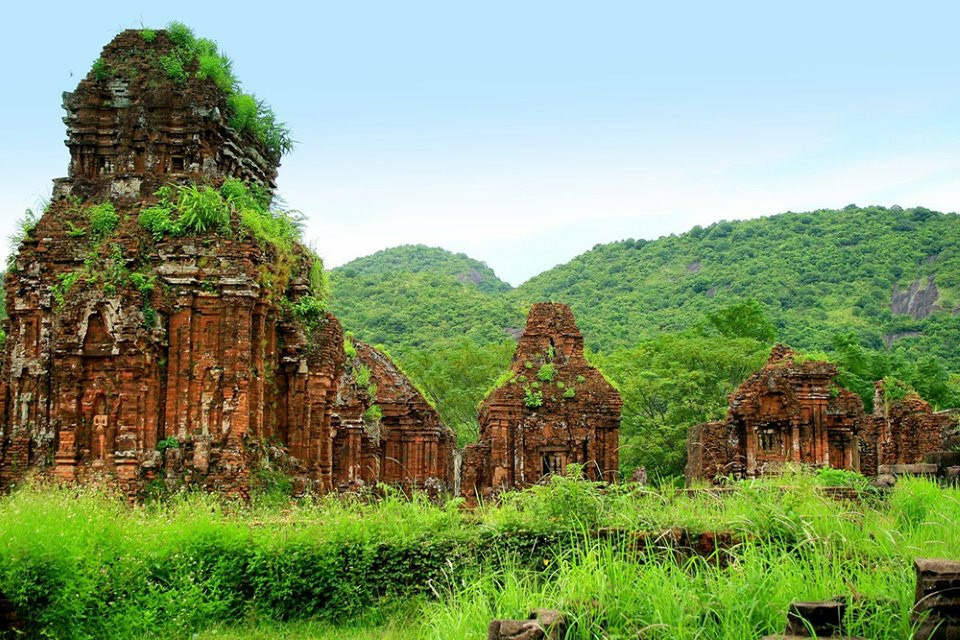 Sightseeing ticket price: For international visitors, it is 150,000 VND/person; for Vietnamese visitors, it is 100,000 VND/person, and it is open all days of the week. Tourists enter the tour, are taken on a tram and then to a stopping point at the transition point between the towers and the outside. From here, guests are guided through the middle of the forest, visiting each cluster of towers. If they need an explanation, the fee is 100,000 VND/group.
Also read: Check-in the most beautiful ancient Champa monuments in Central Vietnam
In addition to sightseeing, visitors can also enjoy Cham dance performances, excerpts from Cham festivals, and religious dances, helping anyone who comes to My Son to better feel the unique values of Cham culture with 4 cultural performances from morning to afternoon.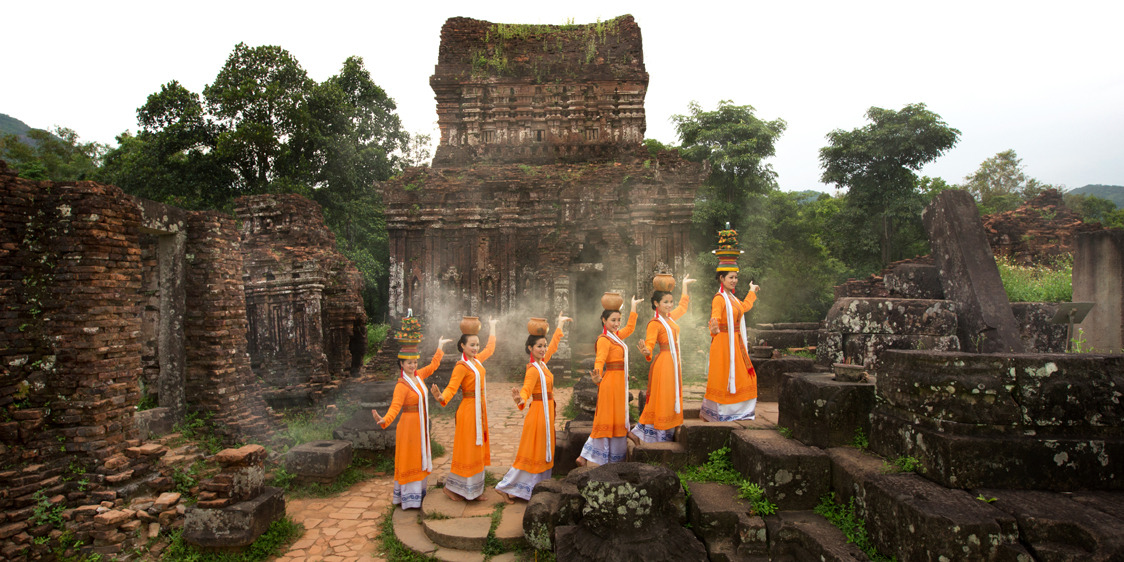 This place has a new tourism product, the legendary My Son Night, an outdoor art performance program to recreate the values of the quintessence of Cham culture performed on the 16th night (lunar calendar) of every month. Visitors can also experience folk games and learn about traditional Cham crafts, such as trying their pottery-making skills (shaping ceramic products), weaving brocade, making Cham earrings, and enjoying rustic dishes.
5. Tam Thanh beach, mural village, basket boat road
Tam Thanh Beach is located in Tam Thanh commune, Tam Ky city, about 10km from the city centre and 40km from Hoi An.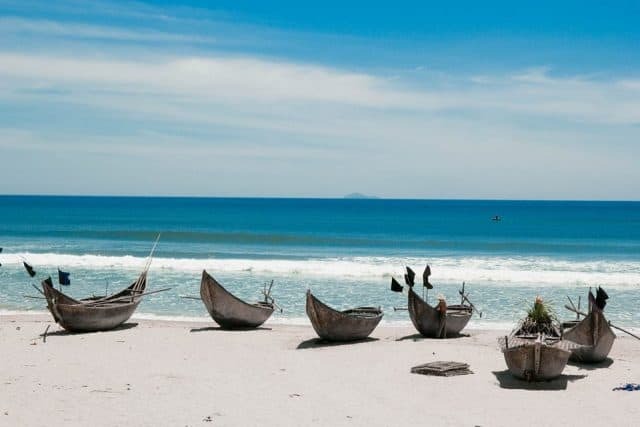 Visitors can feel the beauty of fine white sand beaches and blue sea water; visitors can swim in the early morning or afternoon. This place also has a romantic lagoon system next to the sea and a fishing village for visitors to take beautiful photos.
Also read: The beaches in Quang Nam attract a lot of tourists, there are 2 places on the list of the top beaches in Asia
Tam Thanh Mural Village: This is the first mural village in Vietnam implemented since 2016, with hundreds of paintings painted on the walls of people's houses. Next is the coastal basket boat road, including paintings and decorations on round baskets, distorted baskets, boats, jars, nets, boats...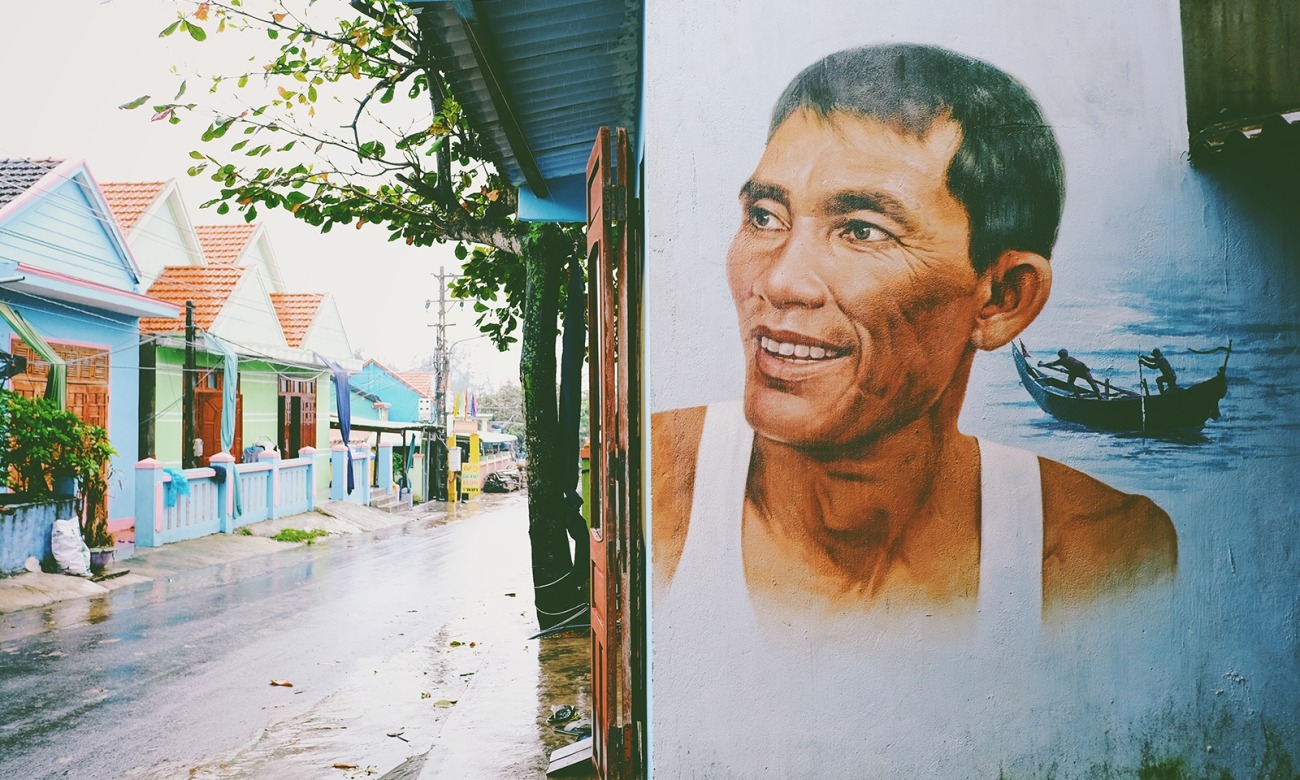 6. Phu Ninh Lake
Phu Ninh Lake ecotourism resort is located in Trung Dan village, Tam Dai commune, Phu Ninh district, 7km from Tam Ky station, about 70km from Da Nang International Airport, and 30km from Chu Lai airport. This is a green tourist destination, a beautiful landscape for tourists to admire with its emerald green lake water, majestic mountains, charming scenery and many surrounding islands.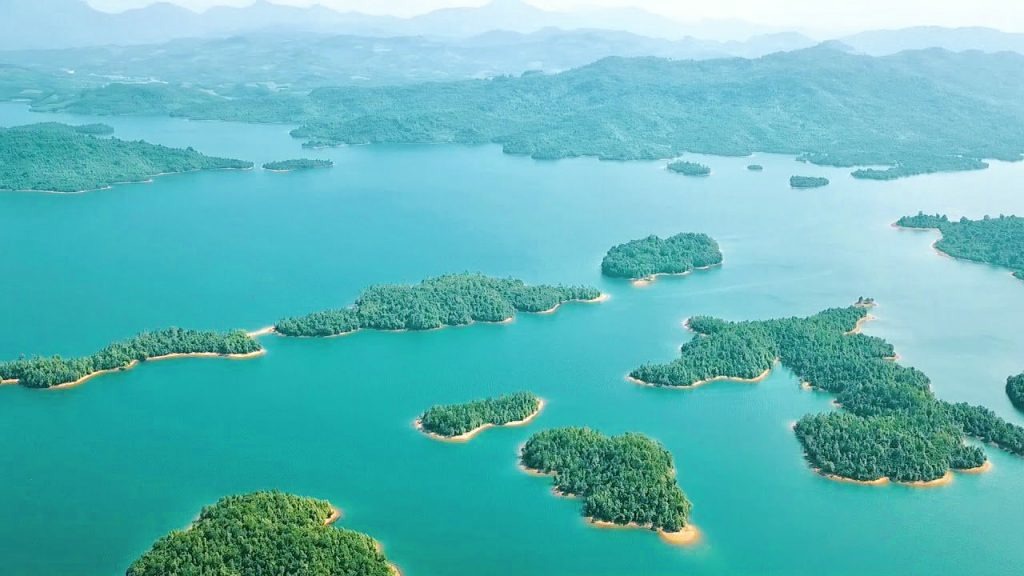 Phu Ninh Lake has an area of over 23,000 hectares, including 32 large and small islands, considered a miniature Ha Long Bay. Visitors visiting the lake and islands can also bathe in hot mineral water. Conference centre area, restaurant with over 200 guests, serving customers with rustic dishes. The resort bungalow & hot mineral bath spa is the highlight of the resort, designed in a unique, luxurious architectural style, blending into pristine nature. Coming to Phu Ninh can only be complete with entertainment services such as mountain biking, fishing, tents, campfires, island tours, walking around the island...
Read more: A green pearl in Quang Nam
7. Bai Rang, Ban Than, Tam Hai Island commune
These locations in Nui Thanh district, close to Chu Lai airport, will be ideal tourist stops. Bai Rang is one of the few beaches that retains its wild, peaceful appearance with blue sea water.
Ban Than is located in Tam Hai island commune with rocky rapids and overlapping black rocks of various shapes, wild and unique.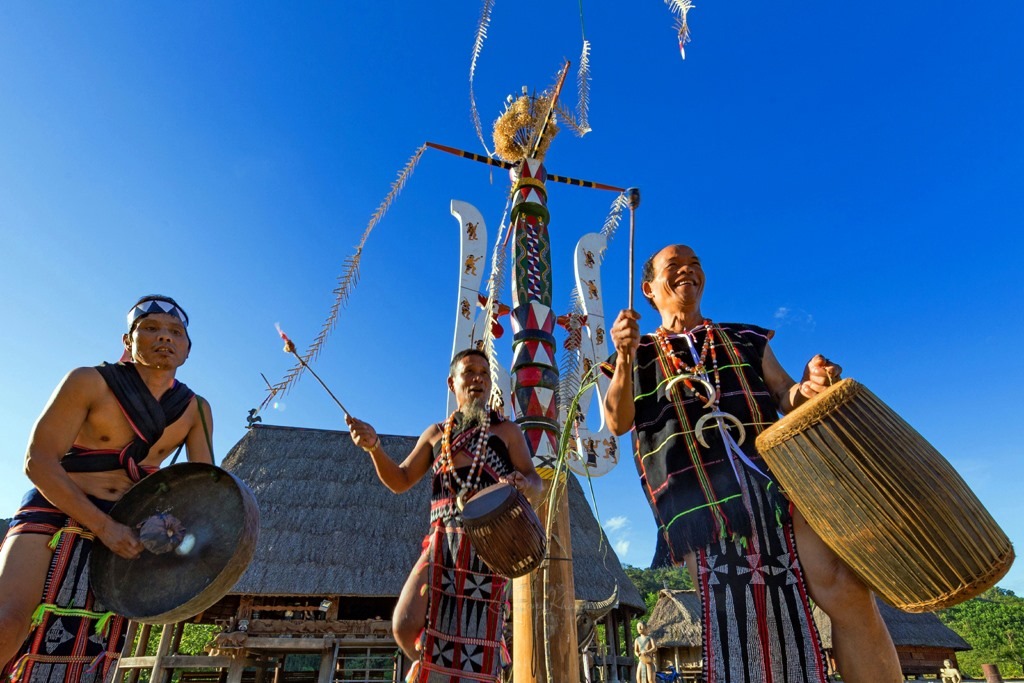 Tam Hai island commune is surrounded by water in all four directions; you must take a ferry to get here. Stepping onto the island, amidst the clouds and water, countless rows of tall, decades-old coconut trees are planted from the garden to the roadside, shielding the bright sunlight and providing enough shade for tourists to walk.
8. Ngoc Linh ginseng area
Referring to Quang Nam, it is impossible not to mention the mountainous district of Nam Tra My, known as the capital of Ngoc Linh Ginseng, with vast Ngoc Linh Ginseng gardens, about 100km from Tam Ky City.
Tăk Ngo's original ginseng garden on the top of Ngoc Linh mountain, Tra Linh commune, has been recognized by the province as a tourist destination and is considered an interesting and new destination. In particular, at the beginning of the month, there is a market for Ngoc Linh ginseng and medicinal herbs. In addition to visiting the ginseng garden, visitors can choose Ngoc Linh ginseng and medicinal herbs as gifts to bring home.
9. Community tourism, ethnic minority festivals Western Quang Nam region
Coming to Quang Nam, visitors must visit the community tourism destinations of the Co Tu, Xe Dang, and Ca Dong people in the western region of Quang Nam.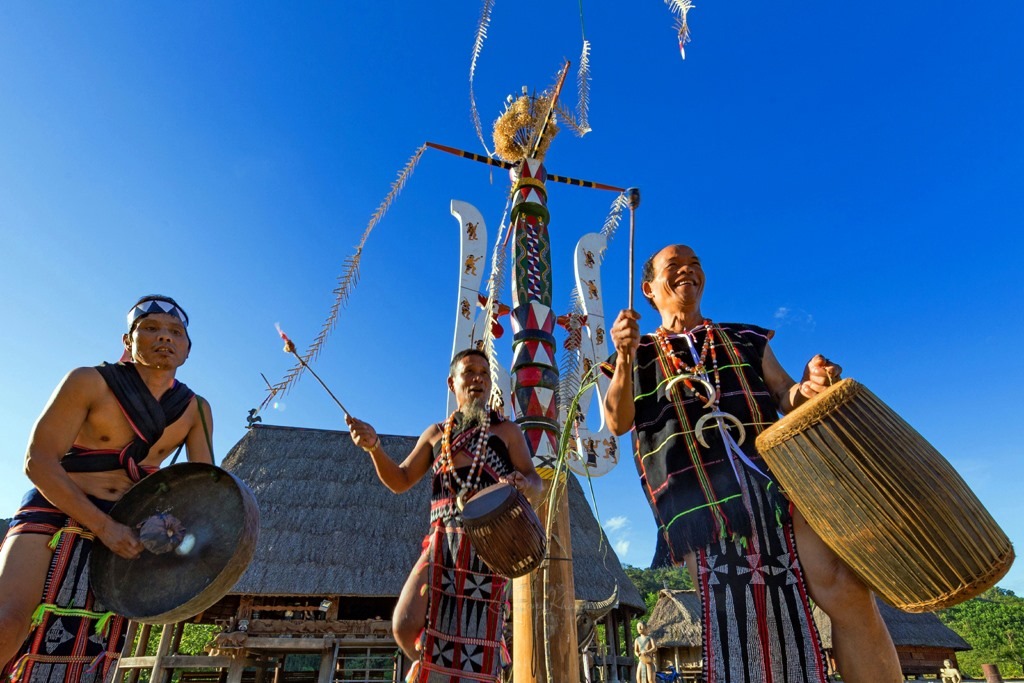 Bho Hoong tourist village, Dhroong village (in Dong Giang district, about 100km from Da Nang city). Visitors here experience traditional craft villages such as brocade weaving, Co Tu dishes, wood carving, and Tang tung da da dance.
In Tay Giang, tourists must attend community tourism villages such as Ta Lang and Po Ning. Visitors here can experience going to the forest to pick vegetables, pick bamboo shoots, go to the stream to catch fish, or prepare traditional dishes of the Co Tu people under the Guol roof.
Ta Lang Ecotourism Area has stilt houses for guests to stay in. If guests stay overnight, they pay a fee of 70,000 VND/night per person; Each meal averages 50,000 - 150,000 VND/person. In addition, tourists also visit the ancient Po Mu forest, Que Peak, A Xan rice fields, Do Quyen forest...
Diverse cuisine
Coming to Quang Nam, besides visiting scenic spots, this place also has rich and diverse cuisine, guaranteed to satisfy even the most demanding guests.
1. Mi Quang
Mi Quang is a specialty dish of the Quang people, made with Quang noodles and water and served with herbs and banana ears. The noodle soup is made from pork, chicken, frog, snakehead fish, and shrimp, cooked very concentrated and with little water.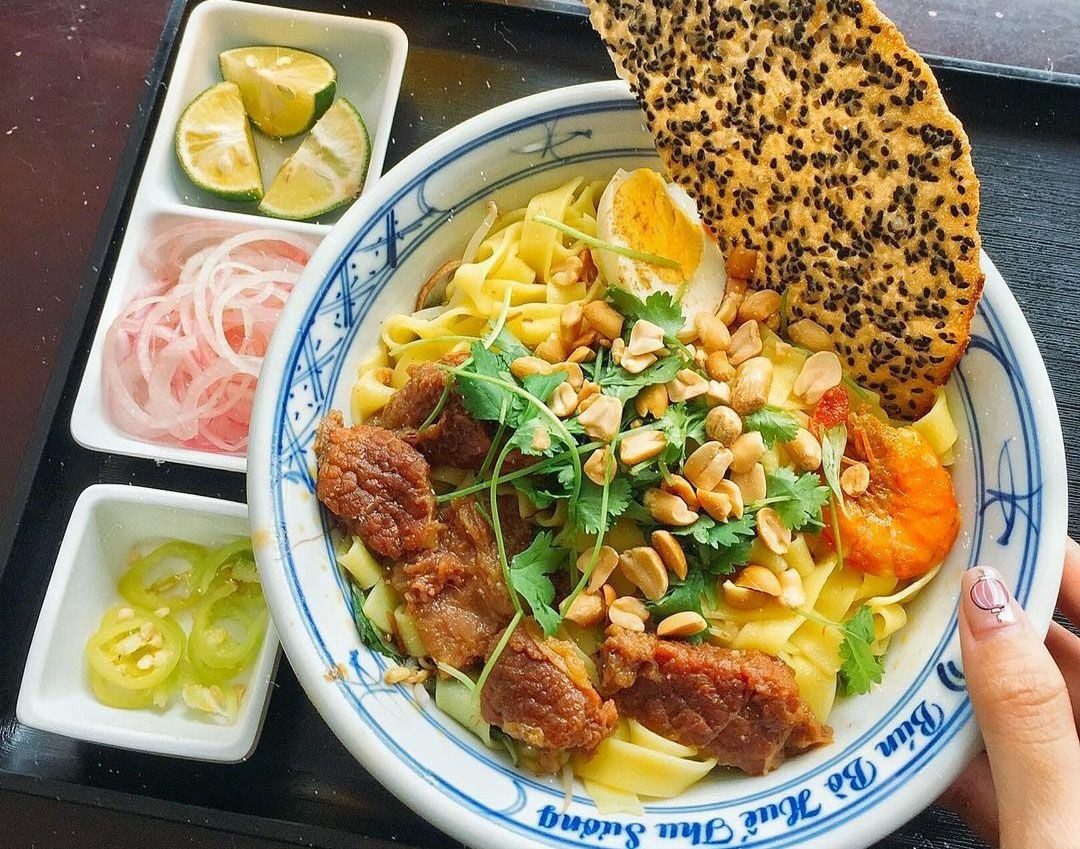 In addition, the noodles are also served with sesame rice paper, plus crispy roasted peanuts, to create a unique flavour. There's nothing more wonderful than eating a bowl of Quang noodles and biting into a spicy, fragrant green chilli.
"Whoever goes to the mountains and rivers / Remembers a bowl of Quang noodles, a strong love for the countryside." Wherever you go in Quang, you can see Quang noodle shops on every road and alley. The price of Quang noodles also depends on each restaurant; you can eat a bowl of Quang noodles from 15,000 VND or more. Some famous Quang noodle brands include Mi Giao Thuy, Tieng Quy, Binh Tu, Ky Ly...
2. Boiled veal
Coming to Quang, you will not be able to miss the dish of boiled veal, the most famous of which is Cau Mong steamed veal in Dien Ban town, where there are famous veal restaurants such as Muoi, Bay Lep... Boiled veal. Cau Mong is delicious because of the long-standing secret of the restaurant owners here and an abundant source of calves raised on the beaches of Thu Bon River. The veal has a sweeter and more special flavour than calves from other places.
Boiled veal at Cau Mong is standard veal meat that must be reddish but not raw, the skin is yellow but not tough, and the meat is just cooked. Boiled veal is served with anchovy fish sauce, raw vegetables, cucumber, and thinly sliced bananas. The price of calves ranges from 350,000 - 400,000 VND/kg.
3. Cao Lau
Cao Lau, Hoi An specialty is a yellow noodle with a little broth (stewed from pork bones), char siu, shrimp, pork, raw vegetables and fried rice paper.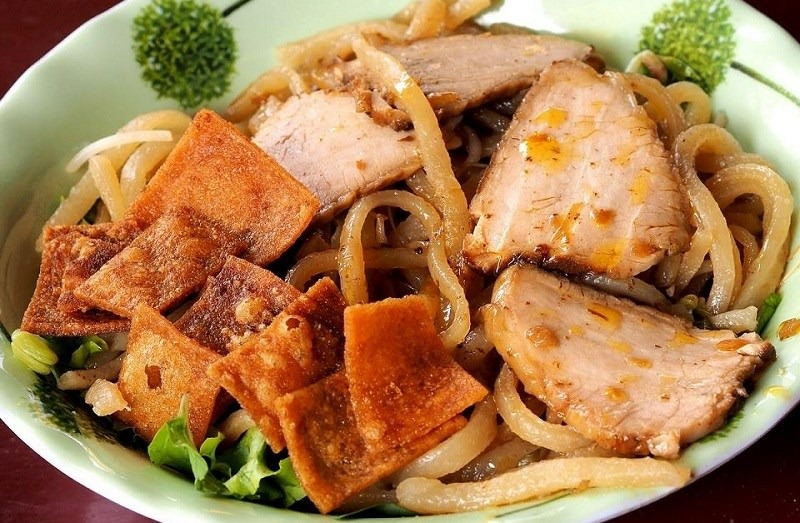 4. Chicken rice
Delicious chicken rice must be mentioned in the two localities of Hoi An and Tam Ky, where famous chicken rice restaurants have the fragrant taste of rice and chewy, greasy chicken. In Tam Ky city, the price of a plate of chicken rice ranges from 25,000 VND or more. Some chicken rice restaurants include Nga Chicken Rice, Ba Buoi, Xi (Hoi An), Ba Luan, and Tan Duyen chicken rice (Tam Ky City).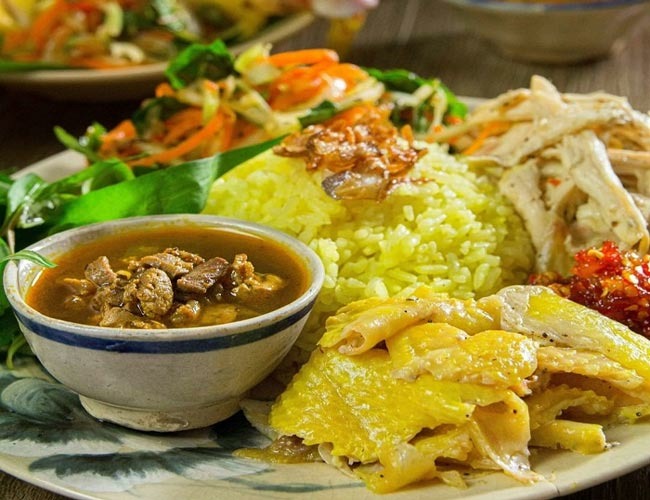 5. Pork rice paper
Dai Loc rice paper is delicious, made from rice, eaten with thinly sliced pork belly, seasoning sauce, fish sauce and vegetables grown in the mudflats of Vu Gia and Thu Bon rivers. The address often visited by tourists is Ba Lien pork rice paper shop, Ai Nghia town, Dai Loc district.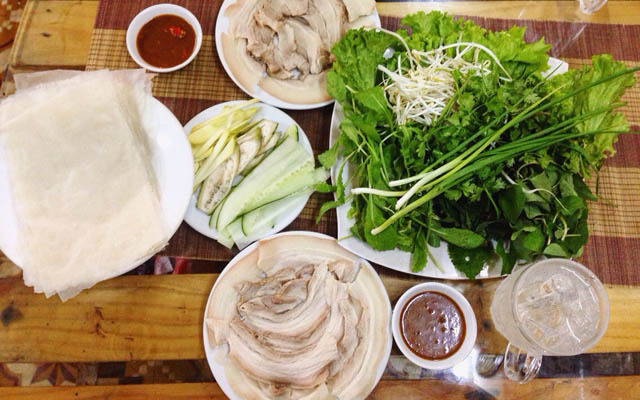 Read more: 26 Quang Nam specialties as a "must-try" delicious gift
You might be interested in