Every day for two weeks in Europe, My Phung's family chooses a different color to wear, a total of 13 sets.
Ms. Bui Thi My Phung, 31 years old, and Mr. Nguyen Le Nhat Khoa, 32 years old, living in Can Tho have just had a 14-day European tour, from late September to mid-October. Accompanying them this time is their son. 5-year-old boy, the intimate name is KuKa. This is the first trip to Europe with the whole family, visiting France, Switzerland, Italy, and the Vatican. Ms. Phung chose the above countries because they are all famous tourist destinations in the world because of their beautiful scenery and are visited by many tourists. Her family chose to go on a tour to increase the possibility of getting a visa and convenient transportation because of having small children.
During this trip, Phung's family wears ton sur ton costumes every day to visit attractions. They wore a total of 13 sets of clothes, with all colors including blue, red, purple, yellow, orange, pink, brown, purple…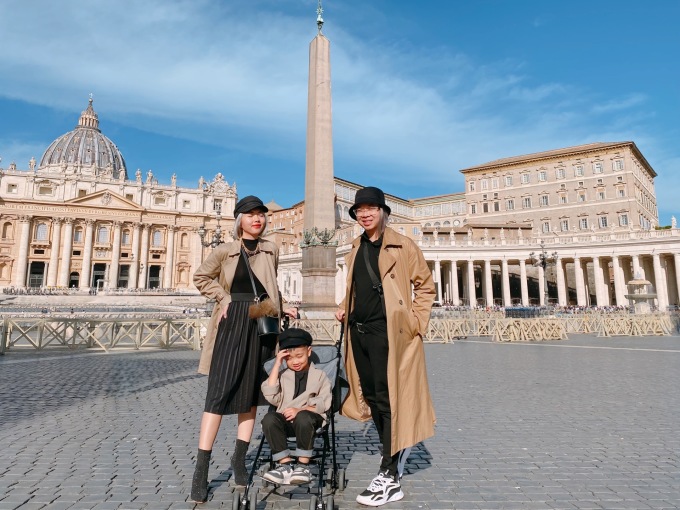 Phung's family members often travel and wear ton sur ton colors.
With an impressive fashion style, Ms. Phung's family quickly stood out in every destination. "During the days we went out, every day we were admired by people around. They laughed, and gave nice compliments such as: 'It's beautiful, you guys are so cute, we like the colors very much. hey.'. Some people even asked to take a souvenir photo with us. It was very fun", Ms. Phung recalled the happy memories of the trip.
Vietnamese female tourists said that days when wearing bright and rare colors such as pink, yellow, banana green, cobalt blue, more people pay attention. Every day, the whole family receives hundreds of compliments.
Ms. Phung claims to be a fashion enthusiast and loves striking colors. Fortunately, her husband, Khoa, respects his wife's passion. He is also very fond of his wife and in tune with her many interests. Therefore, when Ms. Phung raised the idea of ​​the whole family wearing ton sur ton on domestic and international trips, he happily responded.
To have such fashion sets, Ms. Phung has invested money, time and effort. Each item of each family member such as pants, shirt, shoes, socks, glasses, bags… are gradually collected by her, then mixed together. Sets with rare colors, or striking tones often take longer to buy enough, sometimes 1-2 years. "The process of collecting is arduous," she said.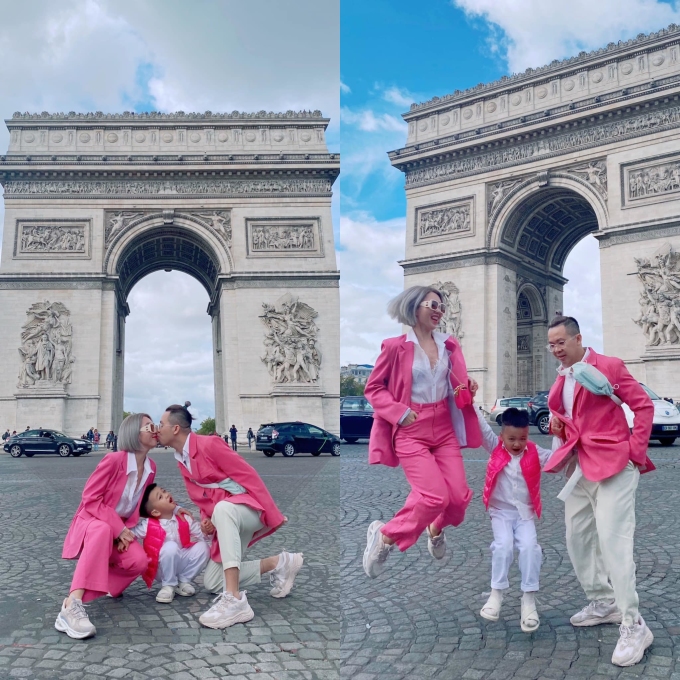 The whole family is pink when taking photos at the Arc de Triomphe, France.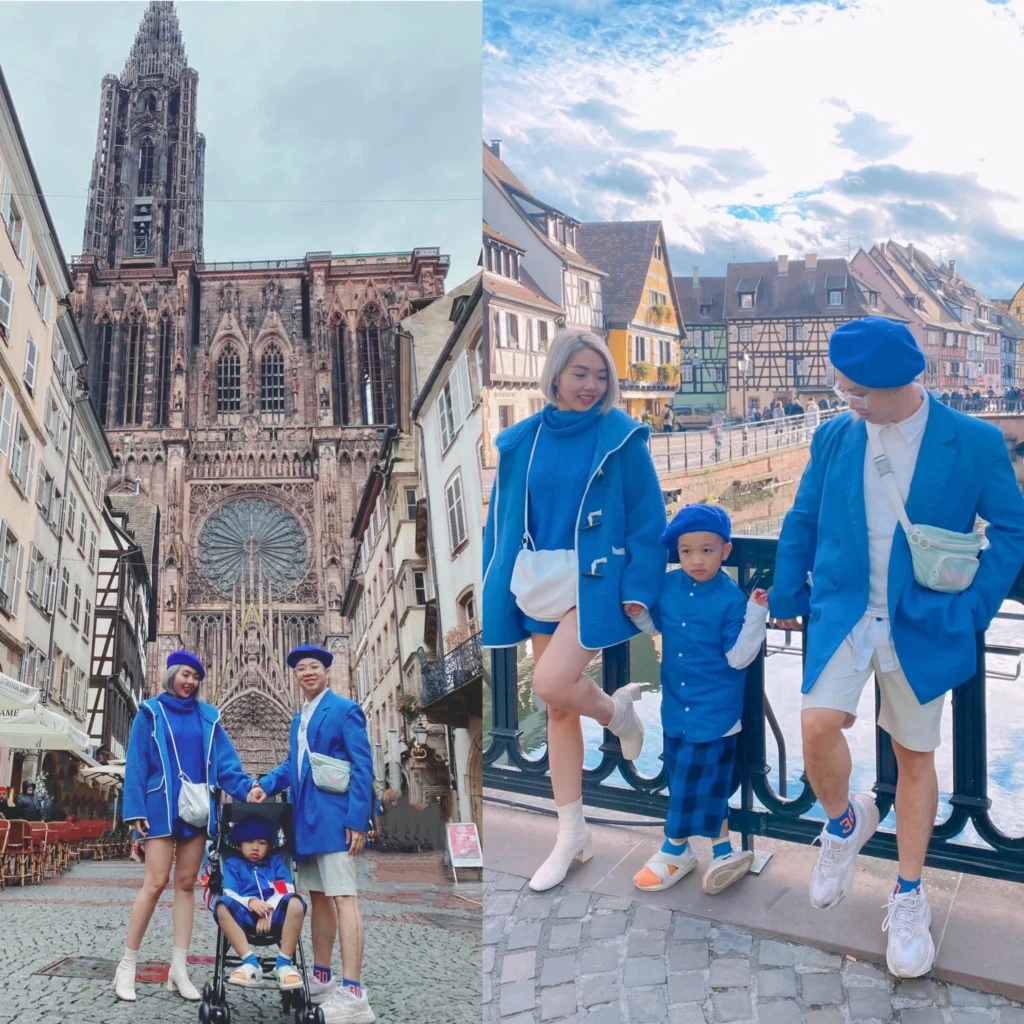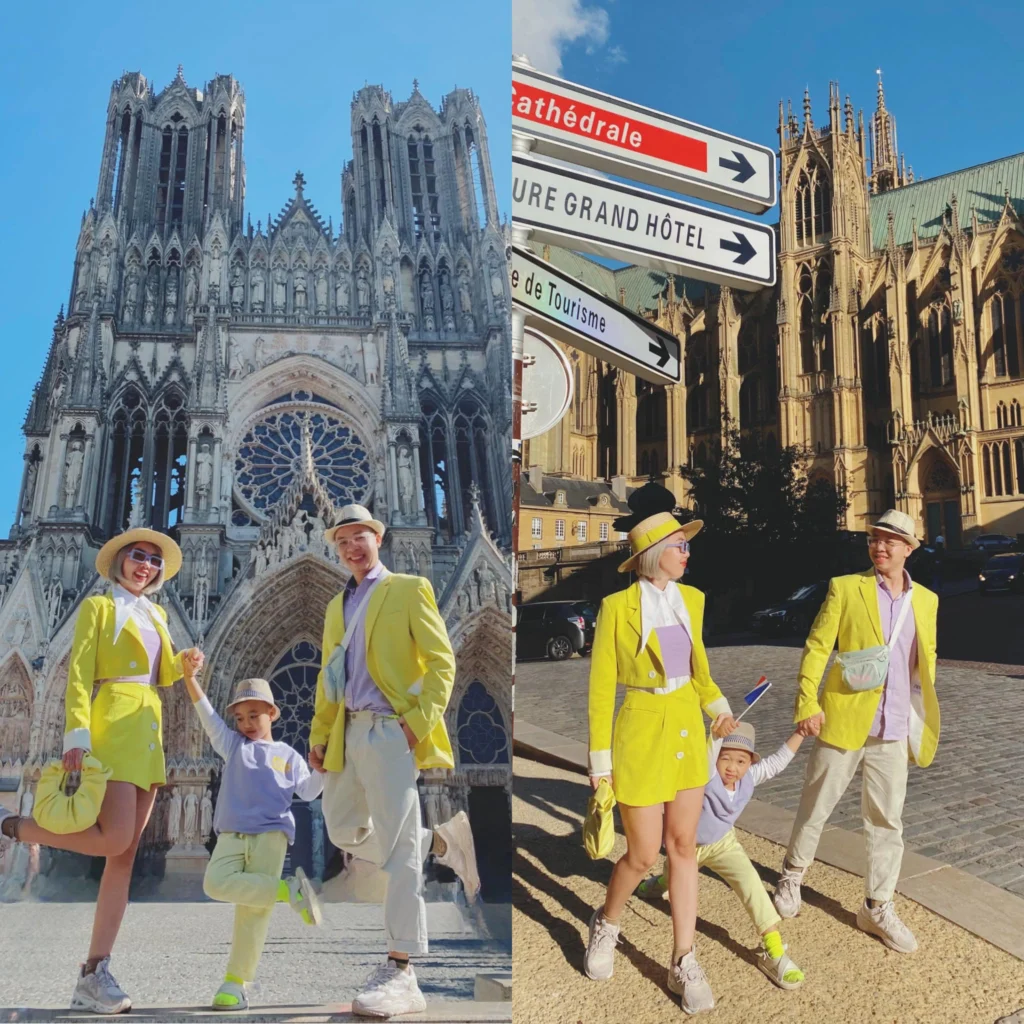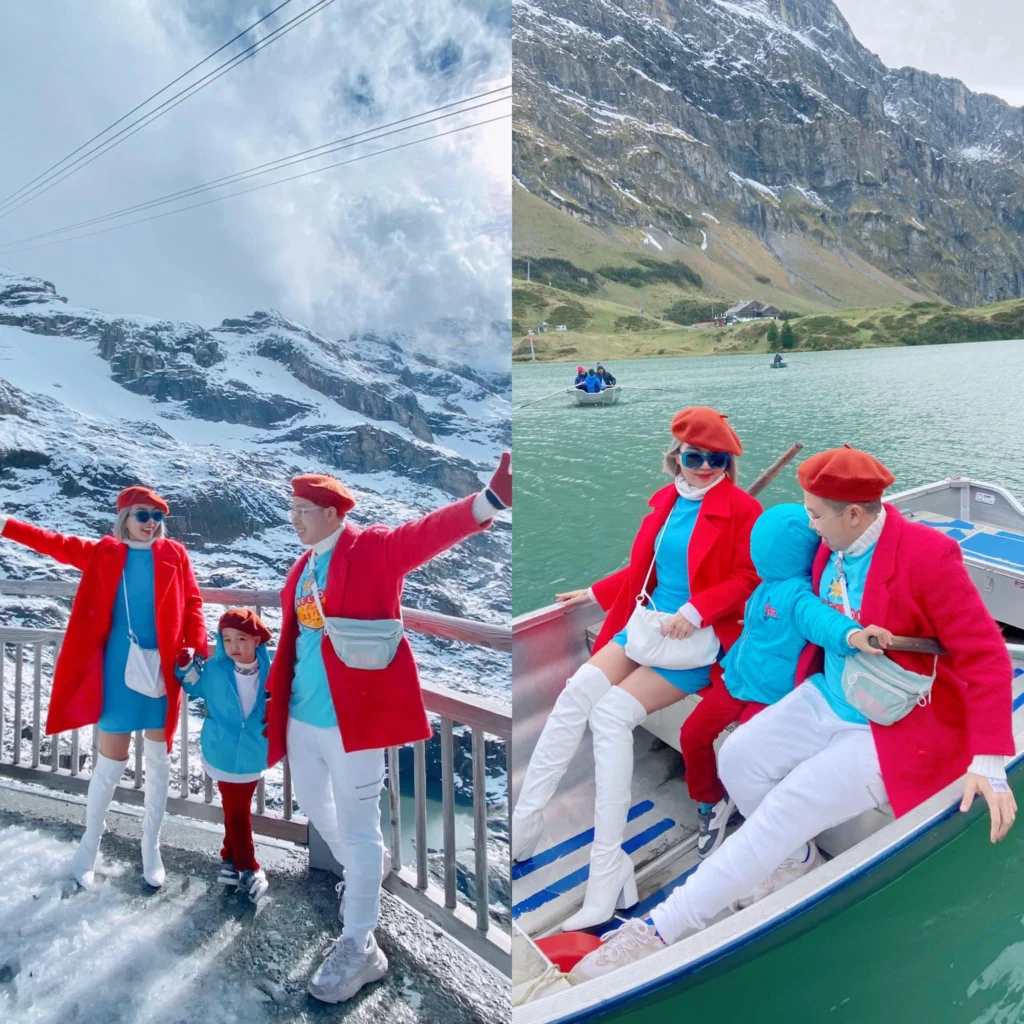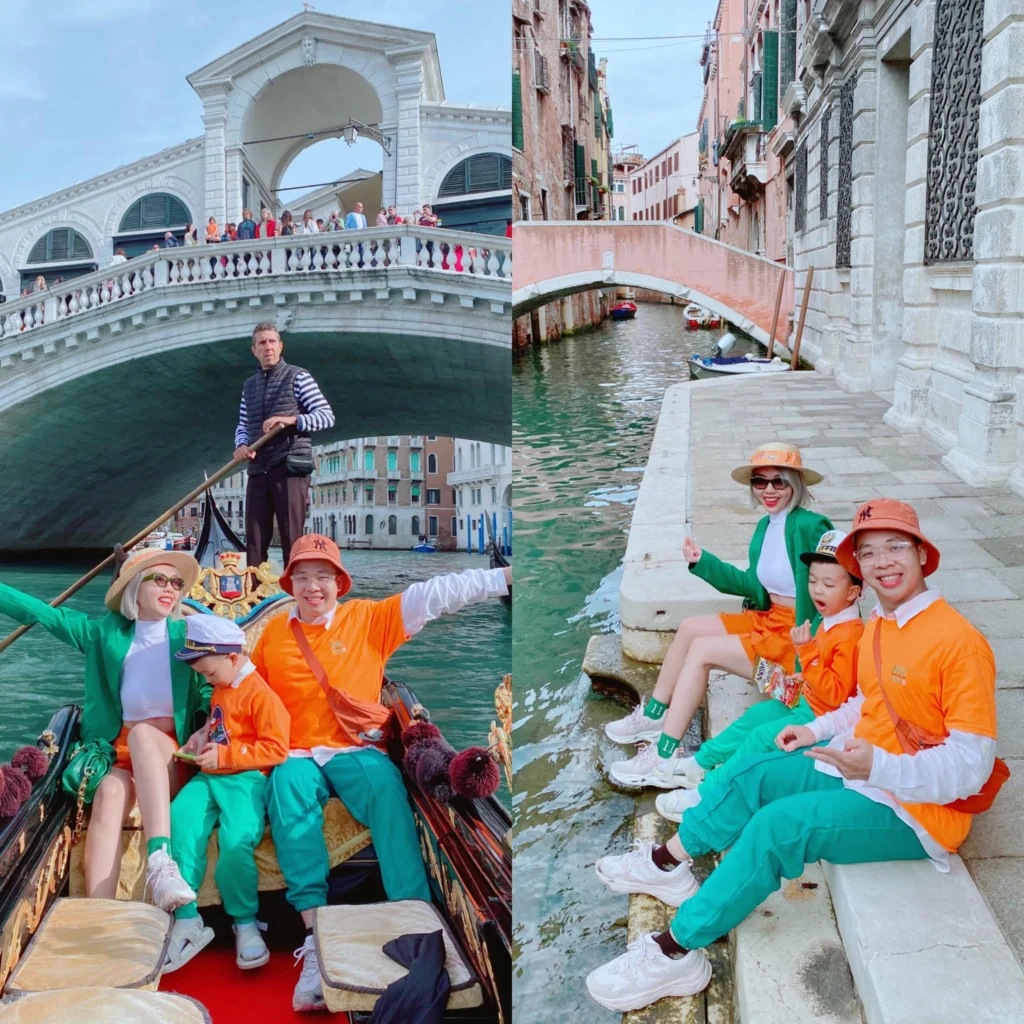 Talking about dressing outstandingly when traveling, Ms. Phung simply wants to show her personal passion in the field of fashion. Besides, she wants to convey positive energy to everyone, through eye-catching and cheerful clothes.
"The couple is very satisfied every time they look back at the pictures of each trip. Each journey is colorful tones, behind is a beautiful scene, a magnificent construction where we have passed. I want to later when In old age, the children have grown up, the whole family will have a huge collection of family photos. We will have something to talk about when we sit together to review memories," she said.
This is not the first time, the whole family wears the same when traveling. They have worn it on trips to Singapore, Taiwan, Korea and throughout Vietnam since 2017.
Wearing the same clothes, holding hands around the world is a long-standing desire of Ms. Phung. To achieve this, the couple has worked hard. By the age of 30, they have accumulated enough money to be able to both work and go on trips around the world together.
"We grew up in ordinary families, living in small alleys. In the past, we loved to travel but only dared to dream. Growing up, we worked hard and were fortunate to have accumulated, so Before realizing this dream of traveling around the world, we also bought a house and helped our parents to have a full and comfortable life," she said.
The couple's next plan is to take their children to explore other continents. In 2023, they plan to take their children to Australia, Egypt and then back to France, and visit the Netherlands, Greece, Spain… "In recent weeks, I have started hunting for things for my family again. We are determined to continue to make more colorful and unique sets for the next journey," said Ms. Phung.
Photo: Internet
You might be interested in