Many young people choose to go to Phu Yen to change the wind, instead of familiar destinations such as Da Nang, Nha Trang, Phu Quoc…
Besides the hottest tourist destinations in the summer of 2022 , Phu Yen is a rising star, attracting visitors to relax and visit. In particular, Phu Yen is an attractive destination for young people because there are many beautiful places to take pictures such as Ghenh Da Dia , Bai Xep , Mui Dien , Mang Lang church … Recently, Nghinh Phong tower , right in the heart of Tuy city Hoa. Moving to Phu Yen is also very convenient.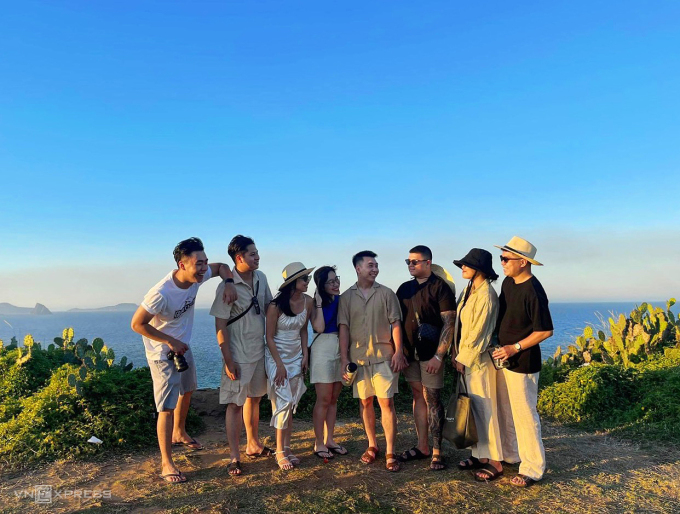 Many young people choose Phu Yen as a destination for this summer. Photo: NVCC
At the end of May, on young tour groups, the number of articles advising on how to travel and eat in Phu Yen accounted for about 60% with a large number of interactions. Beautiful photos and suggested check-in corners in Phu Yen have an average of 2,000 – 3,000 likes for each post. On the Booking app, the occupancy rate in Phu Yen is quite significant, when many beautiful or conveniently located hotels have only 2 to 3 rooms available on weekends in June.
Giang Thuy Anh, born in 1996, knew Phu Yen through the movie "I see yellow flowers on green grass". "Hot spots like Da Nang and Nha Trang are boring. We've all gone so I want to choose a new one," Thuy Anh shared.
She combined the discovery of Phu Yen in her Quy Nhon trip. The female tourist stayed here for a day but felt sorry for the short playtime. "I was so surprised that Phu Yen has many things to visit, I think it would be more comfortable to go for at least two days," Thuy Anh said.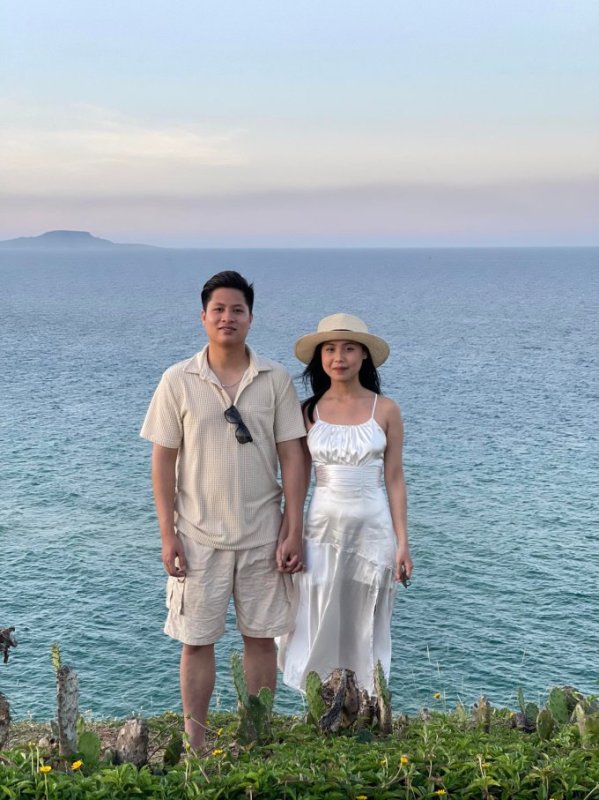 Watching the sunset at Bai Xep is the most impressive Thuy Anh experience. Photo: NVCC
Explaining the reason why Phu Yen attracts young people to visit recently, Thuy Anh said that during the peak tourist season, Phu Quoc is prone to rain, while Da Nang and Nha Trang are always crowded.
She said that many people show off beautiful photos of Phu Yen on tour groups, creating an effect, making many young people interested and want to explore new destinations. Thuy Anh said she broke down when she arrived at Bai Xep, stood from the cactus beach and looked out at the vast blue sea. "Sunset at Bai Xep is one of the most romantic scenes I've ever seen," Thuy Anh said.
And Bui Quang Thuy, a travel blogger born in 1999, knows Phu Yen through friends' stories and beautiful photos on groups. "Phu Yen is now a destination that attracts many young people. Now, this land is no longer as wild as it was 2-3 years ago. The resort services are suitable for large groups," Thuy commented.
He traveled to Phu Yen at the end of May, impressed with many beautiful spots, and delicious and cheap food. However, the attractions are quite crowded affecting this guy's experience.
"Phu Yen is promoted quite a lot, so in the future, there will be more young people to visit." From the point of view of a travel blogger, Thuy realizes that the Phu Yen tourism trend is spreading among groups, but it is not excluded that the possibility of rapid saturation is possible if the province does not continue to create new and traditional activities. Good communication, and service quality assurance.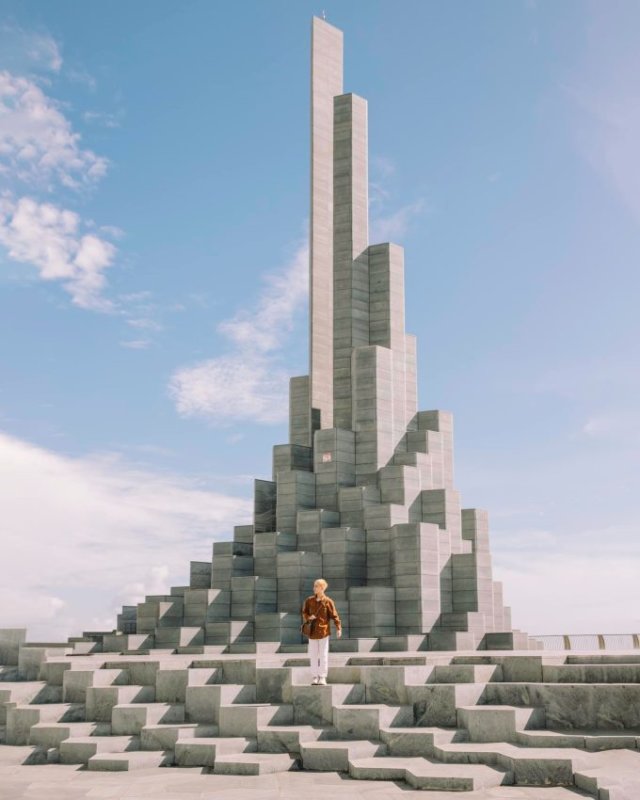 Bui Quang Thuy checked in with Nghinh Phong tower, one of the new destinations of Phu Yen. Photo: NVCC
Mr. Cao Hong Nguyen, head of the Tourism Management Department of Phu Yen province, commented: "Phu Yen is emerging on the tourist map of Vietnam. The summer end of May to August is the peak of Phu Yen tourism due to many young people. places like Nghinh Phong tower, Van Hoa plateau are new experience products. In addition, local cuisine is attractive and cheap."
Mr. Nguyen assessed that the province has potential for sea and island tourism, attracting investment in new services. Currently, the province is reviving craft villages to become new destinations for tourists such as Ganh Do fish sauce craft village, Hoa Da rice paper craft village, Le Diem cultural and tourist village, Xi Thoai…
In the first 5 months of the year, the total number of tourists to Phu Yen was estimated at 455,270, up 46.4% over the same period in 2021. The majority of tourists come from Hanoi and Ho Chi Minh City. Ho Chi Minh City and the Central Highlands. In May alone, the total number of tourists to Phu Yen reached 121,870, up 228.5% over the same period in 2021, of which international visitors reached 410 arrivals, up 95.2% over the same period.
You might be interested in