HO CHI MINH CITY – During the days of social distancing, Le Dai Phat focused on painting on artificial nails and the painting "Victory against Covid-19" with 56 used masks.
The 28-year-old man lives in the Cu Chi district and has been pursuing the art of painting on artificial nails for 4 years. Two months ago, when the Covid-19 epidemic broke out in Ho Chi Minh City, his nail training center in Tan Phu district had to close. At home during the epidemic, Phat has time to focus on passionate works and he identifies himself as a "storyteller".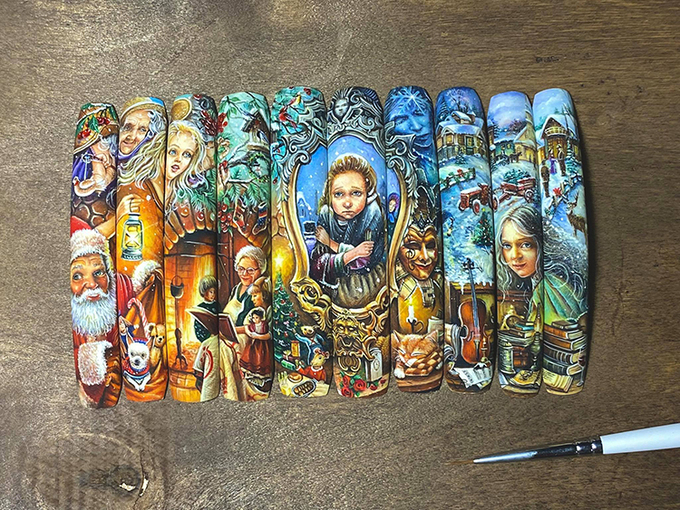 The work was inspired by Dai Phat's story "The girl who sold matches" by writer Andersen. The image in the mirror represents her current life and the outside image represents the dreams she sees after striking the matches.
From nails measuring 1.5 x 5cm, Phat creates paintings inspired by life or world-famous stories. Each story is integrated with 5-10 nails, carrying the message "art is everywhere, even on small surfaces".
"Painting is not simply creating a beautiful picture. To me, each nail painting is a work of art that conveys human emotions and attracts viewers," Phat said.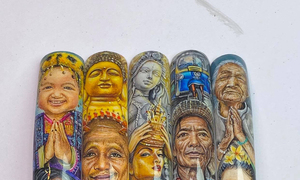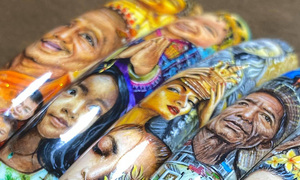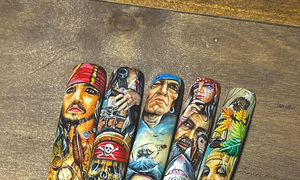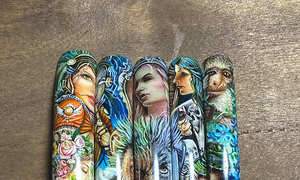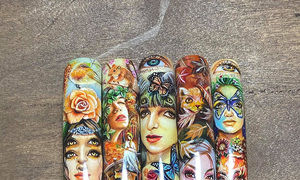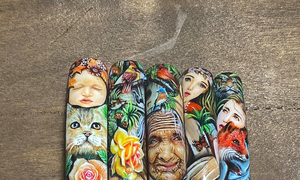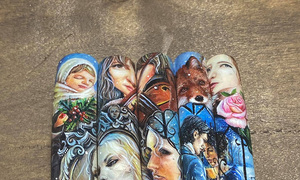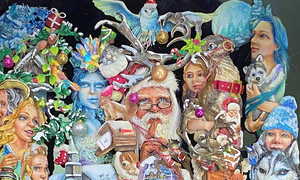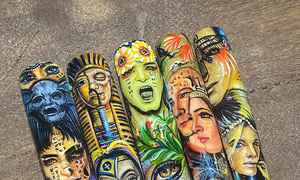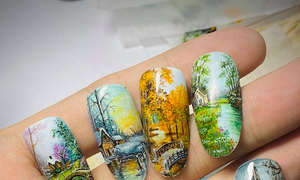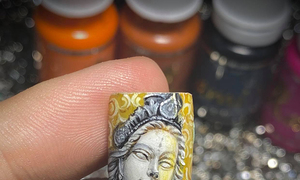 For example, the work takes the theme of Thailand on 5 fake nails, the 28-year-old young man integrates images of religion, people from young to old or the typical culture of Tuktuk cars. To show the work "Little Match Girl" painted on 10 nails, Phat highlights the loneliness, dreams and hopes of a little girl in the face of death on a cold New Year's Eve. cold. In addition, there are countless other ideas that this guy brings into his nail artworks such as: Pirates of the Caribbean, Six Superman Brothers, All Species…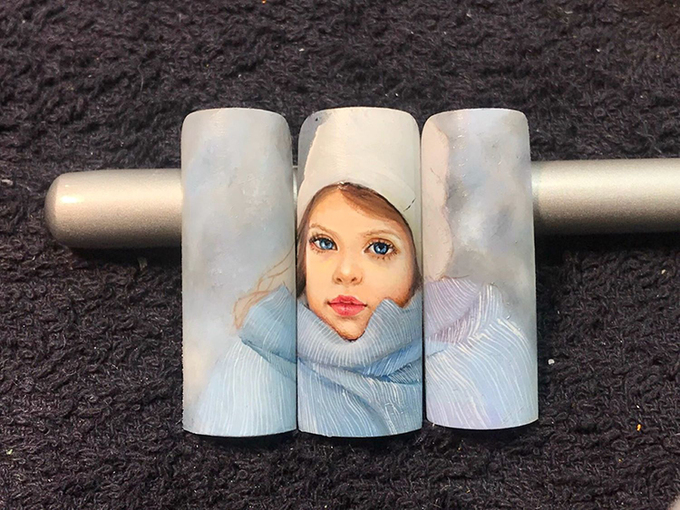 The image of a little girl in winter was painted by Dai Phat on 3 artificial nails.
To complete these works of art, Phat had to perform three main steps: Cleaning and treating the foundation; sketch the pattern to be drawn and then color it; The final step is to paint the gloss for the product. The theory is simple, but according to the guy, because the cross-section of the nail is very small, it requires high technique and a lot of practice time. Drawing on paper can measure the size, but on the nail must draw according to the feel, and measure the proportions by eye.
Materials to create works on nails are nail powder, brushes and specialized paints such as acrylic colors or nail polish. Usually Phat takes 1-2 weeks to complete a work, the longest is two months for more elaborate work. The finished works serve the purpose of teaching as well as submitting to nail competitions at home and abroad.
Currently, Phat is working on a work called "All Species" inspired by animals such as snakes, birds, etc., integrated with images of girls with a little bit of magic to show the connection between children. people with nature. With this guy, any phenomenon or story can be turned into a painting idea. "It's important that I feel the harmony and vibe in my soul," he said.
Creativity is like that, but the knowledge of how to draw and sketch is completely self-taught and learned online. This young man once had a dream to enter the University of Fine Arts in Ho Chi Minh City but failed two years in a row. Because of his difficult family situation, Phat went to work as a worker and used the money he earned to support his passion for drawing. After a year of self-study, he opened a drawing class for young people with the same passion. Here, a student advised him to learn nail art to increase his income.
As a man, he was exposed to too many women in an environment, so at first, Phat encountered many prejudices. Friends prevent him from being fanciful while outsiders think Phat is the third gender…
Despite the pressure, this guy ignored his ears and devoted himself to his new passion. "After all, the nail profession is gradually becoming a big art playground for those who love nail art," Phat affirmed.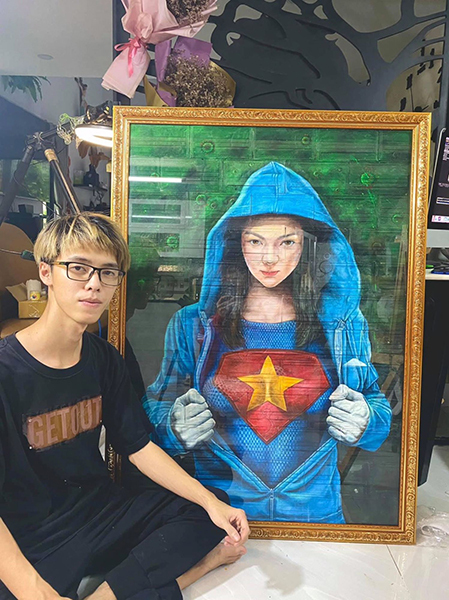 Le Dai Phat with a painting depicting the fighting spirit of the Covid-19 epidemic on 56 used masks.
During the anti-epidemic days at home, the 28-year-old man still teaches online classes for students who love nail art at home and abroad. He also cherished to make a work with the theme of Covid-19 to send to the doctors and nurses who are fighting the epidemic day and night in the city. Previously, Phat painted a picture showing the determination of Vietnamese people to win against Covid-19 with 56 used masks.
"May we all always be confident and overcome this difficult time together", Phat conveys the message in the work. Follow vnexpress
You might be interested in