Vietnam – "golden forest, silver sea". This simile is not about the natural resources hidden deep underground as we think. It is to describe the perfect natural beauty of our country. Here are 17 beautiful camping spots right in Vietnam that not everyone knows:
I. The North
1. Son Doong Cave, Phong Nha – Ke Bang National Park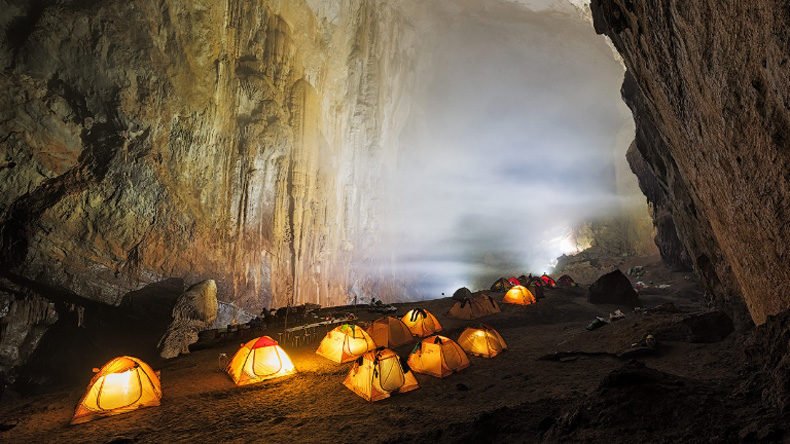 son Doong cave
Recognized as one of the largest caves in the world, Son Doong cave belongs to Phong Nha – Ke Bang National Park. This is an extremely attractive place for those who are adventurous and like to experience new things. You will have to pay about 3000 USD to have the opportunity to set foot here. Not only that, you absolutely have to "book" from 2 months or sometimes 2 years to have the opportunity to enter. However, the magnificent wild beauty of this place will not disappoint you.
2. Dai Lai Lake, Vinh Phuc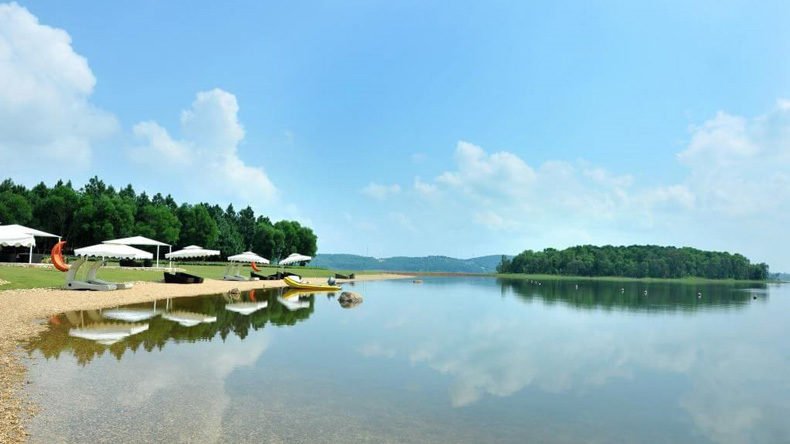 Dai Lai, Vinh Phuc
About 50km from Hanoi, Dai Lai Lake is one of the camping sites very close to Hanoi, giving you a relaxed, fresh and cool atmosphere. Nestled in the middle of the Tam Dao mountain range, Dai Lai Lake appears with immense green forests, mixed with natural valleys, creating a spacious space, poetic and charming scenery.
3. Dong Cao – Bac Giang
Dong Cao, Bac Giang
This place is not really an official camping site, but it is very popular among tourists. Located in Chicken village, Thach Son commune, Son Dong district, Bac Giang province, Dong Cao is about 160 km from Hanoi capital. This place has an isolated location from residential areas, is a place for visitors to watch the sunrise and enjoy the most peaceful space. According to experienced travelers, the best time to camp in Dong Cao is from September to November, when there is not too much rain in the Northeast of Vietnam. Therefore, the weather will be very favorable for sunrise viewing. The wind in Dong Cao is also quite strong while the slope is relatively large, so you should choose a flat ground for camping.
4. Dong Mo – Hanoi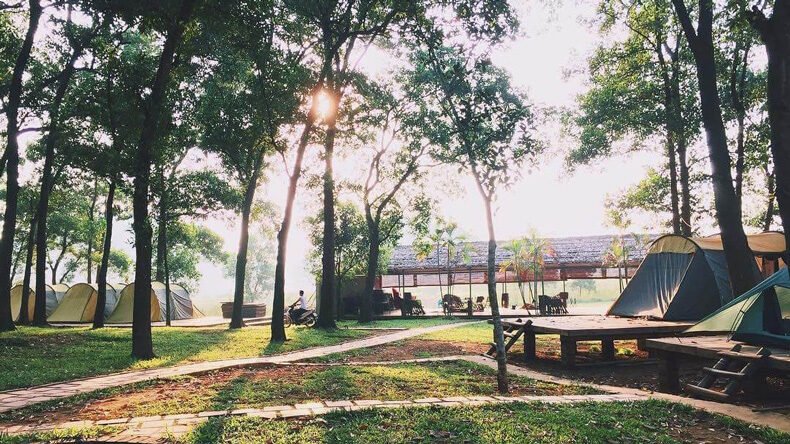 Dong Mo, Hanoi
About 40 km from Hanoi city center, Dong Mo is a popular destination for camping lovers. Dong Mo is the name of a lake and Son Tinh is the name of the camping area located adjacent to that lake. This is great for camping, picnics, or weekend boating.
In fact, Son Tinh is a campsite completely dedicated to outdoor camping and picnic space. The tents here are mostly set up, so visitors do not need to bring tents. Necessary facilities such as bathrooms and general services are available. However, the price of tent rental is not cheap, customers have to pay about 400,000 VND/family tent and 200,000 VND/tent for 2 people for 24 hours.
5. Ham Lon Mountain – Hanoi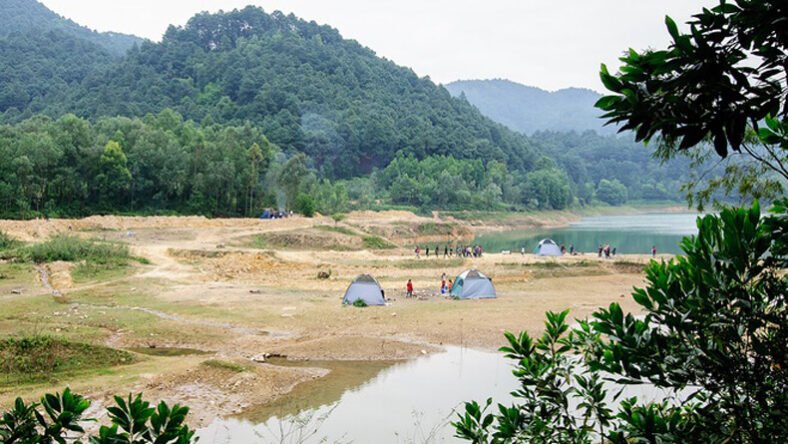 Ham Lon, Hanoi
Belonging to Doc Ton mountain range, Soc Son district, Ham Lon mountain is about 40 km from the city center. This peak is only 462 meters above sea level; therefore, it is ideal for trekking all the way to the top. You can camp in the mountains or at the official camping site at Suoi Bau lake.
6. Ba Vi National Park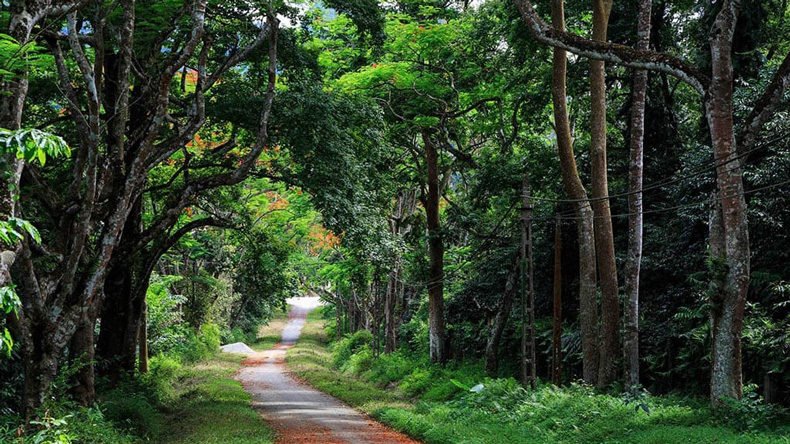 Ba Vi National Park
This is a popular destination for both locals and international visitors. During the summer and early autumn, on every weekend, visitors often come here to enjoy the clean and cool air as well as the wonderful natural scenery. It has a large pine forest that is quite suitable for camping.
II. Southern
7. Paradise poplar forest campsite, Vung Tau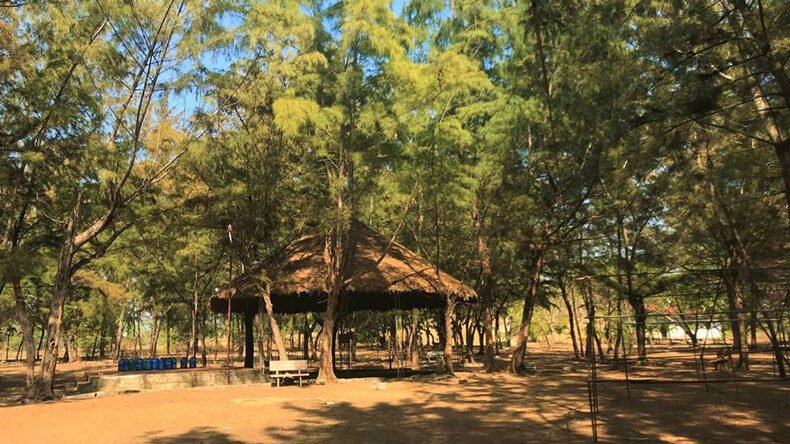 Paradise poplar forest
"Garden of Eden" is a place chosen by many schools and companies and organizes outdoor camping and fun activities. Paradise poplar forest campsite with cool blue beach, fine white sand, green poplar forest will give you the best moments when camping here.
8. Ta Dung , Dak Nong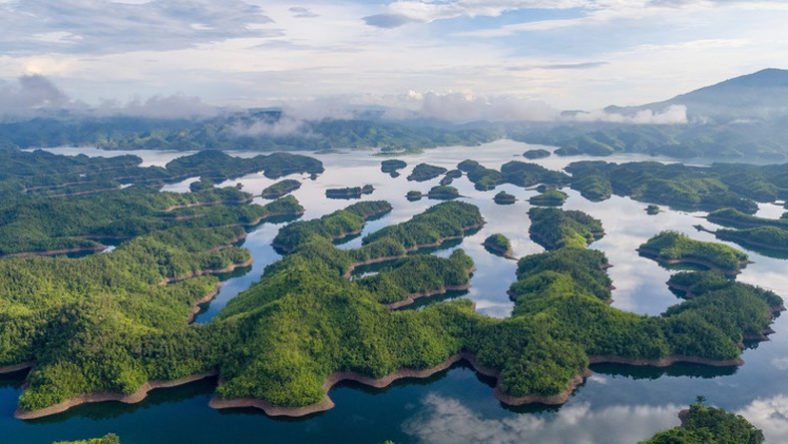 Ta Dung, Dak Nong
Located about 280km from Ho Chi Minh City, Ta Dung is a nature conservation area, located in the highlands of the Central Highlands. Ta Dung Lake is beautiful with an island in the center like a pearl in the middle of the blue lake. To go to the "pearl" island, you can use a boat to camp. Fishing in Ta Dung Lake, preparing for dinner is also an extremely interesting activity.
9. Camping at Tuyen Lam Lake, Da Lat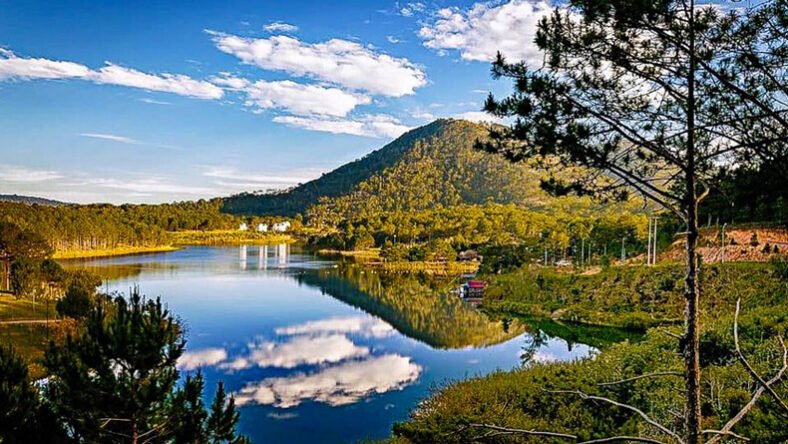 Tuyen Lam Lake, Da Lat
If you want to camp in Da Lat, then Tuyen Lam Lake is definitely a place not to be missed. It possesses such perfect natural scenery that you will not want to return home. Here, you can participate in many interesting activities such as boating, walking, or visiting the unique sculptor made of clay. All of them will bring you a lot. great experiences. In particular, you and your relatives and friends will enjoy the fresh, cool atmosphere and freely explore the beautiful natural scenery that only Da Lat has.
10. Ho Coc Campground, Vung Tau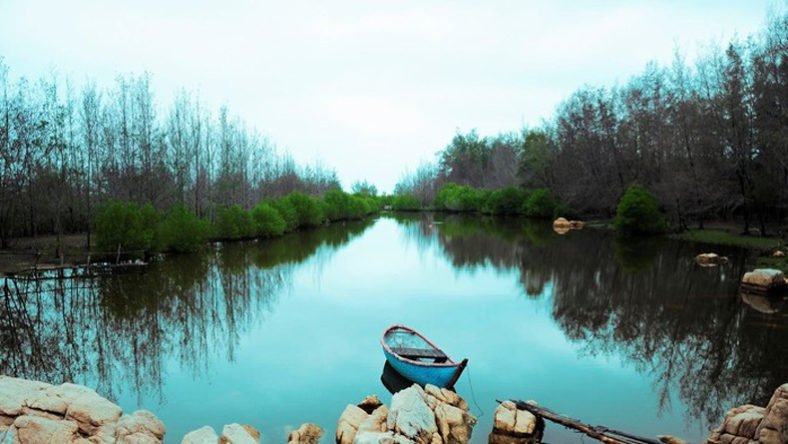 Ho Coc, Vung Tau
This will be the ideal place to avoid the sun that you are always looking for to relieve stress. Here you can watch the pure white sand beaches and enjoy yourself in the clear blue water, enjoy the typical dishes of the sea. Possessing a long and beautiful beach strip, it is extremely suitable for camping trips for those who like peace.
11. Starfish eco-tourism area – Khanh Hoa province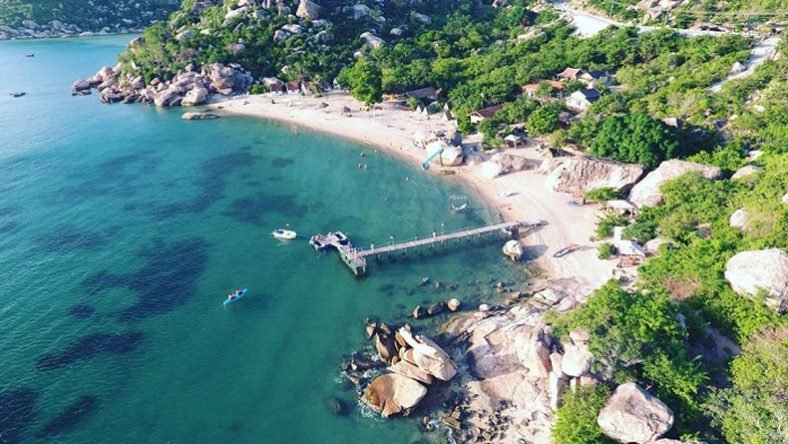 Starfish, Khanh Hoa
Located in Binh Lap village, Cam Lap commune, about 30 km from Cam Ranh city, Khanh Hoa province, the Sao Bien eco-tourism area is one of the ideal places for camping in Vietnam. Coming to this place, you will be able to relax in tents or bungalows on the beach. The cost for the bungalows is 500,000 VND/night for 2 people.
The beach here is clean and safe for children. With this fresh atmosphere, besides fishing and swimming, you can participate in many interesting activities such as kayaking, boating, kite flying, cycling, squid fishing, climbing and camping, etc. etc…
12. Coco Beach Camp – Binh Thuan province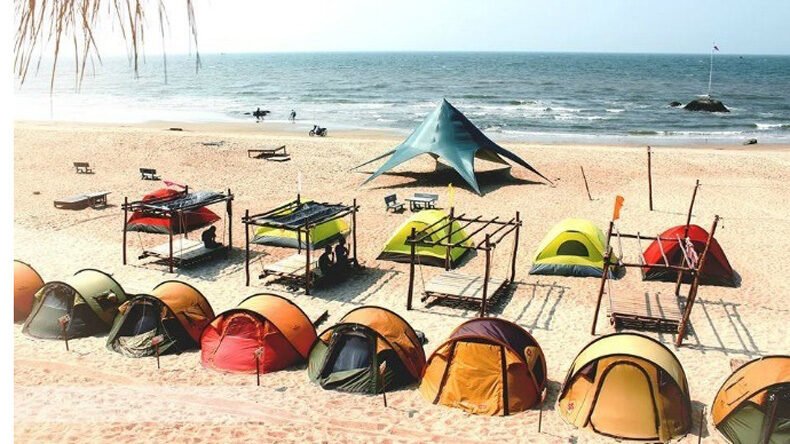 Coco Beachcamp Binh Thuan
About 180 km from Ho Chi Minh City, Coco Beach Camp, located in Lagi city, Binh Thuan province, is a great camping tent on the beach that makes many people fascinated. This area will give you a lot of tent-related options, such as single tents, double tents, or tents for the whole family. Each one costs 150,000 VND/person.
Here, you can admire the pristine scenery of Cam Binh beach, watch the blue sky, enjoy delicious seafood, take beautiful photos, and wake up to the sound of birds chirping.
13. Son My Beach – Binh Thuan Province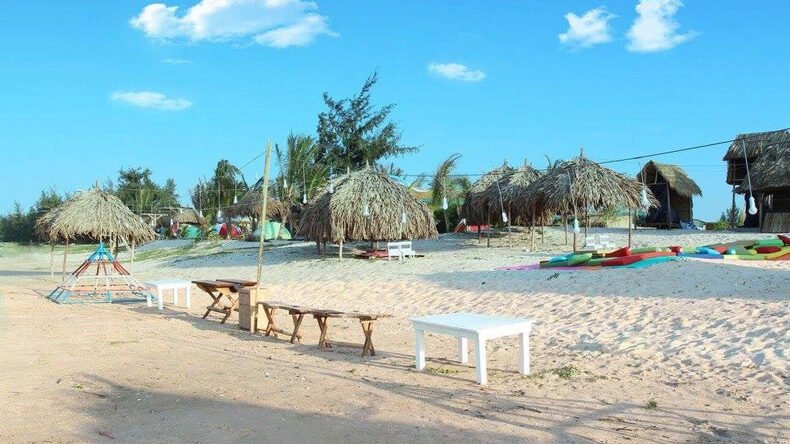 Son My Beach, Binh Thuan
About 140 km from Ho Chi Minh City, Son My beach is an ideal campsite for tourists. Located in Ham Tan district, Binh Thuan province, this area has about 20 tents for both solo and group travelers with prices ranging from 75,000-150,000 VND/person.
14. Life's A Beach – Quy Nhon city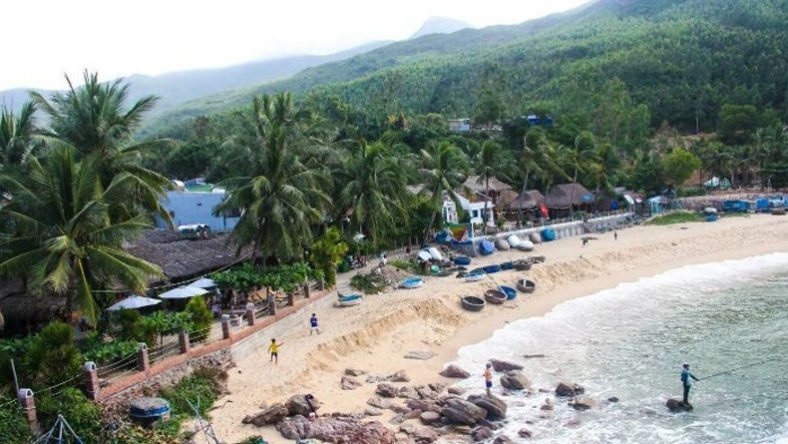 Life's A Beach, Quy Nhon
Located in the coastal fishing village of Bai Xep, Ghenh Rang Ward, Quy Nhon city, Life's A Beach was built by two young Englishmen, Gavin and Steve.
With beautiful scenery, Bai Xep is a popular destination for those who love beautiful sunny and windy beaches. Life's A Beach is also an interesting stopover that you can't forget even if you come only once.
Located about 10 km from Quy Nhon city center, Life's A Beach will impress you with the layout of cabins, huts, ways to relax and entertain. You can walk, explore golden sandy beaches, explore the life of gentle fishermen, or enjoy many delicious dishes of Quy Nhon beach.
Since the resort is located in a fishing village, visitors can immerse themselves in the daily life of fishermen here. Let's talk, watch fishing nets or play with children at sea. This beach is quite unspoiled, so it is very clean. Guests are free to enjoy, swim and sunbathe on the golden sand. For those who love travel and want to have a vacation close to nature as well as experience real-life at any time, Life's A Beach is an ideal place. The resort is not luxurious but will make your stay meaningful and memorable.
For camping lovers, this is one of the great options. The campground also has a number of activities such as driving or walking.
15. Trung Luong – Phu Cat picnic area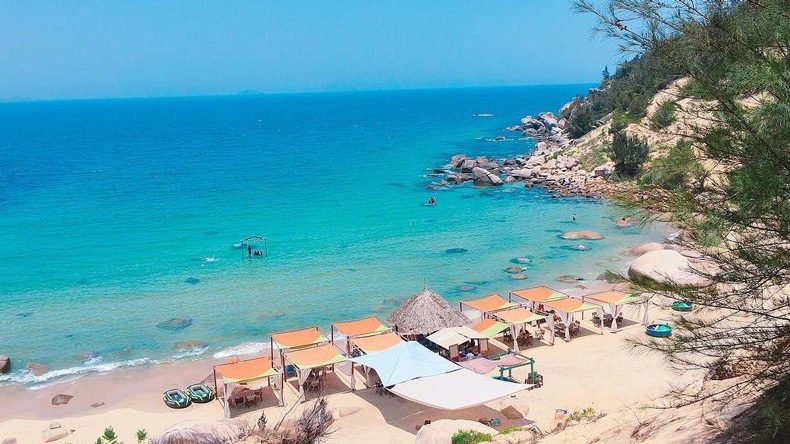 Trung Luong, Phu Cat, Quy Nhon
Trung Luong picnic area is an attractive and new destination for beach lovers. Located in Trung Luong village, Cat Tien commune, Phu Cat district, Trung Luong camping site is about 30 km from Quy Nhon city. Here, the scenery is very poetic with white sand, blue sea and reefs. After admiring the beautiful scenery and taking pictures, you can snorkel and relax or enjoy fresh seafood.
16. LU Glamping – Binh Thuan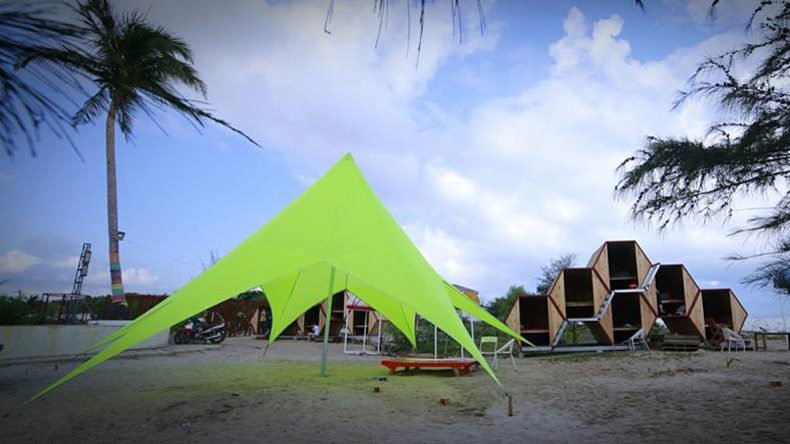 LU Glaming, Binh Thuan
LU Glamping is really an interesting destination for tourists. Located at Ke Ga beach, about 33 km from Phan Thiet city, this campsite is quite new with youthful and westernized main colors. There are tents available for rent on the beach. It is worth noting that the services and arrangements here are very creative with jeeps or beach bars…
17. Nam Cat Tien National Park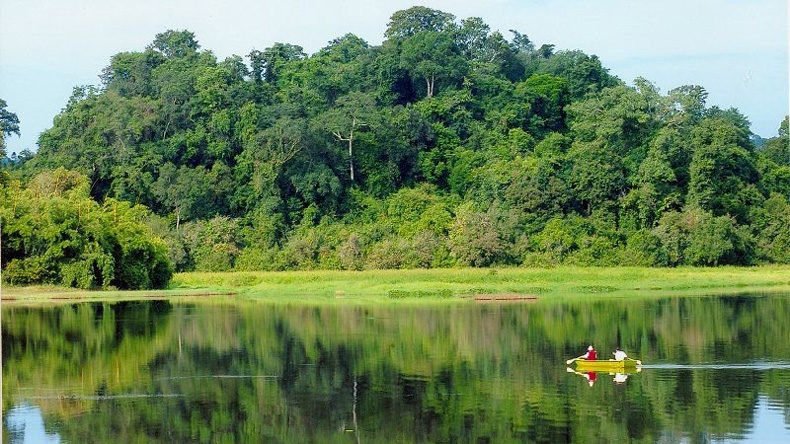 Nam Cat Tien National Park
Stretching across the three provinces of Lam Dong, Dong Nai, and Binh Phuoc, about 160 km away from the hustle and bustle of Saigon, Nam Cat Tien National Park is considered one of the best destinations for camping in the region. South Vietnam. You will not only camp here but also have trekking and cycling trips to discover the beauty of nature. The tent for rent here ranges from 80,000 VND to 200,000 VND/night. You can also bring your own tent.
Did our country not expect it to be this beautiful? Prepare yourself with the necessary luggage and set out to discover new horizons! / Photo: Internet
You might be interested in