An Giang fish vermicelli has a fresh yellow broth, fragrant with turmeric, while Kien Giang fish vermicelli has clear broth and sweet taste.
Fish vermicelli is a rustic dish of the countryside, not too fussy, but each region, each region has a little characteristic spice, so each dish is a little different, like Ninh Hoa fish noodle (Khanh Hoa) will be different from vermicelli. fish in Soc Trang, Kien Giang or Chau Doc (An Giang).
In the West, many fish noodle dishes originate from Cambodia, gradually being modified to suit people's taste, in which Chau Doc fish noodle (An Giang) retains almost the same taste as the original.
The old Chau Doc fish vermicelli used fish to cook fresh water, add dried shrimp for flavor and indispensable wormwood vermicelli, fish sauce, lemongrass, chili, garlic, fresh turmeric. Chau Doc fish noodle soup today still keeps almost original, rustic with snakehead fish, broth and fresh vermicelli. The broth is cooked with the bones of the tube to get fresh water, just simmer and skim off the foam so that the broth is always clear. The snakehead fish cleaned and boiled in boiling water with lemongrass and turmeric was smashed, so it was not fishy, ​​and had a faint aroma. The fish meat is removed from the bones, marinated with spices and then lightly fried with turmeric so that the meat has a beautiful yellow color.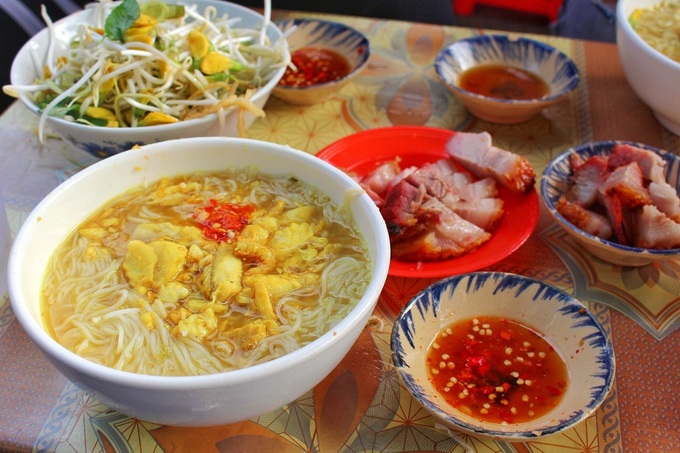 Chau Doc fish vermicelli is featured with bright yellow broth, rich taste. Photo: Quang Thien
Seasoning for the broth has fish sauce, fish sauce to remove the body, add wormwood vermicelli, crushed turmeric to filter the water. The fire to simmer, the flavor of the ingredients mixed with the previous bone broth to create an attractive and rich broth.
The bowl of vermicelli is served with a strong aroma of fish and turmeric, the yellow broth covers the white vermicelli, accompanied by every fiber of snakehead fish, roasted pork cut into bite-sized pieces. Those who like to eat fish heads should order them separately in a small bowl, snakehead fish heads eat fatty leopards with whole intestines dipped with salt and lemon chili or delicious fish sauce with dangerous chili. The plate of green vegetables eaten with fish noodles is typical for the richness of the Southwest region, with dandelion flowers, water lilies, bitter vegetables, banana seeds, finely grated water spinach and sometimes with a few stalks of cowpeas and vegetables. shyly broken.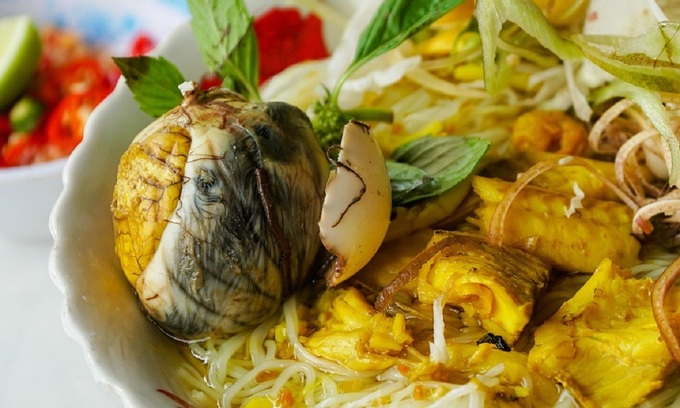 Fish noodle soup at Bung Binh Thien has more exotic duck eggs. Photo: Di Vy
Bung Binh Thien in An Phu district also has delicious fish vermicelli, this place is the main living area of ​​the Cham Muslims, so they don't eat roast pork like in Chau Doc, but the bowl of fish noodles sometimes has more eggs. Roast duck, strangely delicious, equally harmonious.
Kien Giang fish vermicelli is not as sophisticated as An Giang fish vermicelli, the dish has broth, fresh vermicelli, snakehead fish meat, green vegetables and delicious fish sauce. Kien Giang is located by the sea, so the bowl of fish noodles has a few shrimps.
Snakehead fish choose the big one, clean and remove the honey, keep the intestines intact and then boil, the meat and fish bones make the water taste sweet. After boiling, the fish is taken out to cool and separate pieces of white meat so that people do not get bones. If you want the fish meat to be more fragrant, put it in a little stir-fry with a little garlic fat for flavor. Depending on the processing method, some people also cook fish noodle soup with pork bones stewed for many hours with dried shrimp, skimming continuously to make the pot of water clear.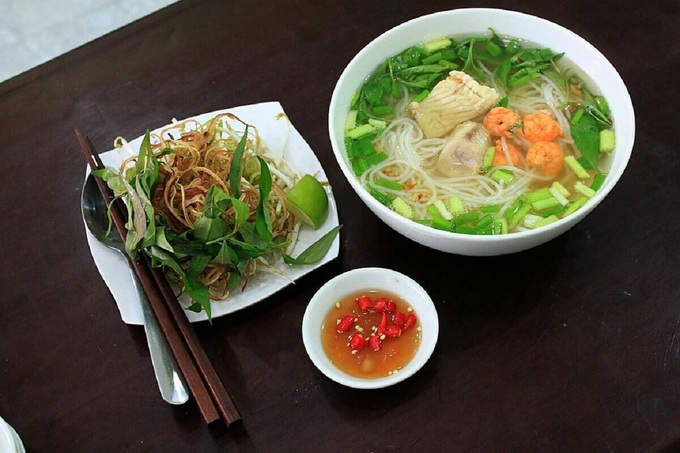 Kien Giang fish vermicelli is not fussy but has its own flavor that attracts diners. Photo: Ngoisao
The preliminary processing of shrimp meat to cook fish noodles is equally attractive. Fresh shrimps are peeled off, keeping the shrimp bricks, then rim with cashew oil so that the mixture has an orange color, seasoning to taste. Some places replace the shrimp brick with beaten egg yolk, also creating more delicious taste.
A hot bowl of Kien Giang fish vermicelli with fresh vermicelli is soft blanched with sweet broth, topped with white snakehead fish meat, a few rimmed shrimp with outstanding orange color, indispensable laksa leaves to make up the smell. fragrant and pinch of wild flowers or fresh water lily stalks. The accompanying vegetable plate is also diverse with bean sprouts, bananas, water spinach like Chau Doc fish noodle soup. A delicious fish noodle dish thanks to a cup of Phu Quoc anchovy fish sauce.
Picking up a chopstick of fish noodles with laksa leaves, while eating, you can see both the sweetness of fish meat and the pungent taste of laksa leaves, making anyone who eats it remember it forever. Follow vnexpress
You might be interested in