Besides modern and lavish Phan Thiet or a vibrant and bustling Lagi, Tien Thanh Binh Thuan tourist area in Ham Thuan Nam with peaceful and fresh beauty also makes visitors "collapse".
Located on provincial road 719, in Tien Thanh commune, Ham Thuan Nam district, Binh Thuan province and about 33km from the center of Phan Thiet city, Tien Thanh beach resort with peaceful and fresh space is one of the HOT destinations in the Central of the summer.
How to move to Tien Thanh Binh Thuan tourist area
From Phan Thiet city center, you move by motorbike or car to the Northwest to Tran Binh Trong and turn to 715, then follow Vo Nguyen Giap and Nguyen Thong Street to Hung Vuong Bridge / Hung Vuong Street at Phu Hai, then follow Nguyen Gia Tu street to Ton Duc Thang in Xuan An.
At North Phan Thiet roundabout, take the 3rd exit onto National Highway 1A towards Ho Chi Minh City, to Suoi Cat roundabout, take the 2nd exit onto Tran Quy Cap, then turn right onto Au Co Street, After that, it connects to Lac Long Quan street or 719 provincial road to Tien Thanh tourist area .
What is attractive to Tien Thanh Binh Thuan tourist area?

The scene is beautiful like a picture
Tien Thanh Resort was built on Tien Thanh beach, running along provincial road 719, from Phan Thiet to La Gi town, so there is no noise and bustle of the city, but always peaceful and in veo.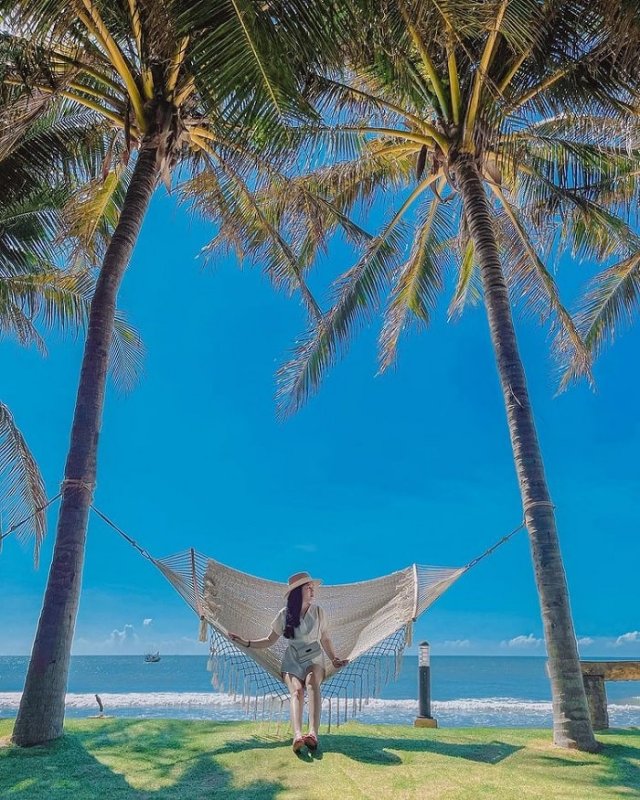 Very peaceful space (Photo @soo_rie)
This place impresses with the white sand stretching, curving like a crescent moon, embracing the clear sea water, turquoise blue, sometimes in the distance there are a few rocks with shapes nicely protruding out of the water, looking like fish stretching out in the sun, extremely impressive.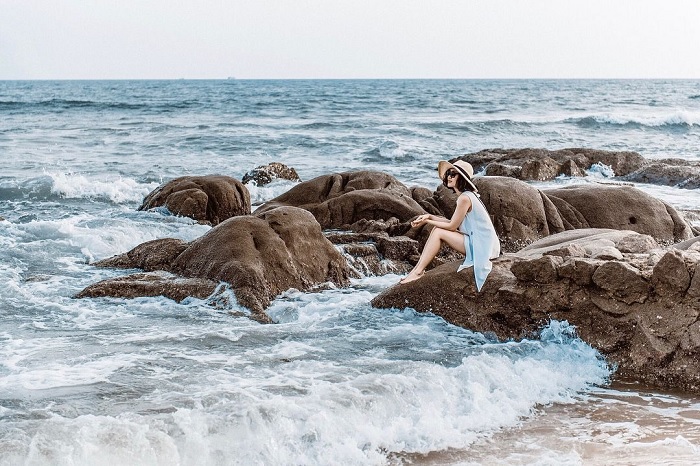 Impressive protruding rocks (Photo @nguyhuongha)
Each time, Tien Thanh Binh Thuan tourist area has a different beauty, but the most attractive is at dawn, when the sun dyes the sand and water, or at sunset. The sea surface seems to be inlaid with sparkling gold and the space is immersed in many layers of different colors, making everyone surprised.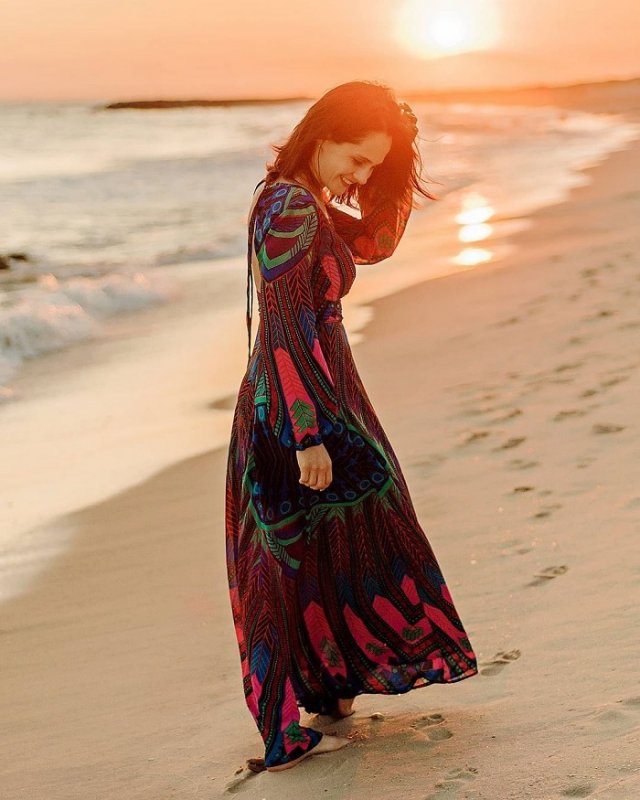 Super charming dawn (Photo @ anastasia.kim.photographer)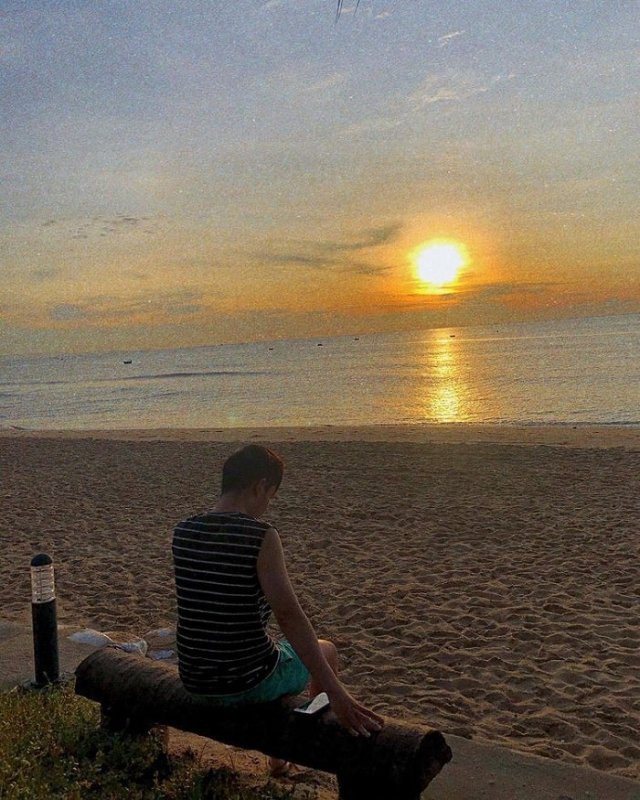 The sunset is sad but still sparkling (Photo @ datduong.0205)
Countless interesting experiences
Coming to Tien Thanh tourist area in Phan Thiet , it will be a mistake to ignore swimming activities as well as participate in exciting underwater games such as windsurfing or sailing on the sea to enjoy each The cool breeze brings the salty taste of the sea, brushing every hair.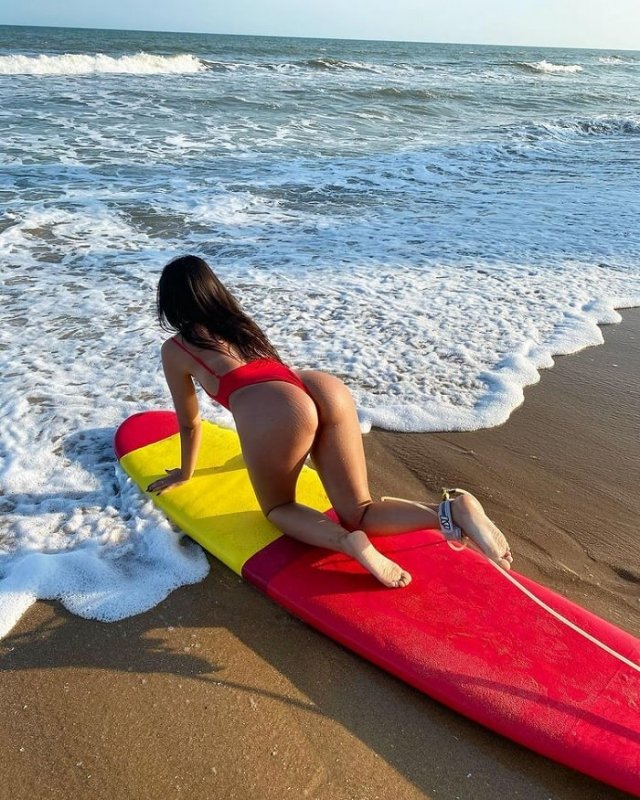 Super fun windsurfing game (Photo @wowsvoboda)
If you are not used to bathing in the sea, it does not matter because all resorts, hotels or motels on the beach have super-wide outdoor swimming pools, with clear water and sea view, giving you the minutes. seconds of extreme playfulness were underwater.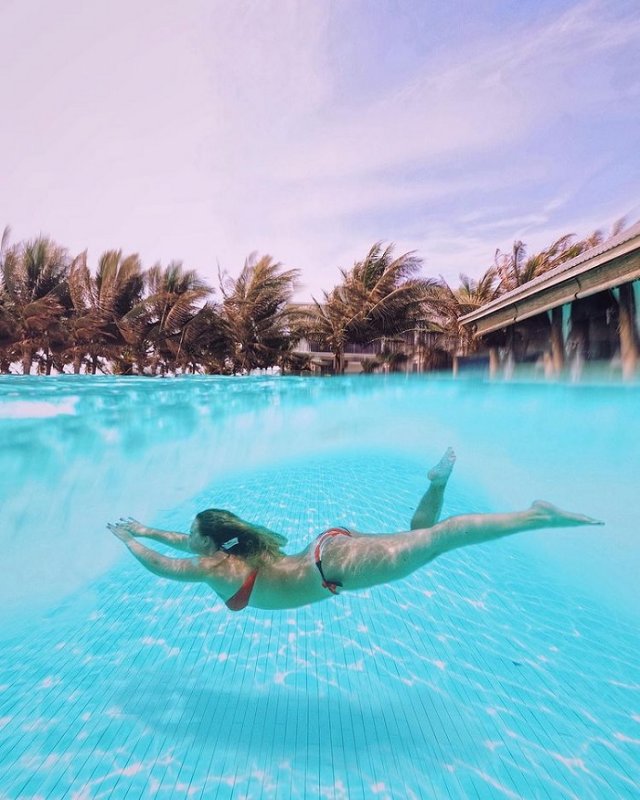 Swimming in a pool by the sea is equally fun (Photo @lisa_nazarkina)
You can also live virtually on the cliffs, under the green coconut trees swaying in the wind or by the eco-friendly wooden swings in Tien Thanh Binh Thuan tourist area , ensuring only magic shimmering only.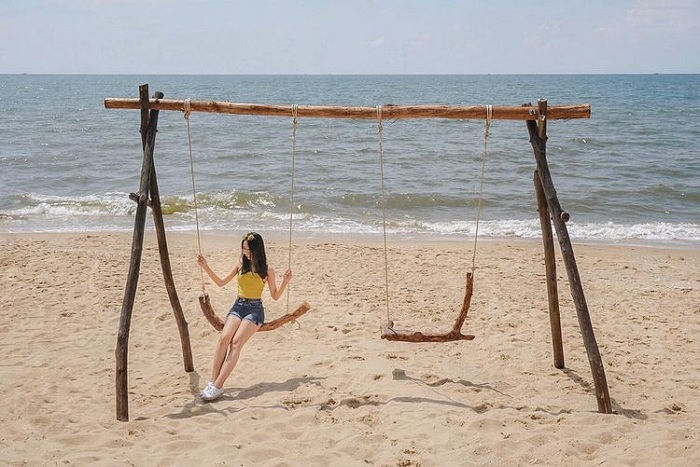 Amazing virtual living corner at sea (Photo @uyenzyt)
In addition, do not forget to rent a bike in the resorts to walk, exercise while being able to explore the fresh, fresh and peaceful beauty here, surely this experience will does not let you down.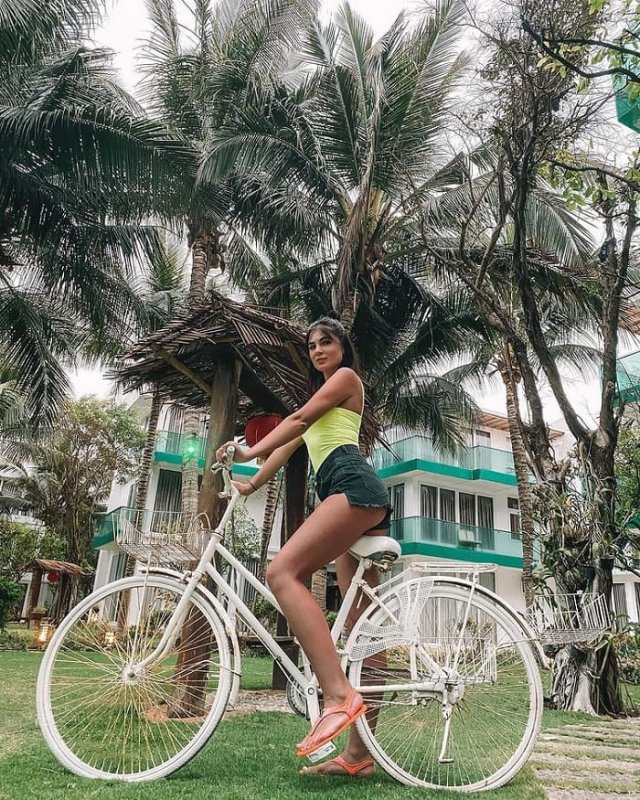 The cycling is equally enjoyable (Photo @dasha_kach)
And of course coming to the sea, it is impossible to ignore the famous marine specialties such as: lobster, crab, clam, clam, oyster, snail, fish … The impressive point is that at Tien Thanh beach resort there will be International party chefs process them so they will create extremely delicious and exotic dishes in both European and Asian styles, making even the most difficult stomachs will be "knocked out".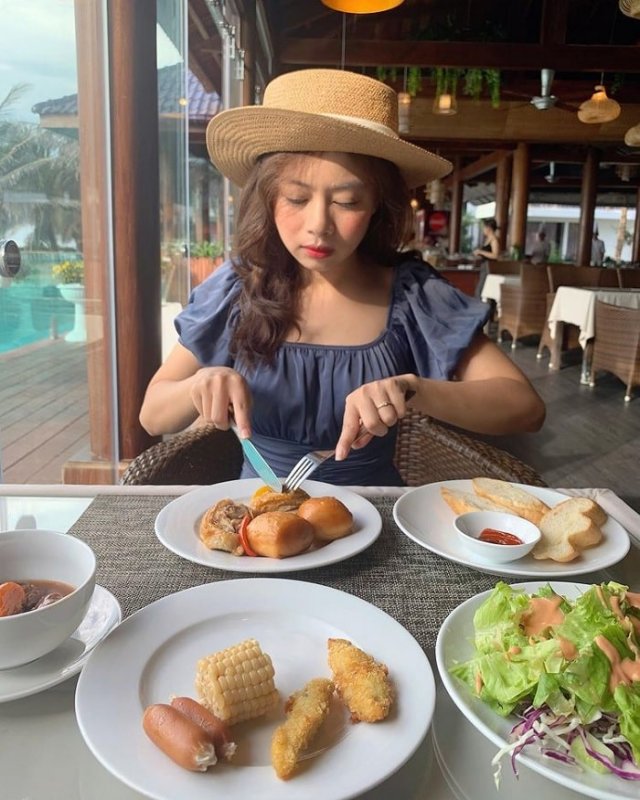 Tried foods are mesmerizing (Photo @ kieuoanh2412)
In addition, if you like a "naked to nature" experience in a luxury resort, you can rent a tent and camp right on the white sand to sleep overnight, then be hit by the waves. the shore and the chirping of the birds awakened, just thinking about it, I was excited.
Places to stay at Tien Thanh Binh Thuan tourist area

1. Villa Del Sol Beach Resort & Spa 
The first resting place that we cannot help but mention at Tien Thanh Phan Thiet tourist area is Villa Del Sol Beach Resort & Spa – a luxury resort with 10 villas with 72 comfortable rooms, complete, yes no. Open space and sea view, allowing visitors to fully enjoy the beauty of nature.
In addition, this resort also provides a variety of convenient services to serve the comprehensive needs of visitors such as restaurants, cafes, convenience stores with fragrant dishes. delicious, attractive; Theater room with modern music equipment brings live sound; or gym, sauna, massage & spa, help balance body and fresh skin …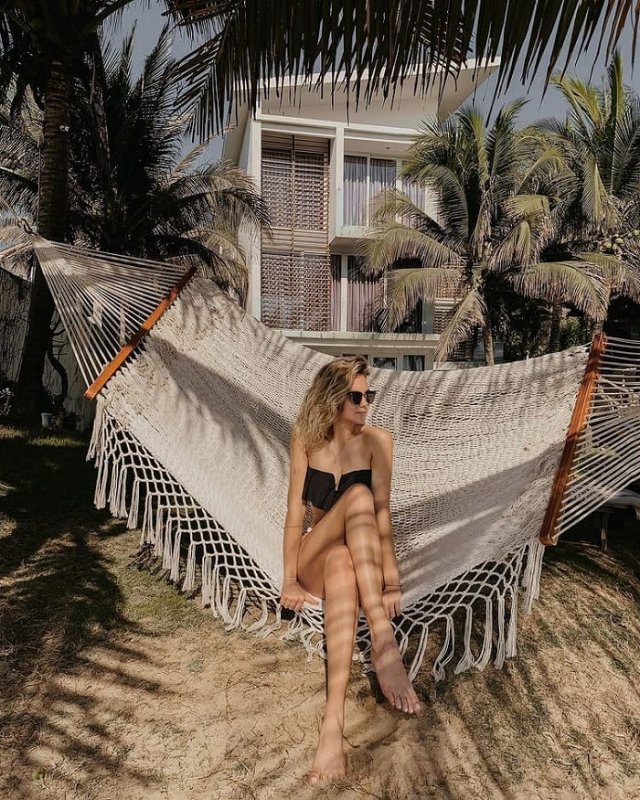 Super luxury resort (Photo @ lera.lerass)
In particular, the attentiveness, enthusiasm and friendliness of the staff is also a great plus point that many domestic and foreign tourists, even though many times, still give full confidence to Villa Del Sol Beach Resort & Spa.
Reference price: from 1,200,000 VND to 3,000,000 VND / night / room.
2. Resort Rock Water Bay
If you like a space that is Vietnamese-style with bright rose bougainvillea flowers illuminating the entire sky, mixed with medieval Europe with fancy pebble-paved walls, the Rock Water Bay Resort is the place to stay. resting at Tien Thanh tourist area is ideal for you.
This hotel is also built in a private area right next to the sea, so all rooms can see straight and the sea is bright blue and yellow, combined with a lot of trees and flowers, helping to keep the air cool and comfortable. The food here is super delicious, plus there is a sauna, mineral mud massage and herbal water soak, which makes you call it "fascinated".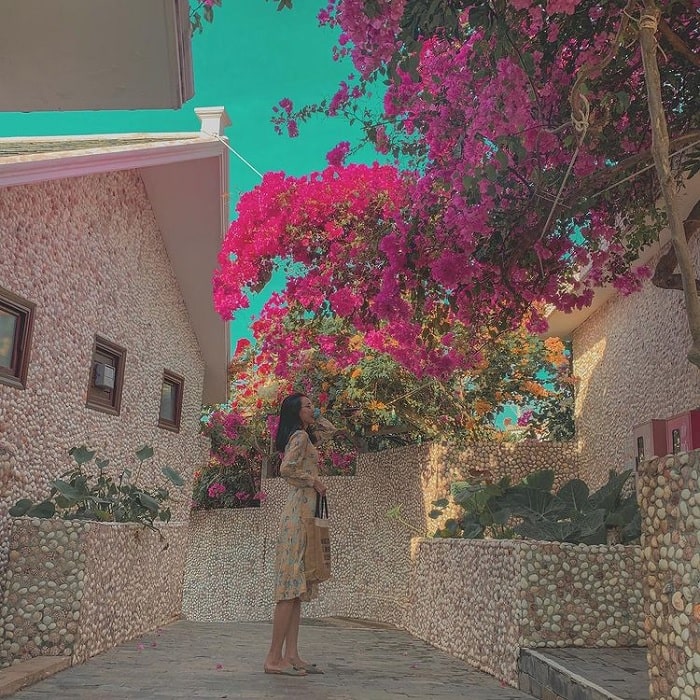 Feeling lost in medieval Europe (Photo @ thao.linnn)
However, the point that makes Rock Water Bay Resort make many tourists want to come back for the next time is a full package service, including dining, rest, shuttle … quite convenient and economical.
Reference price: from 1,000,000 VND to 2,200,000 VND / night / room.
3. Fiore Heathy Resort
Fiore Heathy Resort has a classic and modern design, with bright red cross-roofed houses but making the most of glass to make doors and walls, surrounded by green trees, makes us feel like being in harmony with nature.
In addition, this resort also has attractive services such as a large swimming pool right by the sea, coffee bars, restaurants, meditation meditation or sightseeing cycling … that makes everyone coming here love Just like it. Therefore, it is always a "popular" accommodation in Tien Thanh Binh Thuan tourist area .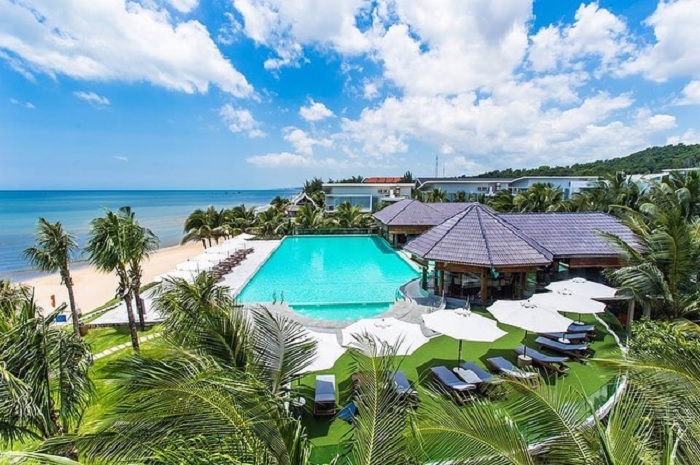 Luxury outdoor swimming pool (Photo @ alefirenko88)
Reference price: from 1,300,000 VND to 5,600,000 VND / night / room.
4. Golden Coast Resort
Golden Coast Resort & Spa is a 4-star resort with 79 luxurious rooms and villas, with delicate architecture in harmonious Eurasian style, youthful and modern colors with bold characteristics of the sea. I couldn't help but be surprised.
All rooms have sea view, so you can lie on the bed and watch the sunset or a super sparkling dawn on the sea. Plus, attractive dining and entertainment services give Tien Thanh beach tourists a perfect vacation, worthy of the international level.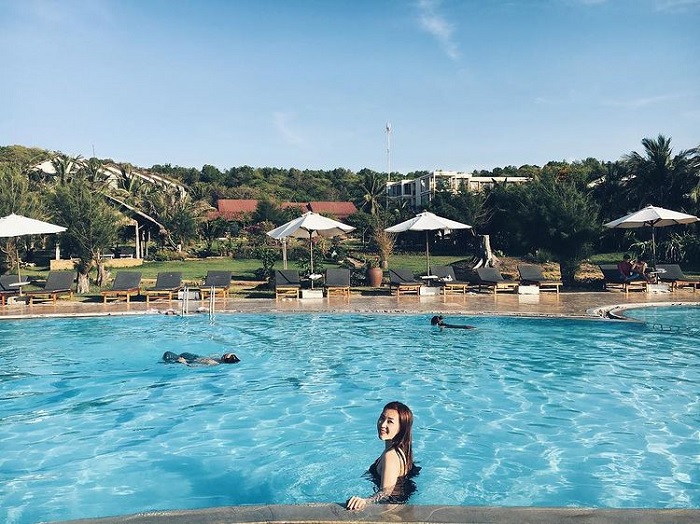 Resort's classy service (Photo @ sam.sam2.1)
Reference price: from 900,000 VND to 2,600,000 VND / night / room.
5. Champa Resort
Champa Resort can be said to be the cheapest resting place in Tien Thanh Binh Thuan tourist area , but the services it offers are not "trivial" at all. In addition to the fully equipped and comfortable bedrooms, visitors here can also take a private swimming pool, soak in hot water, enjoy unique natural treatments and eat delicious cuisine …
In particular, you can also organize conferences, weddings, parties, birthdays … crowded outdoors, by the white sand beach, in the cool sea breeze, making sure to forget the way home. Please.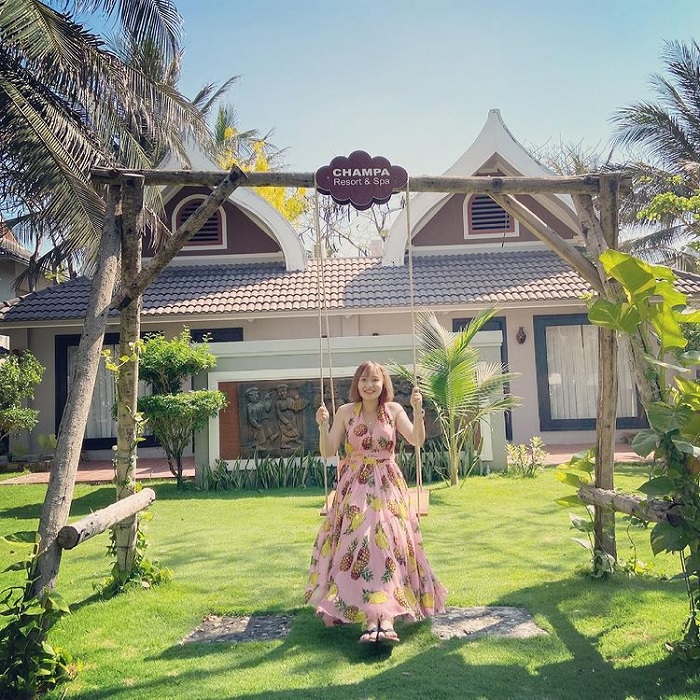 Champa is designed quite nicely (Photo @ alicekim_1912)
Reference price: from 500,000 VND / night / room.
If you do not know where to go to cool off in the summer with your family, the Tien Thanh Binh Thuan tourist area is not a bad destination!
Photo: Internet
You might be interested in