Located in the Central region, Quang Nam has all the special geographical conditions from the sea, rivers, and mountains, especially two world cultural heritages: Hoi An ancient town and My Son temple complex, an area Biosphere reserve is Cu Lao Cham.
Means of transportation to Quang Nam
Air
Chu Lai Airport is in Tam Nghia commune, Nui Thanh district, located on the North-South traffic axis of railway, road, sea and air.
Currently, there are two main flight routes: Hanoi - Chu Lai and Ho Chi Minh City - Chu Lai and vice versa. All domestic airlines such as Vietnam Airlines, Pacific Airlines, VietJet Air or Bamboo Airways operate direct flights to Chu Lai airport from Hanoi and Ho Chi Minh City. On average, this airport welcomes about 5 flights daily and usually increases during holidays and Tet.
From the airport, there are buses or service cars or taxis to transport tourists to the province centre, Tam Ky city (about 30km, about 45 minutes - 1 hour, bus price is about 50,000 VND/trip) and other localities places like Hoi An (more than 75km, about 1 hour 30 minutes, bus price is about 100,000 VND/trip). In addition, visitors can rent motorbikes here to get around 150,000 - 200,000 VND/day.
In addition to Chu Lai Airport, tourists have another choice: Da Nang International Airport, a locality bordering Quang Nam province. From this airport, visitors can travel to the nearest point north of Quang Nam, such as Hoi An, My Son, Dien Ban, Dai Loc, etc., about 30-45 minutes and about 1-2 hours to points south of Quang Nam.
Train
Quang Nam is in the middle of the two ends of the country, with the North-South railway running across, so trains are also an option besides planes for tourists coming to this province. Visitors can take the train to Tam Ky station (Tam Ky city) and then rent a service car, taxi, motorbike, or bus to visit places.
In addition, visitors can also go to Quang Nam by car or motorbike. Roads passing through this locality include the Da Nang - Quang Ngai Highway, Vo Chi Cong coastal road, and National Highway 1.
Interesting destinations
Speaking of Quang Nam, in addition to two world cultural heritages, Hoi An ancient town and My Son temple complex, and a biosphere reserve, Cu Lao Cham, tourists also experience many interesting destinations from under the sea to the mountains with many cultural features, festivals, craft villages, and community tourism.
2. Hoi An
When talking about Quang Nam, it is impossible not to mention this place because the ancient town of Hoi An is recognized as a world cultural heritage. Recently, the ancient town of Hoi An was honoured in the top 25 best cities in the world in the 2022 category when ranked 20th (travel magazine Travel and Leisure just announced).
Also read: What makes Hoi An ancient town outstanding among Vietnam spots?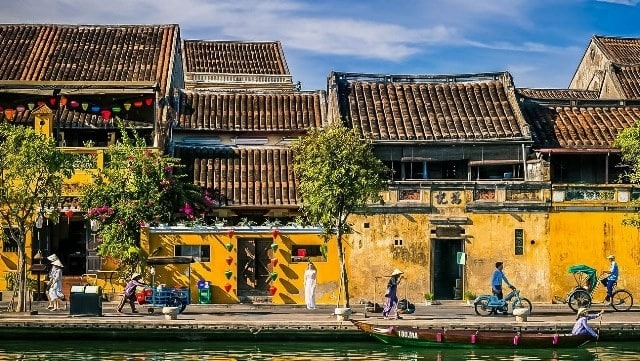 Chua Cau Relics: Also known as Japanese Bridge. This 18m long bridge spans a small creek flowing into the Hoai River, connecting Tran Phu street with Nguyen Thi Minh Khai street (Minh An ward, Hoi An city). Chua Cau was granted the national historical and cultural relic title in 1990. This monument symbolizes Hoi An ancient town built more than 400 years ago.
Read more: A visit to Phung Hung ancient house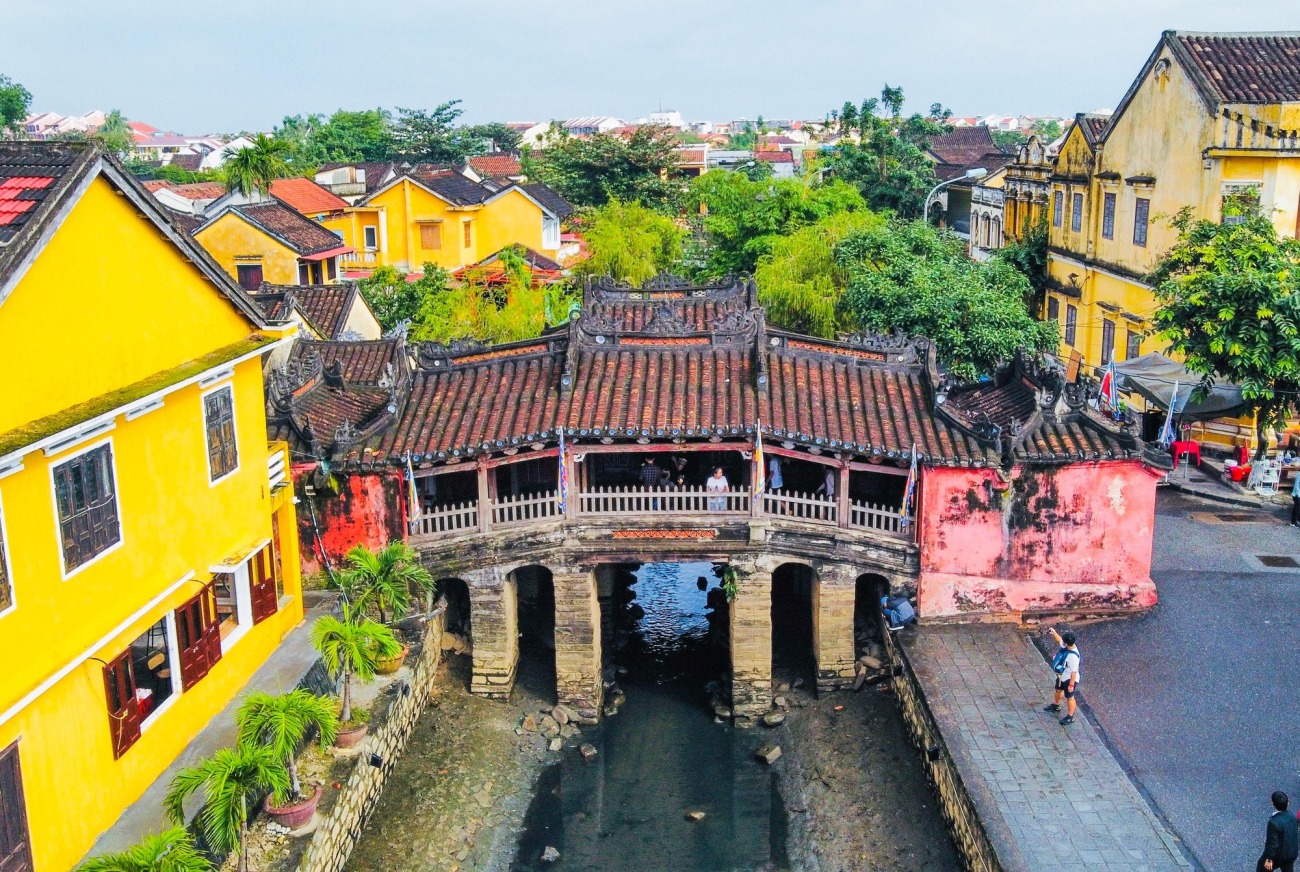 The bridge has a unique architecture, in the style of upper and lower houses, meaning above is the house and below is the bridge. Attached to the bridge upstream is a small pagoda worshipping Emperor Huyen Thien, built about half a century after the bridge. Currently, Cau Pagoda is being restored.
In addition to the Covered Bridge, visitors can stroll along the streets of the old quarter, such as Tran Phu, Nguyen Thi Minh Khai, Nguyen Phuc Chu, Chau Thuong Van, Ton Nu Ngoc Hoa... to see and take pictures with ancient houses and The system of shops selling souvenirs and eating is very rich.
Hoi An ancient town, is the most beautiful at night with shimmering colourful lanterns. Visitors can choose to take a boat down the Hoai River to see the sparkling old town at night, enjoy the coolness of the river, and release flower lanterns ( The average ticket price ranges from 30,000 - 50,000 VND/trip, specifically for a 20-minute boat ride for a group of 4-5 passengers, the ticket price will be 200,000 VND. For a boat carrying 1-3 passengers per trip, the price will be 150,000 VND, publicly posted at docks and ticket counters in the old town).
In addition, this place has Song Hoai Square, Nguyen Hoang night street with quite interesting night activities such as folk games, singing bai choi, cuisine, etc.
Tourists also have more options for spiritual tourism, such as temples, pagodas, communal houses, shrines and visiting Chinese assembly halls such as Fujian, China, Chaozhou, Quynh Phu and Guangdong. These assembly halls are large in scale, all located on Tran Phu Street and facing the main Thu Bon River.
2. Cu Lao Cham island
Cu Lao Cham Island (Tan Hiep Island Commune, Hoi An City) is 18km from Cua Dai Beach and has been recognized by UNESCO as a World Biosphere Reserve. To get to the island, visitors can take a speedboat at Cua Dai port; ticket prices range from 350,000 - 400,000 VND/person, or they can take a wooden boat.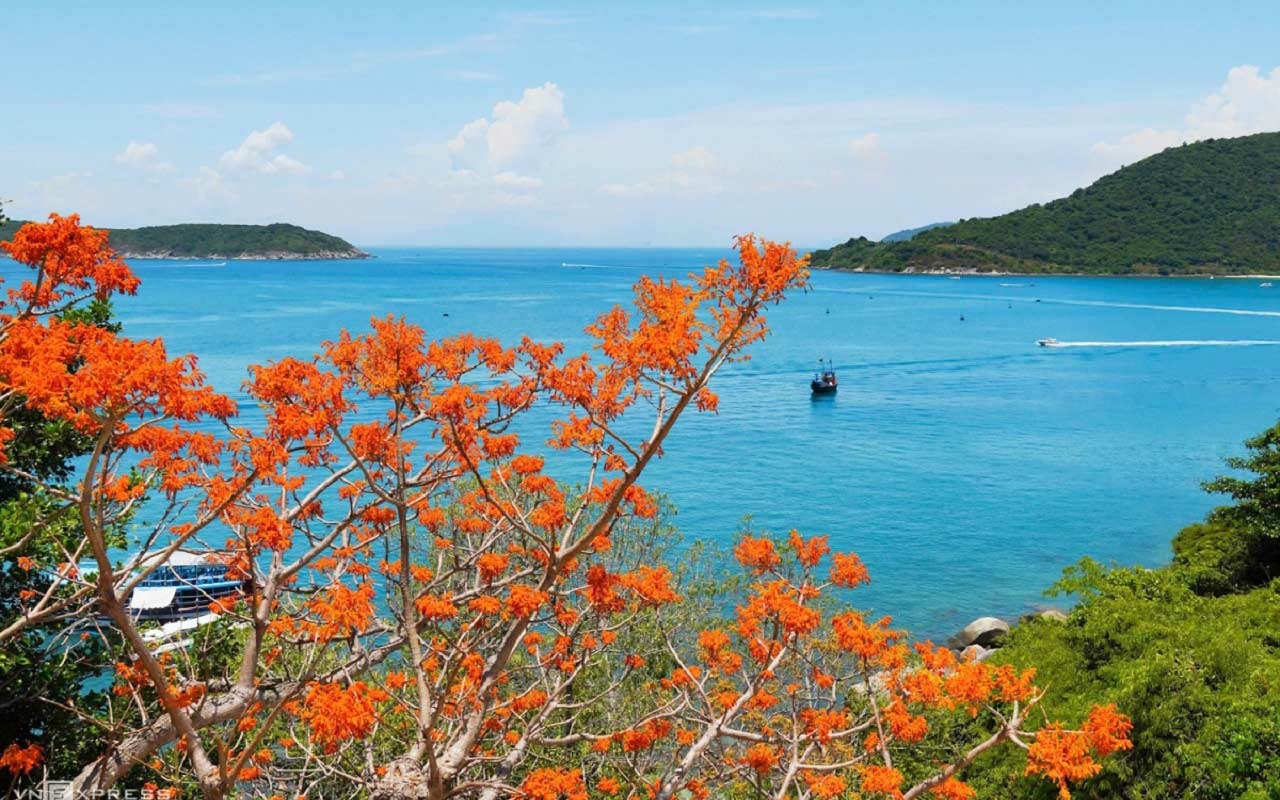 Cu Lao Cham includes 8 islands. This tourist destination has a cool year-round climate rich flora and fauna, especially seafood and bird's nest resources.
Visitors take a high-speed canoe for about 20 minutes to reach Bai Lang, where they will visit and explore the life and culture of Cu Lao Cham people at famous attractions: Tan Hiep countryside market, Sea museum, ancient well, Hai Tang pagoda.
Visitors can tour the island by motorbike, with rental prices ranging from 100,000 - 200,000 VND. After sightseeing, the canoe takes tourists to Bai Xep to change into scuba diving clothes, dive to see coral for about 45 minutes and enjoy seafood, wild vegetables, and banh it la gai at restaurants around the island.
Especially coming to Cu Lao Cham this season, visitors also have the opportunity to see the red cornflower season around the island. Cornflowers in Cu Lao Cham begin to bloom from mid-July every year, covering the green island of Cu Lao Cham with vibrant colours for about a month. The best time to see the flowers blooming is in July and August. The sycamore tree in Cu Lao Cham is recognized as a Vietnamese heritage tree. Tourists can also watch people making corn hammocks and buy these hammocks for 5 - 6 million VND/piece.
3. Bay Mau Coconut Forest
Coming to Hoi An, one of the interesting experiences tourists must have is visiting the Bay Mau coconut forest, about 3km from the old town centre, about 10-15 minutes by car. Coming here in August, you will see the coconut forest at its most beautiful.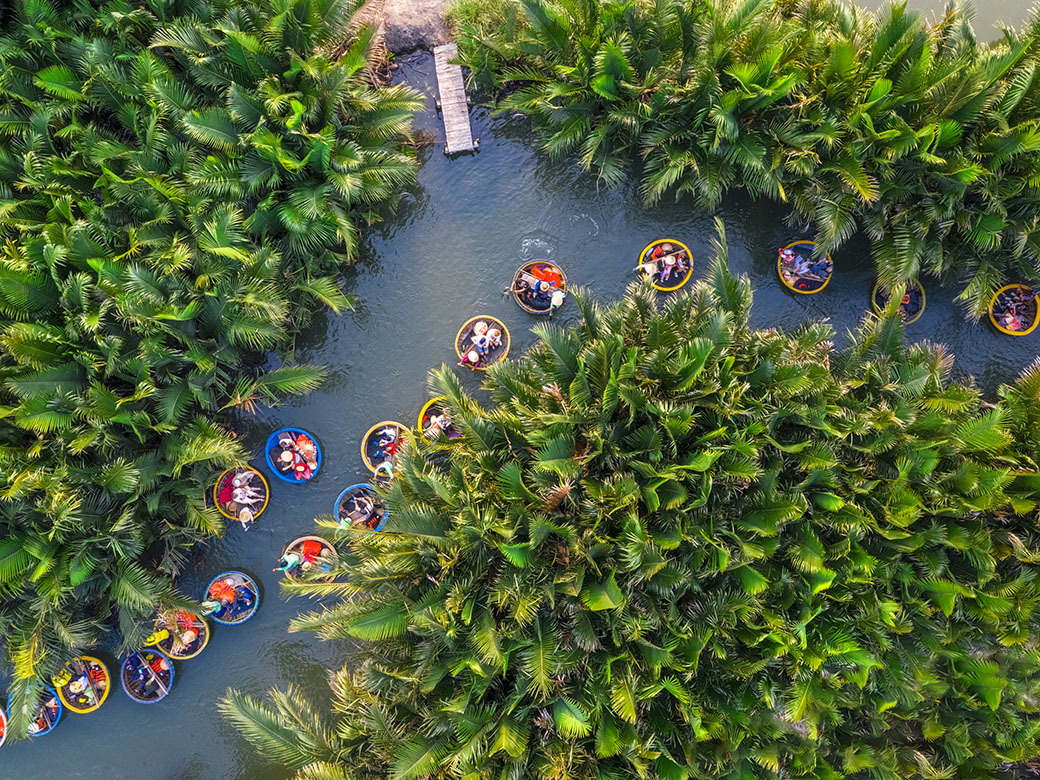 The most interesting thing when visiting the Bay Mau coconut forest is that visitors can experience it on basket baskets. The basket boat service price is about 150,000 VND/person. Visitors have the feeling of floating under the cool coconut canopy and enjoying the idyllic pleasures of the river region. In addition, visitors experience the "high" feeling when rowers perform the basket-shaking performance.
During the Bay Mau coconut forest tour, the basket driver will give you souvenirs made from coconut leaves, such as watches, rings, locusts, etc.
Also read: Vietnam's unique travel experience: Many players want to 'vestib' but foreign tourists are still fascinated
4. Tra Que Vegetable Village
2.5km northeast of Hoi An ancient town, over 400 years old, has just been recognized as a national intangible cultural heritage. Tra Que has more than 40 types of vegetables, among which herbs are prominent. Coming here, visitors can not only admire the scenery and watch villagers grow vegetables but can also interact with farmers to experience how to care for, harvest, enjoy the aroma of clean vegetables, and take photos in the vegetable gardens.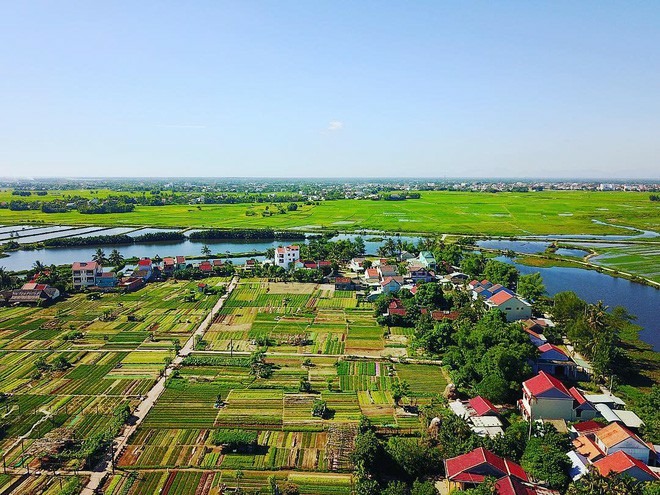 In Hoi An, in addition to the above points, tourists can visit other places such as Thanh Ha Pottery Village, Hoi An Market, Tan Ky Ancient House, Hoi An Folk Culture Museum, Cua Dai Beach, An Bang Beach, Silk Village, Kim Bong carpentry village. 
You might be interested in