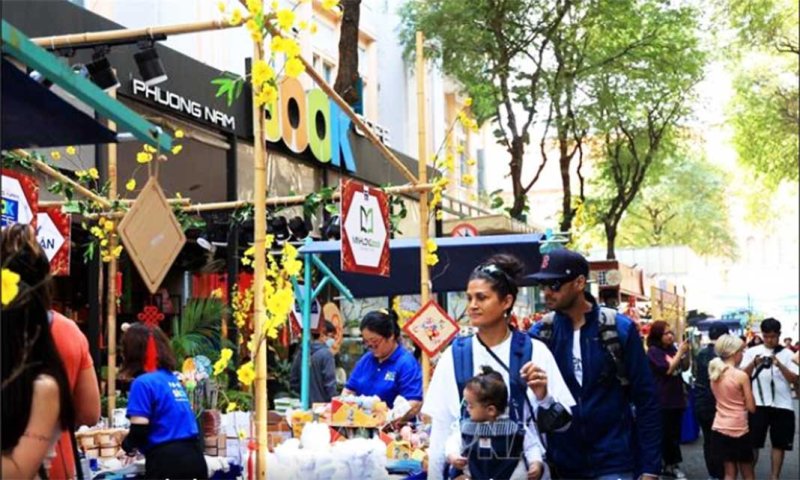 HCMC – Vietnam's tourism industry generated around VND46 trillion in revenue this January, with a surge in domestic and international tourist numbers, according to the Vietnam National Administration of Tourism.
Vietnam attracted around 13 million domestic tourists in January, nearly 1.6 times higher than last year, of which some 4.5 million people used accommodation services.
During the six days of the Tet (Lunar New Year) holiday, from January 21 to 26, the country saw an estimated nine million domestic tourists, up 47.5% year-over-year, with total revenue of around VND17.5 trillion.
International tourist arrivals reached nearly 872,000, up 23.2% over the figure in December 2022. Most of them came from South Korea (259,000 tourists), the U.S. (nearly 78,000 tourists), Thailand (about 55,000), Australia (around 44,000), and Japan (34,000).
Local authorities, tourist centers and businesses rolled out a variety of tourism products and entertainment services to attract guests in January, especially during Tet.
The recovery of Vietnam's tourism was due to the rising travel demand and the entire industry's efforts to develop new products and improve service quality.
Data of the HCMC Department of Tourism showed that during Tet, the city attracted around 65,000 international tourists and the city booked total revenue of VND6,300 billion from all tourism and travel services during the week-long holiday.
Vietnam has set a target of around VND650 trillion in tourism revenue and to serve 110 million tourist arrivals in 2023, with eight million international travelers and 102 million domestic tourists, according to the Vietnam National Administration of Tourism.
You might be interested in