With skillful hands, Mr. A Yuk has carved thousands of masks with diverse shapes and expressions, contributing to promoting the cultural identity of the Jrai people in the mountains and forests of the Central Highlands.
Mr. A Yuk (57 years old, in Ia Chim commune, Kon Tum city, Kon Tum) was born and raised in Klau Ngo Zo village. Since he was a child, Mr. A Yuk has tinkered with wooden masks to serve for the people to dress up for the festival.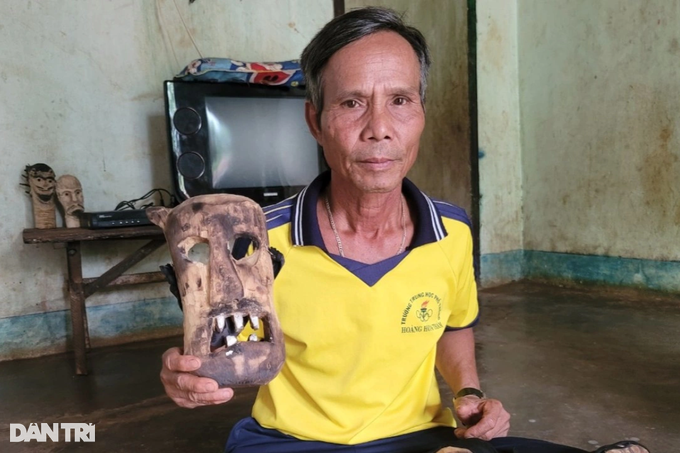 Mr. A Yuk put all his heart into each wooden mask.
Talking about the fate of making wooden masks, Mr. A Yuk recalled: "About 20 years ago, during a festival in Chu Pah district (Gia Lai), when I saw all kinds of statues and beautiful masks, decorated.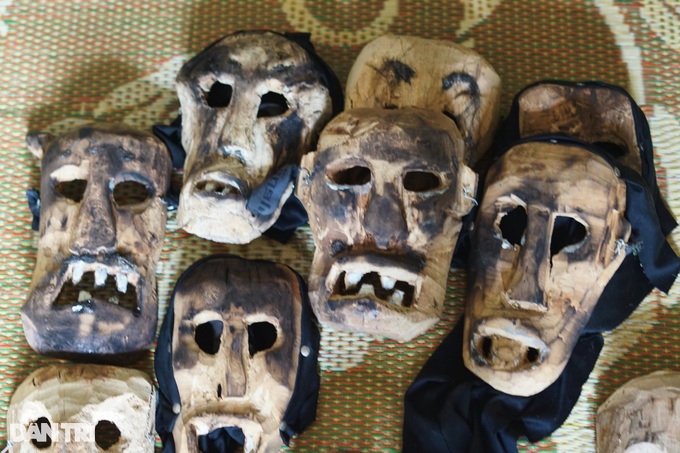 The masks made are all hand-carved by Mr. Yuk, meticulously in detail.
The mask is depicted by Mr. A Yuk in all shapes such as happy, sad smileys, old people, young people, men, women… The main parts on the mask include eyes, nose, mouth and other details. such as forehead, cheeks, chin… are stylized with wild, natural lines.
Each mask is on average 1cm thick, and about 20-25cm long, depending on gender. Masks for women are usually slim, with a 30cm long black fabric attached to the back to describe long hair. The mask for men has a wide square shape, with extra beard points. The mask for the elderly is clearly shown in the wide teeth, adding a little white lime and the child's mask is adding pink dots on the cheeks.
A particularly noticeable feature in the masks is the weirdness mixed with humor. There are even masks that make people look scared.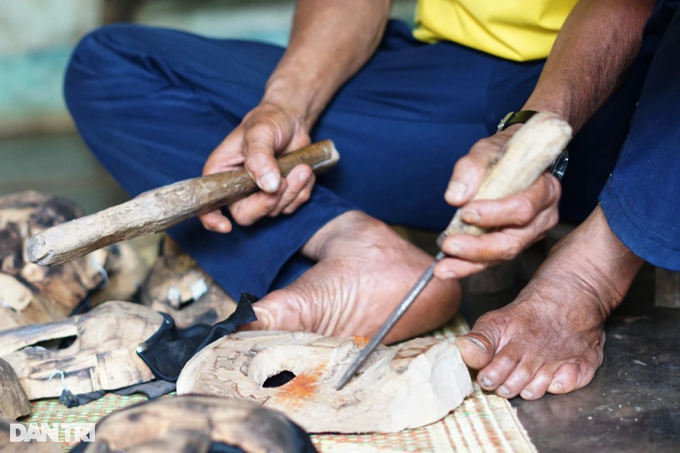 Each mask made, Mr. A Yuk usually sells for several hundred thousand dong. When there is a festival, he happily makes gifts for people in the village.
Every day, after hours of pouring out latex, Mr. A Yuk spends time going around the village looking for raw materials. The main ingredient to create the masks is milkweed wood. This type of wood is light, soft, easy to cut, shape and also easy to find.
To make strange, beautiful and eye-catching masks, Mr. A Yuk uses rudimentary tools such as machetes, knives, chisels…
According to Mr. A Yuk, in order to make a standard mask, it is necessary to choose light wood that is not cracked, convex or concave. After shaping, the masks need to be heated through fire to scorch to add nuance to the expression. Every day, he can make three masks.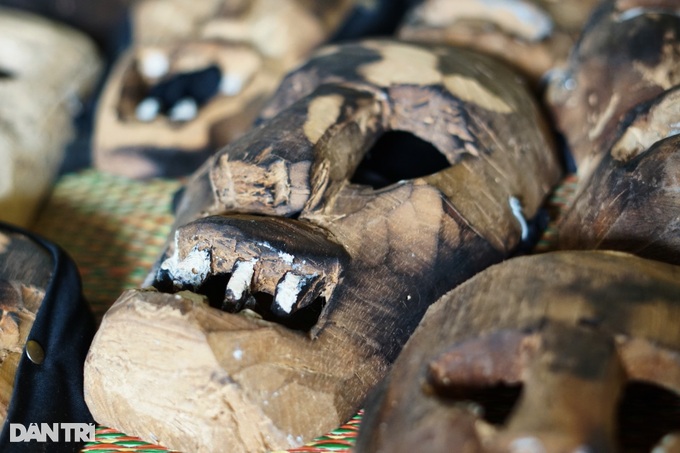 He often uses softwoods to make masks.
Mr. A Yuk confided that according to the custom of the Jrai people, the mask is considered a memorial of a person living or dead. The use of masks in traditional festivals is an indispensable part of the spiritual life of the Jrai people in Klau Ngo Zo village in particular and ethnic minorities in Kon Tum in general.
Each mask made, Mr. A Yuk usually sells for about 300,000 VND. Because the villagers of Klau Ngo Zo still have many difficulties, he often generously gives them to people to play on the occasion of the festival. His desire is to maintain the traditions and customs handed down from generation to his family.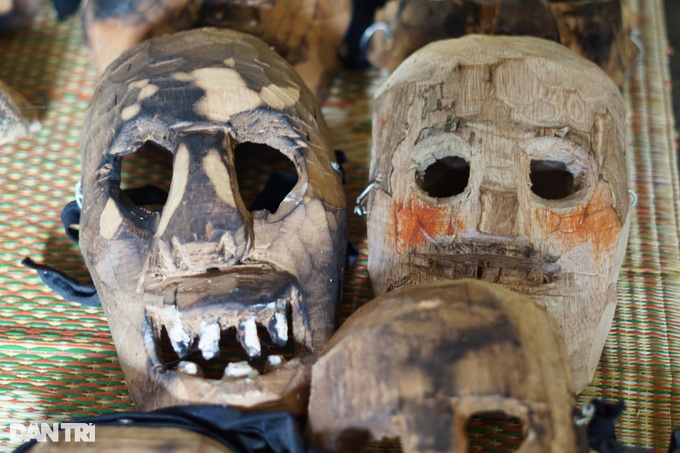 The masks he made specifically for men, women and children, the elderly…
In his forties, Mr. A Yuk always worries about the next worry. Mr. A Yuk has six children but no one wants to continue his profession. Young people in the village also refused to learn because of the feat, meticulous, hard work in the process of making masks.
Mr. A Byam – Head of the village of Klau Ngo Zo expressed: "May the old village A Yuk know how to make masks. The younger generation will know and understand it. Thanks to these masks, the festivals in the village are more especially, more sacred".
Mr. A Yuk wondered constantly when he was old, but he could not find the next generation of young people who were passionate about the craft of making wooden masks.
"Mr. A Yuk is very famous for his craft, but so far has not been recognized as an artist. Local festivals are mostly thanks to Mr. A Yuk, which is full of local cultural colors. Fear of sticky rice. This culture is gradually disappearing, so the locality has also proposed to open classes to transmit this profession to young people," said Ms. Uong Thi Trang, Vice Chairman of Ia Chim Commune People's Committee.
Photo: Internet
You might be interested in