Many boats of Binh Thuan fishermen docked at the port with their cabins full of anchovies. A stable selling price makes people very excited.
At 6 o'clock on August 17, the back beach of Mui Ne (Phan Thiet City, Binh Thuan) was bustling with basket boats transporting fish from boats to shore.
More than a hundred boats engaged in fishing nets and shoveling busy bringing anchovies back to the beach after a night of fishing. Each basket of fresh fish is transshipped by a basket boat from the big boat to the shore, neatly arranged along the 300 m long sandy beach.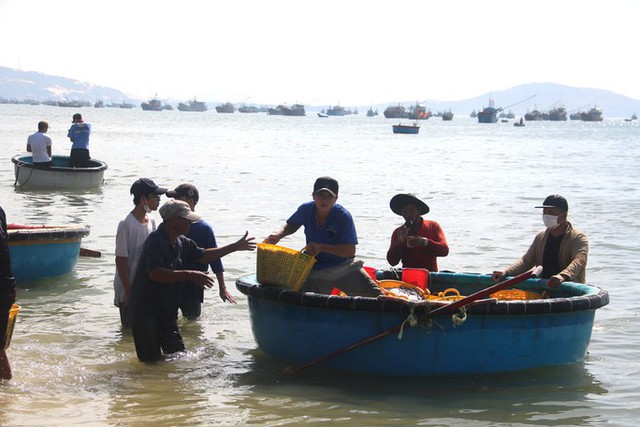 Fishermen transport anchovies from the back beach of Mui Ne to the wharf
Mr. Tran Van Dai, a local fisherman, anchored the boat in the deep water more than 100 m from the shore, then rented a basket boat to transport the anchovies he had just caught to the beach. In the south wind season, the sea was full of anchovies, his boat went with 10 people, fought all night in the sea 20 nautical miles from the shore, hit the fish channel, and caught more than a ton.
"Winning the season, the price is stable, so everyone is excited. Two trips ago, each boat trip was 7 to 8 quintals," said Dai fisherman.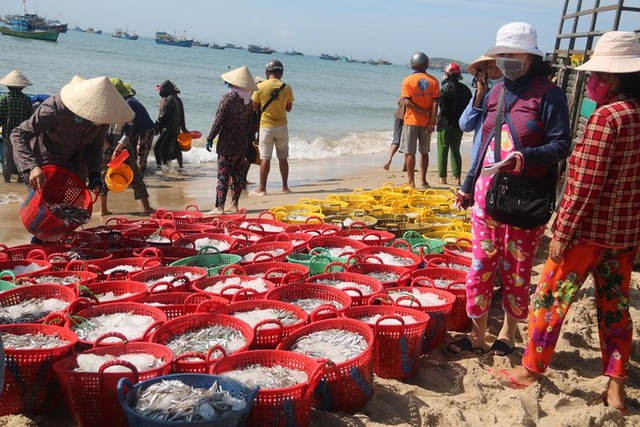 Anchovies gather at the back beach of Mui Ne
This year, the anchovy season in Binh Thuan fishing grounds and the southern sea area started to flourish from the beginning of July of the solar calendar, with a high yield. Vessels specializing in fishing for this type of seafood are nets and scrubs, ie using lights to lure fish, and fishing nets are doing well. Anchovy catches of Binh Thuan fishermen in general increased sharply compared to previous years.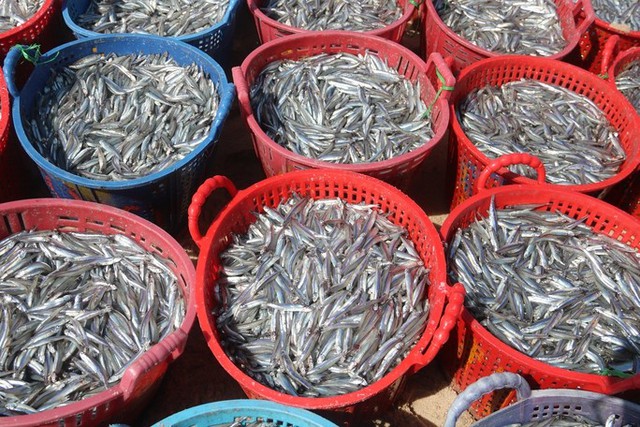 Large white striped anchovies are preferred by traders to buy for drying and export
The catch is high, but the good news for fishermen is that the price of anchovies this year is quite stable. At Phan Thiet fishing port, each basket of large anchovies (weighing 25 kg/basket) is purchased by traders and fluctuates around 300,000 VND. Particularly for delicious, large-sized, fresh fish used for drying, there are places to buy nearly 350,000 VND per basket.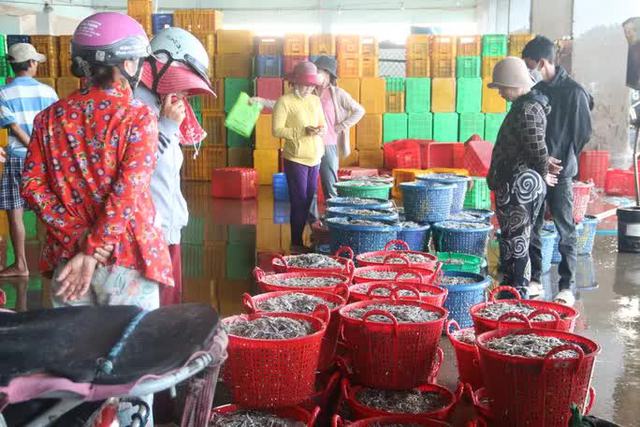 Traders pick up and buy anchovies at Phan Thiet port
In addition to being used to dry for export, anchovies in Phan Thiet are the main raw materials used for salting and fish sauce. The profession of making anchovy fish sauce in Binh Thuan has a history of development for more than 2 centuries, the product is now present in almost all regions of the country.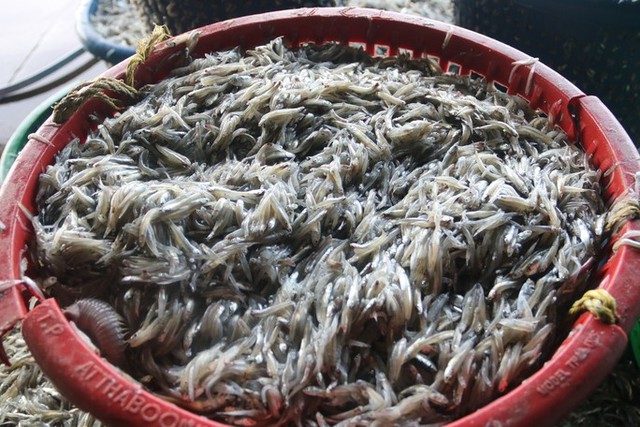 Fresh anchovies have just been caught ashore in the night
You might be interested in