HO CHI MINH CITY – The fish noodle soup at Cong Doan restaurant has snakehead fish that is just cooked to sweet, chewy fish cake and hot broth.
Having the opportunity to cross the intersection of Bui Thi Xuan and Cach Mang Thang Tam streets, District 1, visitors will see a large restaurant located in a prime location, in front is a large parking lot, and a large sign saying "Special" fish noodles in the West". The shop has two quite spacious spaces, outside visitors often sit and drink coffee, inside is an air-conditioned dining area, cool fan, tile floor is somewhat old but tables and chairs, spice trays, chopsticks and spoons … everything is in order.
According to people who have lived for a long time in Saigon, this restaurant has been with them for decades, does not advertise loudly, but is crowded because it sells delicious and cheap food, specializing in rice dishes, traditional dishes. Vietnam. Among them is fish vermicelli, nicknamed "the best Western fish noodle soup in Saigon", if you try it once, you will never forget the taste of the dish.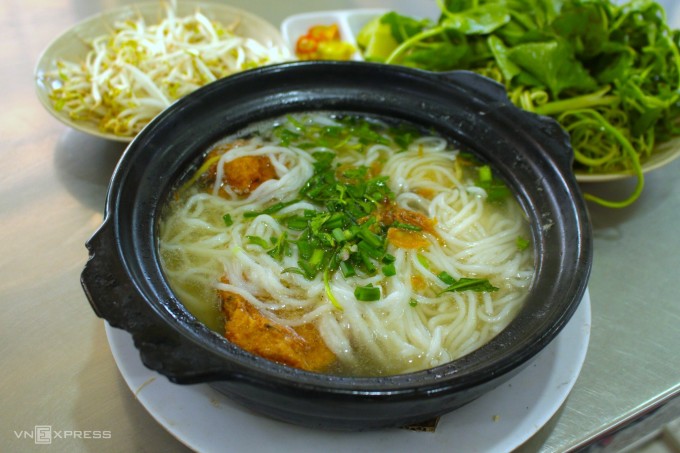 Fish noodle soup in Cong Doan restaurant on Cach Mang Thang Tam street. Photo: Huynh Nhi
The fish vermicelli here is not bright yellow, fragrant with turmeric like Chau Doc fish vermicelli or has shrimp rim, the broth is sweet and fragrant with laksa leaves like Kien Giang fish vermicelli. Fish vermicelli is stored in a bowl, the difference is that the broth is clear, rich, sweet from the bone, not strongly flavored with fish sauce, but faintly a very light aroma lingering from lemongrass and wormwood noodles. Perhaps this flavor has made diners "fall in love" with fish noodles at Cong Doan restaurant.
Each piece of fish noodles is cooked separately on the stove. When a guest calls, the chef pours the broth into a pot to boil, cooks fresh snakehead fish fillet, adds golden fried fish paste and medium-sized vermicelli, a little scallions, chopped laksa leaves, and fried onions. gut. Fish vermicelli is stored in a large hot bowl, brought to the table, the broth is still boiling, the smoke is emitting a scent that stimulates the senses.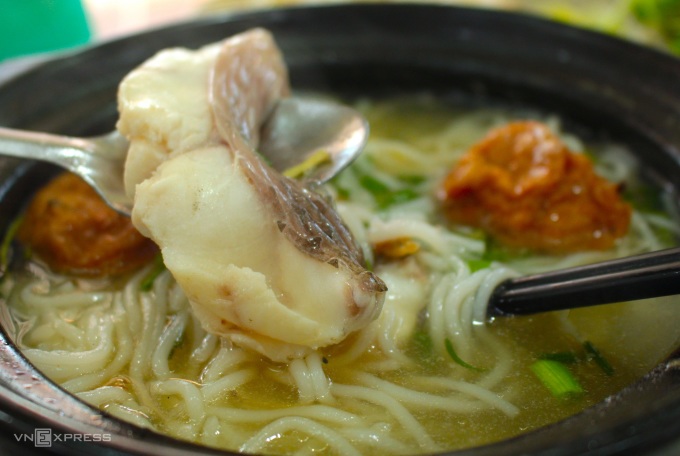 Snakehead fish fillet is cooked to medium until the meat is tender and sweet. Photo: Huynh Nhi
The dish uses snakehead fish fillet, cut into large pieces, when cooked, the meat is white, sweet, and not friable. Also, use sliced ​​fish meat, smooth, chewy and seasoned, form large pieces and then fry until golden. When eating, you should dip it with salty fish sauce, a few slices of spicy chili to feel the best dish.
A plate of raw vegetables with bean sprouts, bitter vegetables, grated water spinach and gotu kola is a very reasonable side dish. The characteristic sweetness and aroma of gotu kola, the slightly bitter and crunchy taste of the bean sprouts blend in the hot, rich broth of fish noodles, making the dish more appetizing.
The price of each bowl of fish noodles is 60,000 VND, which is evaluated for quality and affordable compared to the restaurant in District 1. In addition to fish noodles, the menu of Cong Doan restaurant is also diverse with rice dishes from 35,000 VND, taste " delicious like home cooking", you can try fried bacon with lemongrass, braised fish sauce or sour soup… are favorite dishes of tourists.
You might be interested in