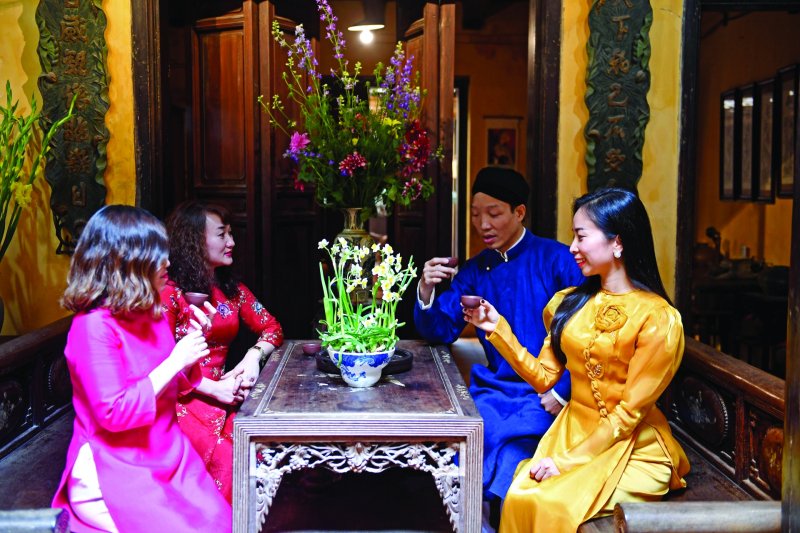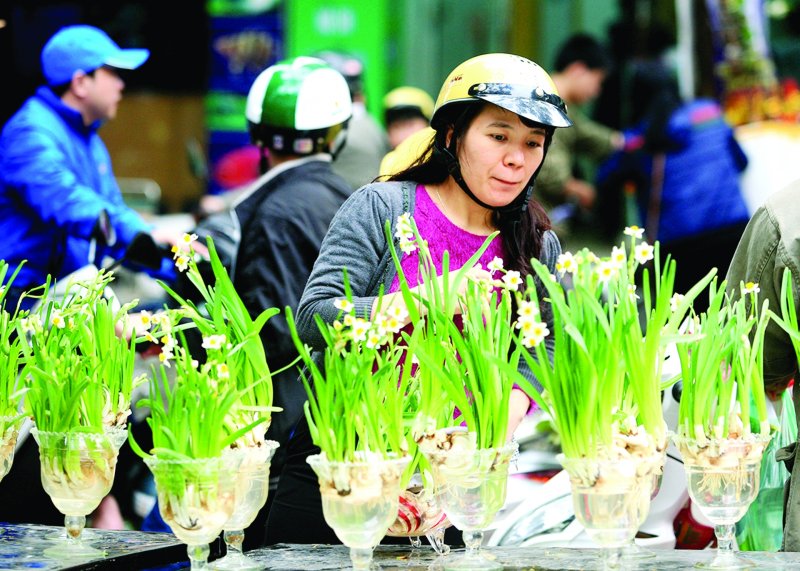 Daffodils used for Tet decorations
The Heritage House in Hanoi's Old Quarter, located at 87 Ma May Street, is one of the oldest houses in Hanoi built in the pipe-shaped architecture popular in the 19th century. The living room of the house is filled with Nhat Tan faded pink peach blossoms and daffodils. Le Hong Quang, a staff member at the Heritage House and a member of the Hanoi Daffodil Group, said Hanoians have an enduring love of daffodils, with their pure and seductive scent in bloom, and many place a bowl of daffodils in their living room during Tet.
Quang said daffodils require meticulous pruning and cultivation. The pruning stage determines the beauty of the flowers. Once it is finished, the bulbs must be soaked in water for two days to secrete all the resin and stimulate the growth of sprouts and roots. The bulb is then grown in a dark bowl to ensure that the roots will be white.
It is widely believed that if the bulbs bloom during New Year's Eve, daffodils will bring their owners good luck. To ensure they bloom in time, people use sugar water, glue and other techniques.
Hanoians mainly prefer single and double daffodils. A single yellow-white daffodil has six outer white petals and one inner yellow petal, in addition to all yellow, all white and multi-colored daffodils. Daffodils are stronger and blossom more beautifully in the cold weather of the north, Quang said.
For many living in the capital, daffodil pruning is like a ticket to the past, letting them enjoy the atmosphere of Tet holiday of long ago. For old Hanoians, daffodils symbolize luck and longevity. In addition to the elderly, young people are paying more attention to learning how to grow the flower.
Caring for daffodils is a meticulous endeavor. Displaying daffodils during Tet reminds people of the past and preserves a beautiful cultural tradition.
Hoa Quynh
You might be interested in