Now, you no longer have to worry about where to eat, where to stay, where to play in Nam Dinh anymore when you have the most complete and detailed Giao Thuy travel experience handbook in hand.
When it comes to Giao Thuy, surely names like Quat Lam beach , or Xuan Thuy national park … will be the destinations chosen by many tourists on weekends or on short-term holidays. And if you visit this place for the first time, surely these places will be new and still be surprised because you have not yet determined what to eat? where? what play?
Here are all the Giao Thuy travel experiences that Vietnam Travel has compiled for you. You just need to prepare the necessary luggage and belongings to go right away!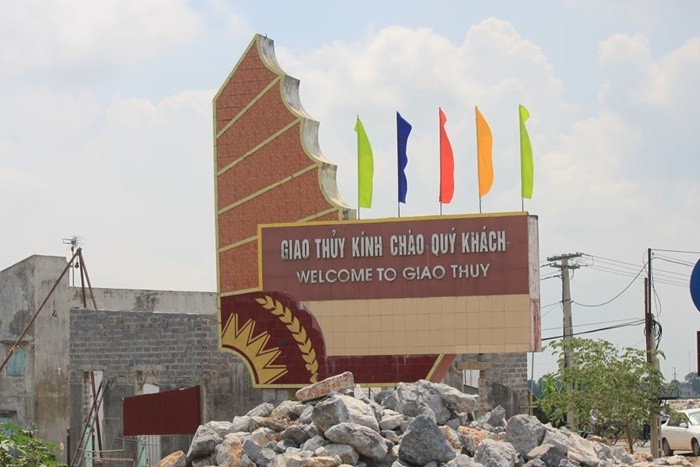 Giao Thuy District – Nam Dinh
Brief introduction about Giao Thuy district
Giao Thuy is a coastal district in the southern region of the Red River Delta and about 45km from Nam Dinh city along the National Highway 21. Giao Thuy district is adjacent to Xuan Truong, Hai Hau (Nam Dinh) and Tien Hai, Kien Xuong (Thai Binh) districts.
As a district with a coastline stretching up to 32km, there are 2 large estuaries where the So River – the Red River flows into the sea. In addition, this place is also accreted with fertile coastal land; This is a favorable condition for the strong development of marine economic sectors such as: shipbuilding industry, mining, aquaculture, tourism.
The whole district of Giao Thuy occupies 16/22 communes and towns with industries mainly developing traditional crafts such as fish sauce making, embroidery, carpentry, bamboo and rattan knitting, forging… Especially, craft villages Sa Chau fish sauce in Giao Chau commune – Giao Thuy is a famous craft village with delicious fish sauce production when more than 100 households participate in production and processing.
Certainly, the trip traveling Giao Thuy here you will enjoy nem held Giao Thuy most famous Thanh Nam that dot the country holding Sa Chau is delicious to heart.
The best time to travel to Giao Thuy?
According to the Giao Thuy travel experience of many travelers, you can come here at any time of the year. Because Giao Thuy – Nam Dinh belongs to a temperate climate with 4 seasons in the year of spring – summer – autumn – winter. Each season of the year has its own distinct beauty. But perhaps the time of summer and winter are the two most beautiful and ideal seasons that most people flock to Giao Thuy to visit.
– Summer (from May to September): This is the ideal time for a trip to explore Giao Thuy and take a bath in the cool water of Quat Lam beach resort. In particular, you will enjoy delicious – nutritious – cheap seafood of this peaceful countryside.
– Winter (from October – November; March – April next year): This is the ideal time for you to admire the panoramic picture of vivid nature with many rare birds from the North coming here cold in the bustling, crowded space of thousands of individuals in Xuan Thuy National Park.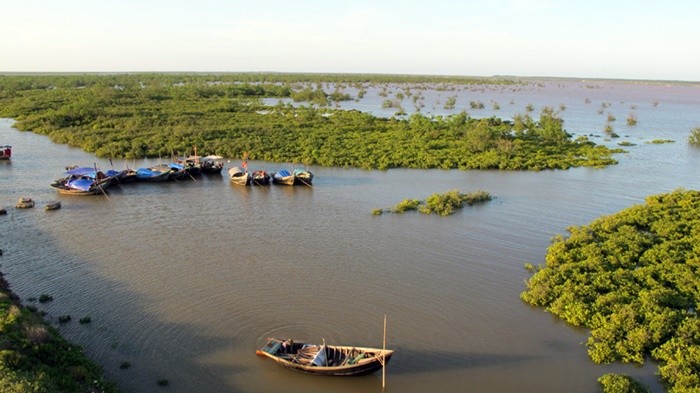 The best time to travel to Giao Thuy
Giao Thuy travel experience: means of transportation
From Hanoi to Giao Thuy about 120km apart; So according to the Giao Thuy travel experience of many travelers, you can choose one of the two modes of transportation below:

Go to Giao Thuy by private car or motorbike
For those of you who have a passion for discovery and love backpacking, traveling by motorbike or private car will be an extremely interesting solution and memorable experiences. 
When traveling by motorbike, you will admire the peaceful countryside roads in the green and vast space of rice fields. In particular, if you travel by motorbike from Hanoi – Ninh Binh highway, you will come to Ho Chi Minh City Phu Ly. At this point, you can spend a little time learning and enjoying delicious food here such as vermicelli with perch – one of the favorite dishes of tourists from afar when returning to Nam Dinh.
Next, from Phu Ly to Nam Dinh, about 30km away, you can visit Nam Dinh city and enjoy delicious and nutritious food here. Then from the city. Nam Dinh runs straight across Do Quan bridge to arrive at Giao Thuy. At this point, you can use Google Map to navigate to the attractions in Giao Thuy easily.
Take a passenger car to Giao Thuy
For those who are not familiar with the road and who cannot invite a friend to go with them, surely going to Giao Thuy by passenger car will be a reasonable and safe choice. Currently, you can go to Giap Bat and My Dinh bus stations to find the route Hanoi – Giao Thuy or Hanoi Quat Lam to get there with a time of more than 2 hours. Ticket price ranges from 100 – 150k / person / 1 way.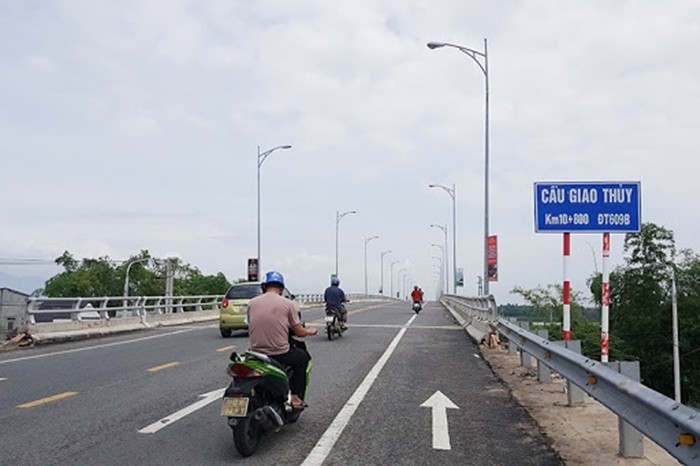 Transport
Famous destinations when traveling to Giao Thuy, Nam Dinh
 
Quat Lam Beach
Certainly, when participating in the Giao Thuy tour , the first destination most tourists come to is Quat Lam beach. This is one of the most beautiful and famous beaches in Nam Dinh province. Owning a long coastline with cool water, smooth sand, Quat Lam beach attracts visitors here by its calm and simple seascape. In the summer, guests from Hanoi come back here to swim in large numbers to relieve the pressure of the hustle and bustle of life while enjoying peaceful moments and eating fresh, delicious and cheap seafood from the countryside.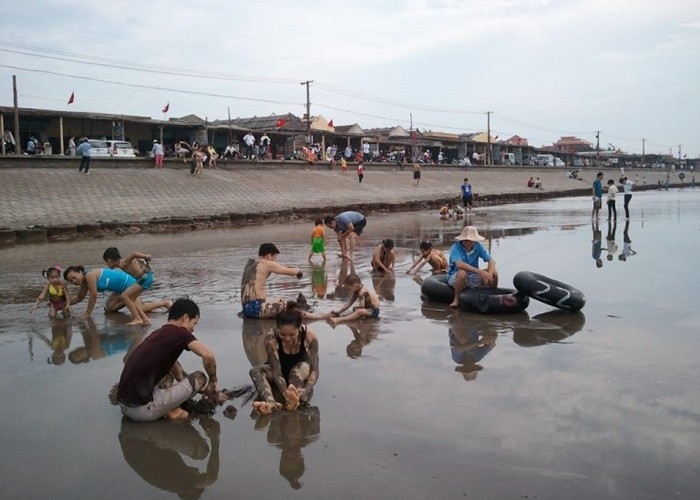 Quat Lam Beach
Dong Que Museum
This is also an interesting destination if you are returning to Giao Thuy for the first time. Dong Que Museum is the place to keep the old images of the Northern countryside with ancient artifacts and objects such as copper trays, coins… Especially, coming here, visitors will be able to visit the temples. houses of residents in the Northern Delta such as poor farmers, middle farmers, and landlords. In particular, visitors will find the old beauty when experiencing traditional craft villages or rudimentary tools such as rice mills, jars…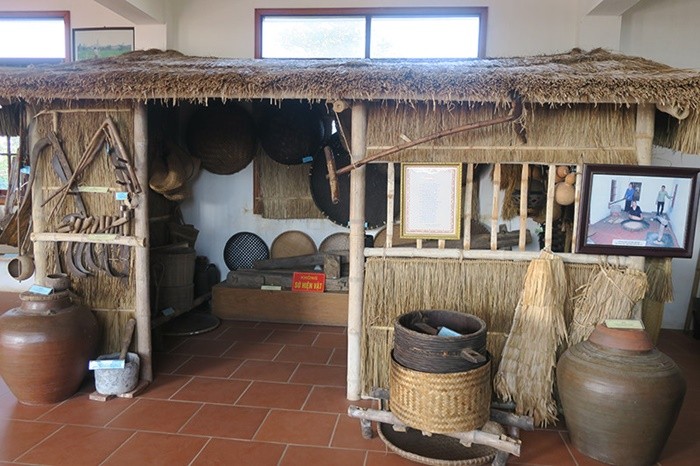 Country Museum
Xuan Thuy National Park
According to the travel experience of Giao Thuy that many backpackers share: Giao Thuy – Nam Dinh National Park is an extremely interesting destination that you should not miss. Located in the south of Ba Lat estuary, Giao Thuy National Park is a convergence and attracts many precious birds that migrate here to avoid the cold. Especially in the winter, around October and November, you will admire the fresh natural picture with thousands of birds from all over the world flocking here very beautiful, unique and romantic.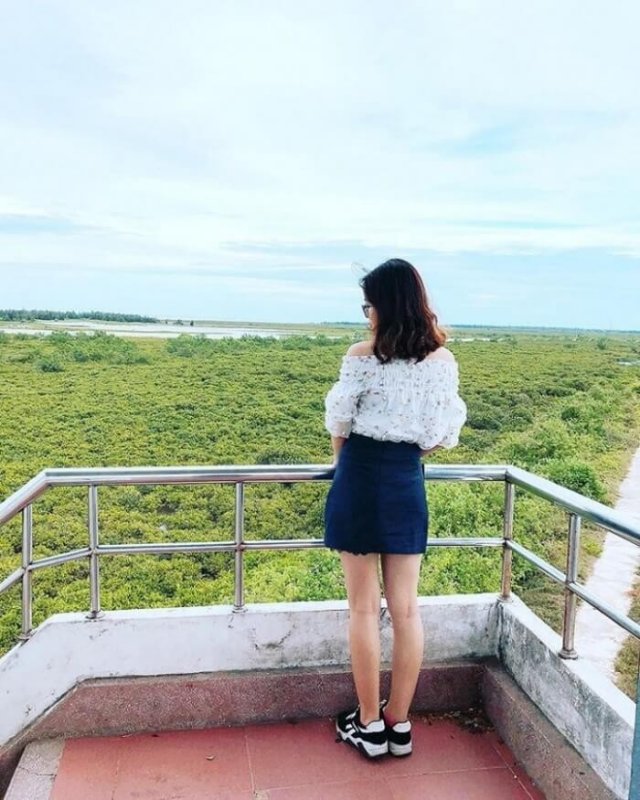 Xuan Thuy National Park
Bach Long salt field
And certainly, one of the interesting destinations in Giao Thuy that attracts many amateur photographers to visit and take pictures is the Bach Long salt field . This is one of the largest salt fields in the North with an area of ​​up to 230 hectares. And also one of the most beautiful salt fields in the Gulf of Tonkin.
Coming here to visit, visitors will not only experience the profession of salt making with the salt people, but above all, you will admire the picture of making salt extremely hard, but above all, the salt people here always smile brightly at the end. The day he collected the full batches of salt, he returned to the warehouse when the afternoon sun was out.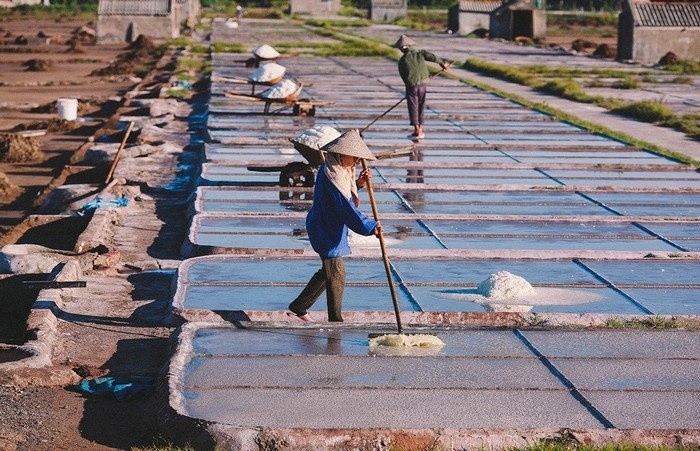 Bach Long salt field
Specialties to buy as gifts when traveling to Giao Thuy
When it comes to specialties bought as gifts when traveling to Giao Thuy, there will be many authentic gifts from the countryside such as: Hoanh Nha fish, oysters, honey, Giao Thuy spring rolls, Sa Chau water… But above all there are Two of the many country gifts that diners often buy as gifts for relatives and friends are Giao Thuy spring rolls and Sa Chau fish sauce. These are extremely delicious country gifts that make anyone who enjoys them also fascinated by the taste and love that the people here give to diners.
Spring rolls Giao Thuy
Giao Thuy spring rolls are one of the extremely famous Nam Dinh specialties that people who live far away from home often buy as gifts if they have the opportunity to visit their hometown. 
The attractive point of this spring roll dish is because of the rich flavor of fish sauce that blends with the sweet aroma of meat and the fleshy taste of hearing. When enjoying spring rolls with clove leaves, or curled fig leaves and dipped with standard Sa Chau fish sauce, you will certainly feel the quintessence of this rustic dish.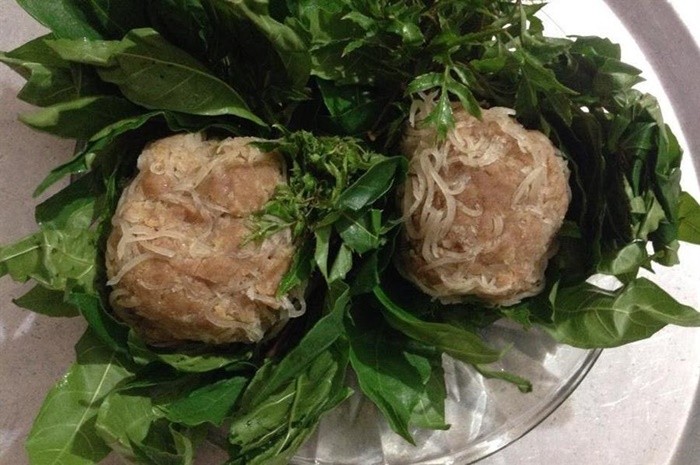 Spring rolls Giao Thuy
Sa Chau fish sauce
Sa Chau water is also one of the famous specialties and pride of Giao Thuy people in general and Nam Dinh people in particular. According to the villagers, in order to make a delicious fish sauce with a rich flavor, the fish must be incubated for 1 – 1.5 years depending on the type of fish and shrimp or the weather.
At this time, fish sauce will float to the top to look clear; At this time, the people who make fish sauce just scoop it out and pour it into a bamboo basket lined with filter cloth and put it in a small pond of 3-5 liters and then bring it to the yard, the roof to "eat dew and lie in the sun". And for fish sauce to be delicious, people have to dry it until it has 7 parts left. When the water grasps the dough, it will be.
After drying in the sun, people continue to put fish sauce in black jars, bury it in the ground for at least half a year to bring out the quintessence of heaven and earth. Then they continue to filter it again and then produce the final product and sell it. However, when you eat spring rolls dipped in Sa Chau fish sauce, you will feel all the delicious taste of the dish. Perhaps because of that, anyone who comes to Giao Thuy will also have to ring with high-quality water bottles to bring back as gifts for family, friends and relatives.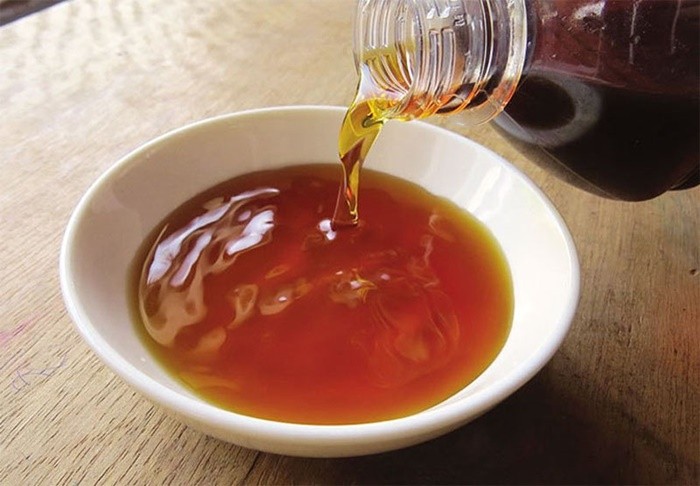 Sa Chau fish sauce
Note when traveling to Giao Thuy
For a convenient, easy, and above all uninterrupted tour of Giao Thuy , you should note the following:
– Please consult the weather forecast before you go. For those who intend to swim, please pay attention to whether the weather is rainy or not because summer in Nam Dinh often occurs with sudden rains; In addition, there is a storm that will interrupt your sightseeing tour of Giao Thuy.
– If you go to the beach in the summer, the Giao Thuy travel experience for girls is to prepare the best clothes, don't forget to bring sunscreen to protect your beautiful white skin and don't forget. Bring a wide-brimmed hat to go to the beach.
– For those who love and want to explore the churches in Giao Thuy, the clothes you should choose are discreet, well-organized clothes to create dignified and reverent.
Hopefully, the Giao Thuy travel experience that Vietnam Travel has summarized in this article will be a valuable resource to help you shorten the time in learning and planning. So what are you waiting for without inviting your friends to do a youth trip to record the most memorable memories in your life when you return to Giao Thuy? It will definitely be interesting!
Photo: Internet
You might be interested in