HO CHI MINH CITY – Visitors to Co Thuan's restaurant in front of the apartment block on Thap Muoi street, District 6 do not know what they will eat today.
"Did you see the red broth yesterday, Mrs. Thuan? Is this pho or beef noodle soup?", Mr. Son Hanh (District 6), standing next to the beef noodle soup, asked in surprise. Ms. Thuan answered: "Today the shop sells pho".
Not only Hanh, but also many residents living on Thap Muoi street are familiar with the question "what to sell today?" When she came to eat at Ms. Thuan's restaurant, every day her restaurant had different dishes from yesterday. One day, vermicelli grows, beef vermicelli, growing rice noodles, beef noodle soup one day, rieu vermicelli, vermicelli, beef warehouse … 7 days a week, continuously change dishes.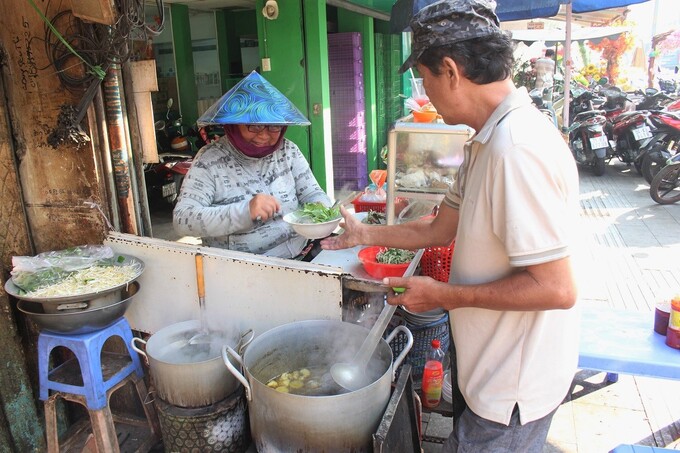 Every morning, the shop is open for sale at 6 o'clock, Ms. Thuan makes food and her husband helps deliver the things and clean. Photo: Huynh Nhi
Le Thi Bich Thuan (50 years old) with her husband opened a shop at the corner of apartment number 32, Thap Muoi street, District 6 for nearly 30 years. The restaurant does not set the cooking schedule for customers by day, but "arbitrarily" of the owner, the owner of what cooks does not notify customers in advance to create a surprise.
Visitors to the restaurant in addition to eating dishes at the price of 30,000 VND per serving are also attracted by the variety of menus every day. "I think if I eat one dish every day, customers will get tired so I change dishes continuously, the dishes I cook, all of them like, so we keep them up to date", Ms. Thuan explained.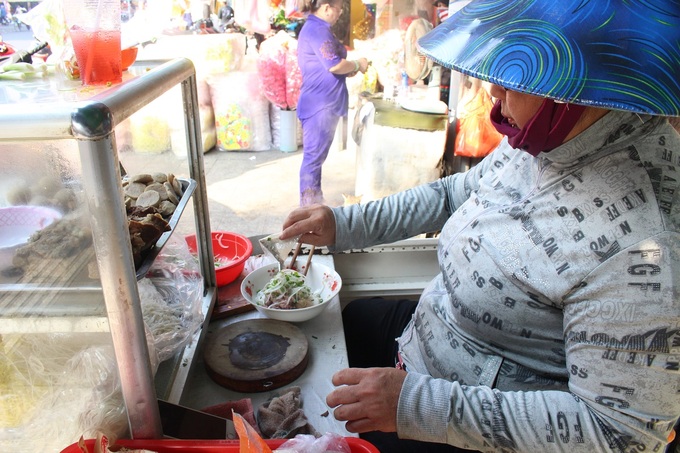 Simple layout, mainly serving patrons in the area. Photo: Huynh Nhi
Mr. Son Hanh, who had breakfast at the restaurant for a year, shared: "In addition to the vegetarian days, I always come here for breakfast the rest of the day, the most favorite is Hue beef noodle soup with growing noodles. The price is also affordable".
And Ms. Thuy (District 6) is a longtime customer at the restaurant, so every time she comes to eat, she cleans her own bowl, fill with broth, and when she is finished eating. She said: "The guests here are all acquainted, so they come to eat and see that the owner is busy, everyone wants to help."
Through an introductory friend, I arrived at the restaurant the same day Ms. Thuan cooked beef noodle soup. Full bowl of meat, meat, and beef balls cost 30,000 VND. Serving herbs are added to the same bowl, not separate from other restaurants. Pho has a mild aroma, the flesh is slightly chewy, and the broth fits well.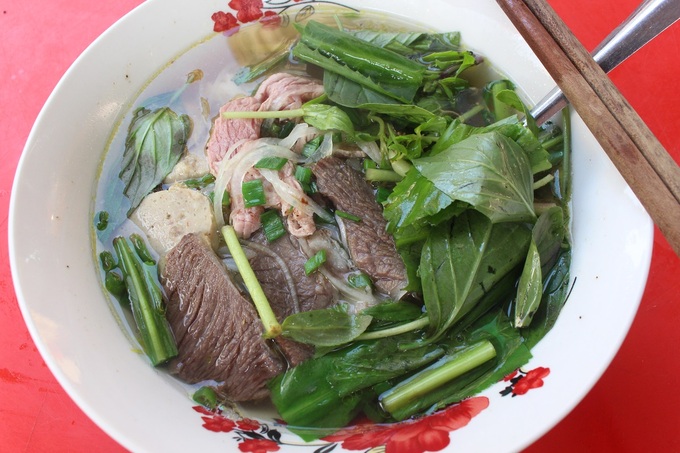 Beef noodle soup bowl 30,000 VND. Photo: Huynh Nhi
The shop does not have a fixed time of selling, from 6 am, Ms. Thuan starts to open the goods until about 9am. Small space, 2 tables with about 6 children to sit, most customers often buy to take away.
Huynh Nhi/vnexpress
You might be interested in