UK's weather forecast
Swathes of the north and the midlands will be cloaked under a blanket of snow today as the Met Office issues a weather warning covering Manchester, Yorkshire, northern and central Wales, Lancashire, and Newcastle. The Met Office has warned that snowfall may cause tricky travel conditions in places.
A yellow warning for snow and ice has now been issued and is in place from 9.42am today until 6pm this evening.
The warning for snow and ice means travel conditions could become dangerous and the Met Office has advised drivers to be careful.
The warning reads: "Southward-moving areas of sleet and snow are likely to give 2-5cm snow over higher ground above 200 to 300m whilst at lower levels snow accumulations will be smaller and patchier in nature with 1cm to 2cm snow for some. Where snow falls, expect slippery pavements and tricky driving conditions."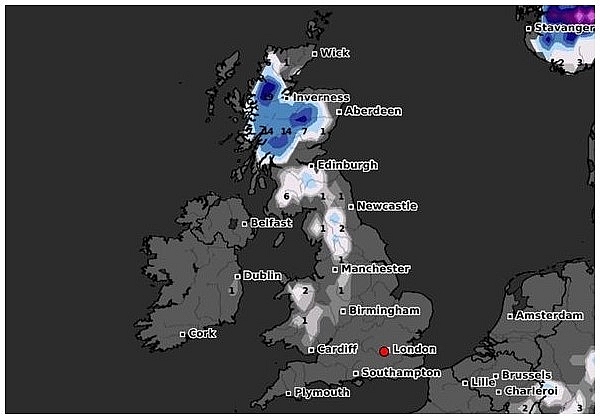 Met Office warnings MAPPED: Snow to smash UK today in chilling cold weather blast (Image: WXCHARTS)
The warning comes as the Met Office continues to monitor the Baltic region amid fears the UK could experience a major snow event later this month. Forecasters have warned of the return of the Beast of the East, which wrought havoc on Britain in February 2018.
Jim Dale, meteorologist for British Weather Services, said: "The beast is getting closer and at the moment it is stretching its claws across from the east towards Britain."
"While the Atlantic weather is currently being held back by high pressure over Greenland, if this weakens it will allow more moist air into the UK where it will clash with cold air."
"This is something we will be keeping our eyes on as this could bring the very real risk of a major snow event later in January. This is looking like turning into a lengthy cold spell lasting at least into the middle of January."
Met Office meteorologist Marco Pentagna said cold conditions could hit the UK from January 6.
He added: "In 2018 we saw the Beast from the East which was particularly cold conditions. If we tap into some cold air coming from Russia, then it could turn particularly cold. How cold it will get at this stage it is too early to say."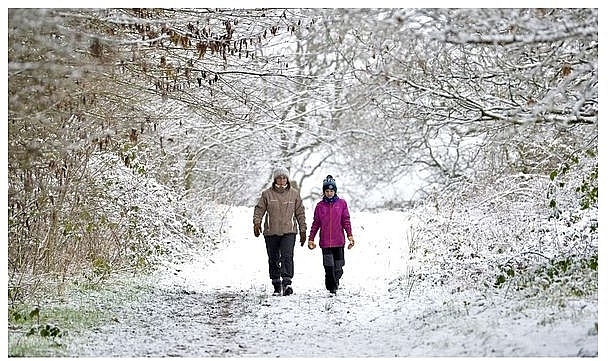 Met Office warnings MAPPED: Snow to smash UK today in chilling cold weather blast (Image: PA)
The recent cold snap isn't expected to end anytime soon, with a 'sudden stratospheric warming' event in the North Pole which could affect the weather in the UK in the coming weeks.
Sudden stratospheric warming takes place 10 to 50km up in the stratosphere. Around 66 percent of the time, such an event increases the risk of very cold weather around 10-14 days later.
While it's not necessarily a guarantee, how cold it could get - and for what length of time - are dependent on how close the high pressure is to the UK.
Met Office forecaster Alex Deakin said: "Charts are showing something interesting happening in the next 10 days high above the North Pole. The winds high up in the atmosphere are going to drop down and change and that is called Sudden Stratospheric Warming where suddenly high up in the sky about the North Pole temperatures suddenly jump up. It can have an effect on the weather across the UK but in another weeks time."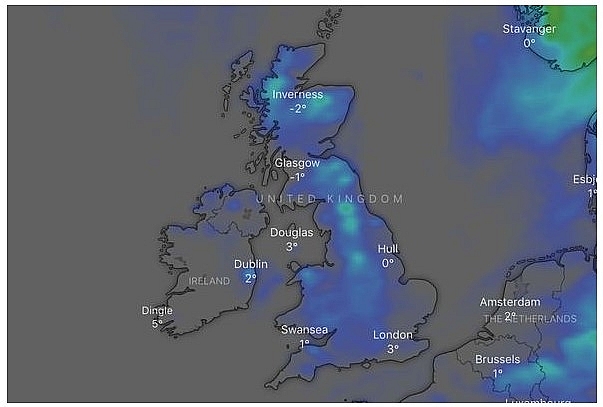 Met Office warnings MAPPED: Snow to smash UK today in chilling cold weather blast (Image: WINDY)
On January 4
According to Weather Online, high pressure to the north of the UK and low pressure to the south on Monday maintains a northeast to easterly flow. A low pressure system may bring an area of patchy rain and sleet into far southeastern parts of England accompanied by brisk winds. Staying largely dry, fine and cold for most with the best of the sun to the northwest and west. Wintry showers continue to blow into eastern coastal areas. These may push further inland to the north at times. High temperatures of 1 to 5C for many, 6C for coastal areas.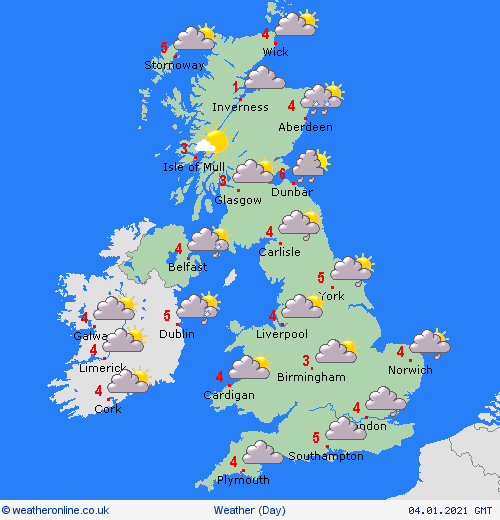 Photo: Weather Online
Europe's weather forecast
BBC Weather forecaster Helen Willetts noted that Europe will see unsettled weather over the next few days that has resulted in some warnings being issued. In the east, she warned of "nasty" and "significant" snowfall as well as wintry conditions with heavy rain and thunderstorms. In the west, temperatures are expected to be warmer but more rainfall is set to strike.
Powerful winds and rain are expected to cause disruption as well. Ms Willetts said: "More orange warnings will be enforced this weekend. This is courtesy of low pressure sitting through the Mediterranean. It will be throwing up heavy snowfall for the Alps and into the low countries."
"There will be heavy rain as well and strong winds pushing large waves onshore up through the Adriatic it is gradually easing its way eastwards."
"All this unsettled weather has sparked concerns for flash flooding and avalanches and those strong winds giving disruption as well to travel."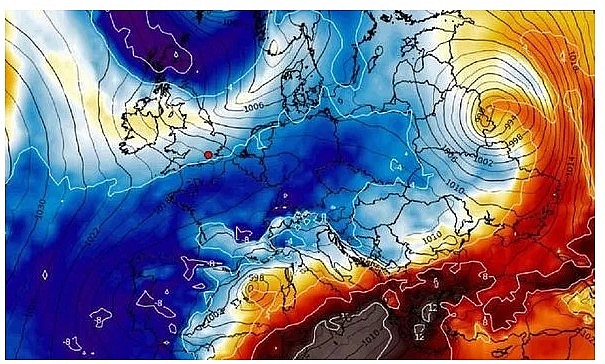 BBC Weather warning: Europe battered by 'nasty and significant snow' with thunderstorms (Image: WXCHARTS)
The BBC Weather forecast noted that much of central and western Europe would experience cold temperatures over the next few days. She said the cold air would be coming from the east and pushing itself southwards.
This contrasts the warm air building in southeastern parts of Europe which will see much rainfall. Ms Willetts continued: "This unsettled weather is being fuelled by a lot of warm air pumping to the east of it. You can see for the Balkans, parts of Greece and for Turkey, it will become increasingly unsettled."
"Heavy rains but there will still be some warmth around their in contrast to the 4 degrees in Madrid. In the east, there will be some wintry weather filtering southwards. More wintry weather and cold frosty conditions, fog and snow across Scandinavia, it will be bitterly cold there."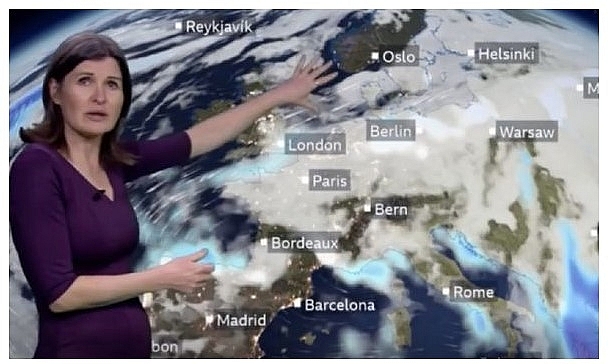 BBC Weather have forecasted significant snow and wintry conditions throughout Europe as heavy rain and cold air batters the continent. (Image: BBC)
On January 4
Further showers affect northern and western coastal regions of Iberia - these turn wintry over higher ground in northern Spain. Low pressure swirling around near Corsica brings further showers to the Balearic Islands, Corsica, Sardinia, Sicily and western Italy. These locally heavy. Staying dry and bright for eastern Italy. A band of heavy rain edges eastward over Greece and into the far west of Turkey. Showers follow for western Greece while the rest of Turkey stays dry and fine.
Isolated wintry showers affect France, the Low Countries, Germany, Switzerland and Austria where it will be rather cloudy. Wintry showers too affect the Czech Republic, Slovakia and Poland though the tend to fade before an area of heavier and more persistent rain arrives from the south spreading across Hungary, eastern Slovakia and into eastern Poland later.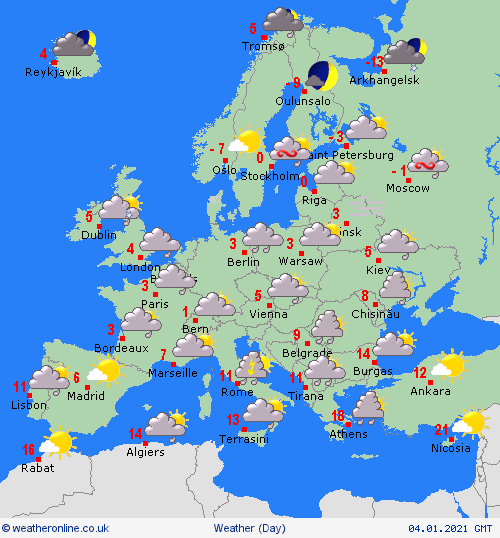 Photo: Weather Online
A fair day for Denmark, the Baltic States, southern Finland and southern Sweden. There will be variable amounts of cloud and isolated wintry showers. A brighter day for much of Norway, northern Sweden and northern Finland. Coastal showers affect the far northwest of Norway.
You might be interested in