The bowl of vermicelli is cooked by Ms. Chau according to the Western taste, with the smell of fish sauce combined with a variety of seafood, roasted pork served with vegetables, and tamarind fish sauce.
Bun Mam restaurant located on Nguyen Thien Thuat Street, District 3, has been a familiar address for many Saigon diners for nearly a decade.
Ms. Chau, the owner of the restaurant, shared that vermicelli noodles originated from Cambodia, cooked by people here from beef sauce. When imported into Vietnam, the dish is modified and cooked with local fish sauce such as Linh fish, choke fish, or peg fish… These are the types of fish that are abundant in the West, especially in the provinces of Can. Poetry, Tra Vinh, Soc Trang, Bac Lieu, An Giang…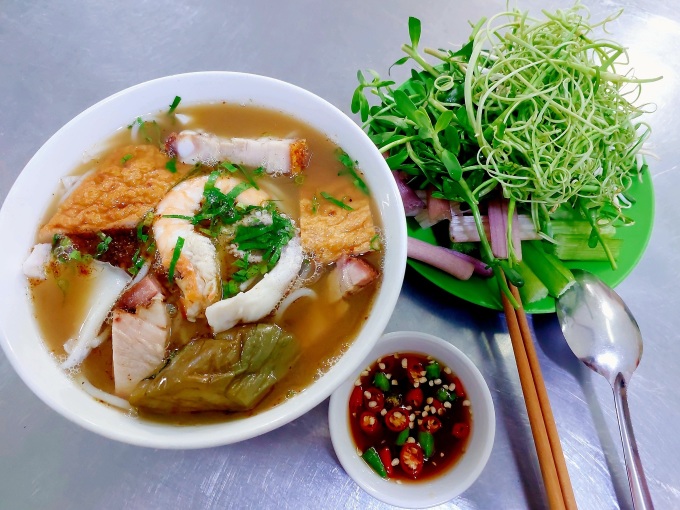 Diners will feel the full flavor of the dish when dipping each ingredient into a rich cup of tamarind fish sauce with a little spicy chili. Photo: Khanh Thien
Bun Mam dish according to Western taste has quite easy to find ingredients and not too difficult to cook, but requires knowing how to coordinate so skillfully. According to Ms. Chau, Westerners consider the broth to be the soul of vermicelli. To have a delicious broth, first use a small pot, add fish sauce such as choke, Linh … in, then add water, bring to a boil over medium heat, until the meat comes out.
Put a large pot on the stove, add cooking oil, minced shallot and garlic, stir-fry until fragrant, then add vermicelli, minced lemongrass and stir-fry. Use a sieve to filter the bones of the fish sauce, pour all the cooked fish sauce into a large pot. In particular, Westerners add coconut sauce to cook the broth with a rich, sweet flavor.
The pot of broth when boiling will continue to add each part of squid, shrimp … to the blanching and then take out the plate. Finally, cut the eggplant into the pot of broth, season to taste.
When customers order, the owner will put vermicelli in a bowl, add roasted meat, shrimp, squid, fish cake … and then pour boiling broth. Bun Mam must be eaten with a plate of vegetables including split water spinach, bean sprouts, bitter vegetables, water lily, rafter… to be in tune. In addition, to make the dish more delicious, a cup of sweet and sour tamarind sauce is definitely indispensable.
A bowl of steamed vermicelli noodles, dotted with fresh seafood, fragrant, served with a plate of vegetables, squeezed a little lemon to enhance the smell. Diners can ask the owner to blanch the vegetables or eat them raw as they like. Seasonings are also available in the corner of the table for guests to adjust according to their preferences.
As a Westerner, Mr. Tien Dung (42 years old, in District 3) especially likes vermicelli noodles. He shared that almost every week he comes to the restaurant to enjoy this dish because of its rich aroma, fresh seafood, and good taste.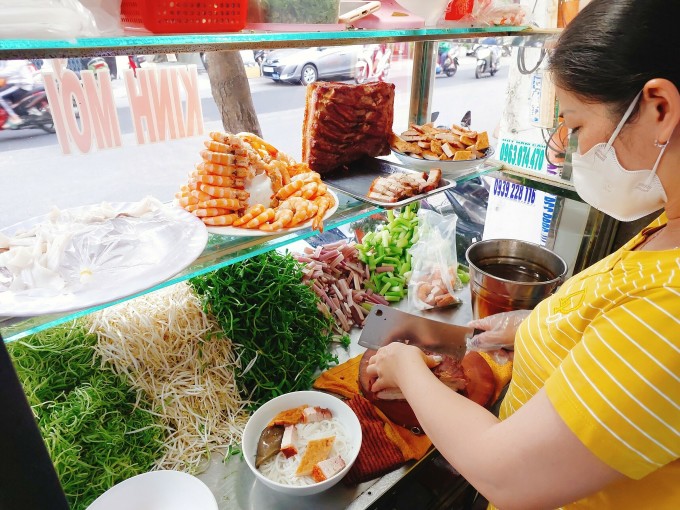 The restaurant is beautifully decorated and attracts customers. Photo: Khanh Thien
The shop is open from 7:30 to 20:30, on average selling more than 50 kg of vermicelli per day, with two prices of 65,000 VND for regular bowls and 75,000 VND (~$3) for special bowls.
Although it is located in the front, it is easy to find, but parking is limited if guests go at peak hours, because the restaurant is always full of tables. If guests don't like to sit in, guests can also buy take-out or order through the app, with meals freshly prepared and hot.
Photo: Internet (vinlove.net)
You might be interested in