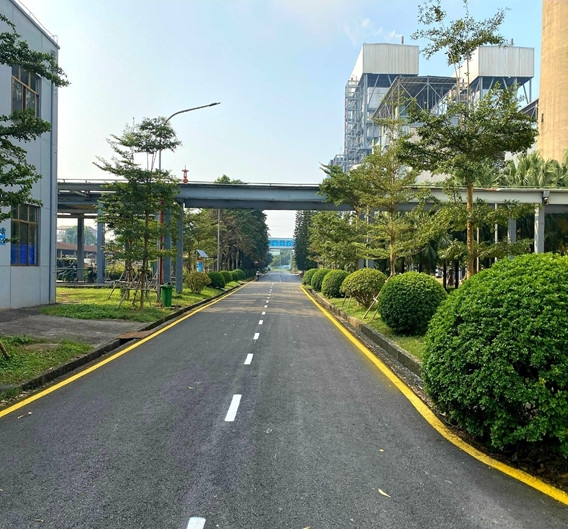 The corporation plants trees to restore the environment and renovate the landscape
The corporation currently manages and operates six thermal power plants and one hydroelectric power plant with total capacity of 1,736.2MW, and a coal mine with capacity of 125,000 tonnes per year. In addition to developing trade and production, the corporation has paid attention to environmental protection.
Nghiem Xuan Chien, deputy general director of the Vinacomin Power Holding Corporation, said the corporation regularly monitors and inspects adherence to environmental protection regulations in all units under its responsibility, as well as strictly controls exhaust emissions from thermal power plants to ensure standards before being discharged into the environment. The corporation has shown its determination not to sacrifice the environment for economic growth by accelerating the construction of environmental protection works, Chien said, adding that all wastewater generated in production is collected and treated in accordance with regulations.
As thermal power plants use circulating fluidized bed (CFB) boilers, NOx emissions are controlled during the fuel combustion process. Limestone is also used to reduce SOx emissions. In addition, the corporation has applied electrostatic precipitators to minimize dust.
Ash and slag generated from thermal power plants are reused as production and building materials. Some factories have consumed all the ash, slag and gypsum generated in production. However, selling remains difficult as the market does not believe in products created by ash and slag.
The Institute of Construction Science and Technology granted a certificate of standardization for the corporation's ash and slag as leveling materials according to TCVN 12249:2018 and mineral additives for cement production according to TCVN 6882:2016.
To strengthen environmental protection, the corporation has directed all units to carry out environmental monitoring in accordance with regulations, install misting systems, increase the frequency of tank truck spraying against dust, and plant trees to restore the environment and renovate the landscape.
The Vinacomin-Power Holding Corporation targets the use of renewable energy and sufficient financing for environmental protection.
Phuong Chi
You might be interested in