8-year-old broke corn for hire, the poor boy became an artist honored by Forbes: The first Vietnamese to join the American Design Association, collecting billions of dong/month thanks to flowers and leaves
Ha Minh Khoi entered the list of 30 most prominent faces under 30 years old of Vietnam in 2020, voted by Forbes. He was even invited to design works for the cover of a famous French magazine.
" Born and raised in Vietnam, Ha Minh Khoi was the first Vietnamese to become a member of the American Institute of Floral Design (AIFD) in 2016. In the same year, Khoi had his work published. appeared on the cover of the flower magazine Narce (France) in the Christmas season, then continued on the cover of the spring 2018 and spring 2020 issues. In 2018, Khoi won the first prize in the Vietnam International Floral Expo contest.
During a workshop at Boerma Academy (Netherlands) in February 2019, the German master of masters, author, expert, and floral designer – Gregor Lersch was "very touched and impressed" when talking about Khoi's talent"  – Forbes Vietnam magazine talked about Ha Minh Khoi when he entered the list of Forbes 30 Under 30 2020.
However, before reaching these achievements, Ha Minh Khoi experienced a difficult and difficult childhood.
He was born and raised in a poor farmer family with 9 siblings in Chau Duc, Ba Ria – Vung Tau. When he was only 8 years old, Ha Minh Khoi followed his brothers and sisters to break corn and pluck apricot leaves to "add more copper to the field" for his family. However, poverty still pursued, taking care of his children's education was still a great burden for his parents that day.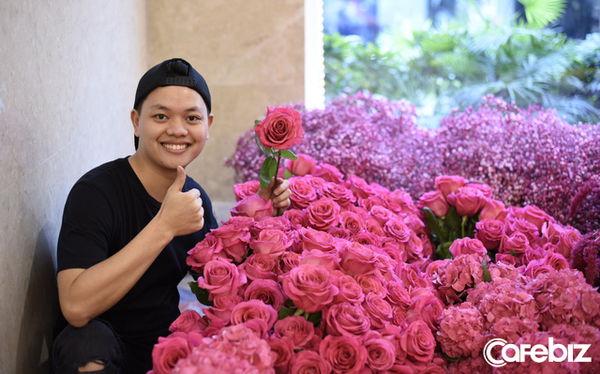 Ha Minh Khoi
At one time, Khoi's brother had meningitis since he was born, his mother had to pick up the leftover rice people left in the hospital to eat because he was so hungry. Even, many times his parents had to remove the roof and sell it to pay for the treatment of their children. Then another brother of the artist had a boil on his leg, which required surgery, but the family could not afford it. In an interview with us, he said that until now, his brother's legs are still not the same as usual.
However, even a hard life cannot lessen Ha Minh Khoi's mother's love for flowers. He said, even though she only had 30,000 VND to go to the market, she still spent 10,000 to buy flower arrangements. On the birthday of the children, every year there is a vase of flowers from the mother. It is also the "genetic gene" that the boy inherited from his mother.
"I am a Catholic, so since I was a child, I have been going to church often. That day, I saw the nuns at the church arranging flowers and I have been passionate about the art of flower arranging ever since. The nuns at the church also guided and taught me. When I went to church with my mother, I asked her to let me go to the back of the church to help the nuns with flower arrangements , " he said.
Only in middle school, he invested money to buy flowers and sell them on the doorstep. After graduating from grade 12, the boy wrapped up in Saigon to apply for an apprentice at a flower shop. Only two months, he became the main plug-in. However, Khoi received a lower salary than his colleagues because he did not have a university degree.
The young man moved to work at another flower shop when the owner here promised to help him receive proper training from a foreign expert. After a period of persistent learning, going early and coming home late, Khoi arranged flowers more and more on his hands and was loved by customers. Born at the age of 23, he received more than 10 congratulatory cakes from customers.
Earn billions of dong per month by flower arrangement
Showing her talent and hard work, Ha Minh Khoi was suggested by her teacher to participate in the contest to become a member of the American Institute of Floral Design (AIFD).
Although he easily passed the theory round, after 2 times, he still failed his visa and could not go to the US because his English was unsatisfactory. The young man is determined to spend 6 months reviewing and studying English at the Youth Cultural House in Ho Chi Minh City so as not to miss the opportunity to come to the US for the 3rd time.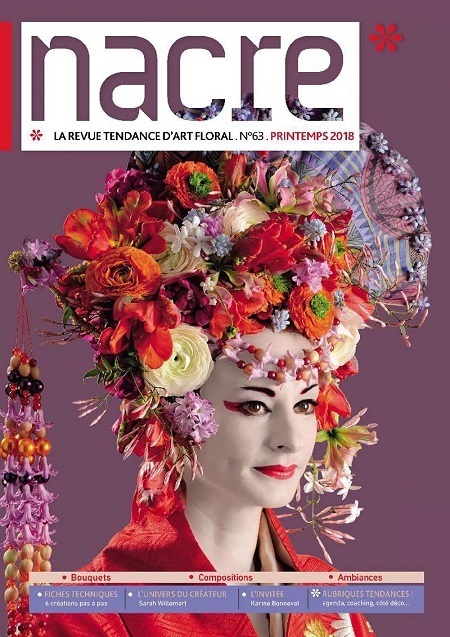 Works by Ha Minh Khoi in Narce magazine.
In 2016, Ha Minh Khoi realized the "American dream" when completing a flower design internship and was the first Vietnamese to be admitted to AIFD. Since then, his name has become more and more widely known.
Two years later, the flower designer was invited by Narce to France to design the work for the cover of this magazine. The brilliant and vibrant beauty of Ha Minh Khoi's works made from ranunculus, hyacinth, tulip, fire cup has received many compliments from experts, creating a new Asian-style breeze. East for a purely European magazine.
Success after success, in the same year, Ha Minh Khoi won the first prize of the Vietnam International Floral Expo – a flower design contest with 14 contestants representing 14 countries competing.
In early 2020, Ha Minh Khoi once again became the author behind the cover of Narce magazine. He was also honored by Forbes Vietnam in the list of 30 most prominent faces under the age of 30 in Vietnam 2020.
Currently, Ha Minh Khoi owns a flower shop, located in Hanoi. Sharing with VnExpress, he said that each month he earns from 300 million VND to more than one billion VND in revenue.
"A few years ago, during the holiday season on March 8th, I made a lot of orders for a company, the operation had to be quick, making me forget to eat and drink. At that time, I felt so overwhelmed, so at that time, I thought: Well, after finishing this season 8/3, I won't do it anymore. I find floristry too hard, I do a lot of orders but it takes a lot of effort that I spend.
But giving up floristry did not have that thought. Besides the difficulties, there are also many happy memories. Once, I was scouted for large weddings by helicopter in a villa in Europe. I also find it quite interesting, in this profession, I also get to interact with many different people and environments,"  he said.
However, Ha Minh Khoi believes that the flower industry in Vietnam still suffers from many disadvantages due to limited facilities and no formal training schools. Currently, he also has a few classes to teach flower arranging skills. One of the subjects that this artist target is pregnant women.
"People who are pregnant, are about to give birth to a baby, are often very sensitive and easily stressed. When a pregnant woman is so heavily pregnant, all actions are slower, so my flower arranging class also helps pregnant women have time to help pregnant women have a more relaxing and comfortable time." By Doanh nghiep va Tiếp thị
You might be interested in