KIEN GIANG – Herring fillet is soft, fresh, sweet, and not fishy, ​​mixed with grated onions and coconut to create a unique highlight for the island's specialties.
Around July and August of the lunar calendar, the southwest monsoon season blew into the mainland, the time when Phu Quoc fishermen had the biggest herring crop of the year. Want to catch herring, fishermen have to get on the boat, take the basket boat away from the shore early in the morning. About 10 km from the shore, fishermen get into the baskets to drop net siege. At around 8am, 9am, the boat was full of fresh fish brought back to the shore.
Delicious and benign herring meat should be processed into many delicious dishes such as grilled, fried, sour soup, braised, tomato sauce … but the most prominent is still salad. As a rustic dish, herring salad has a process of processing. The cook must choose the fish that is still fresh, so that the meat is fragrant, fatty, sweet and less fishy. After that, the fish was beaten with all scales, gut, head, fins and tail removed. The cook uses a thin knife to remove the bone and take the meat from both sides.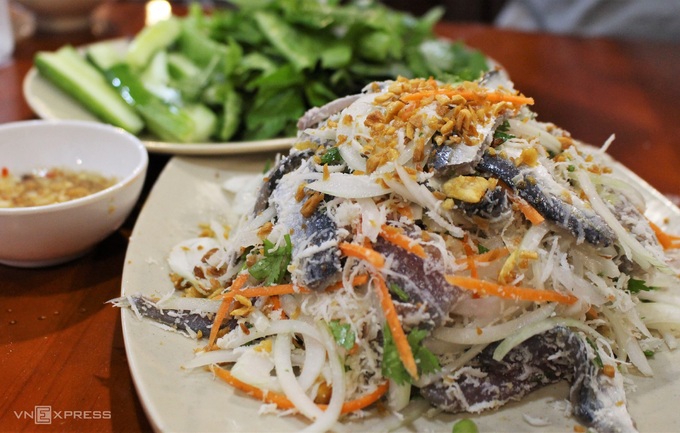 Herring salad for 3 people is priced from 120,000 VND / plate, accompanied by raw vegetables, cucumber and rice paper and dipping sauce. Photo: Huynh Nhi
The ingredients to serve include sliced ​​onions, sliced ​​carrots, grated coconut, add minced garlic and cilantro … All mixed with herring and sour sauce. The special feature of herring salad is that the sauce is not made from lemon juice, but is mixed with vinegar fed with ripe guava, seasoned with a little salt and sugar to make the dish taste sour and have a mild aroma.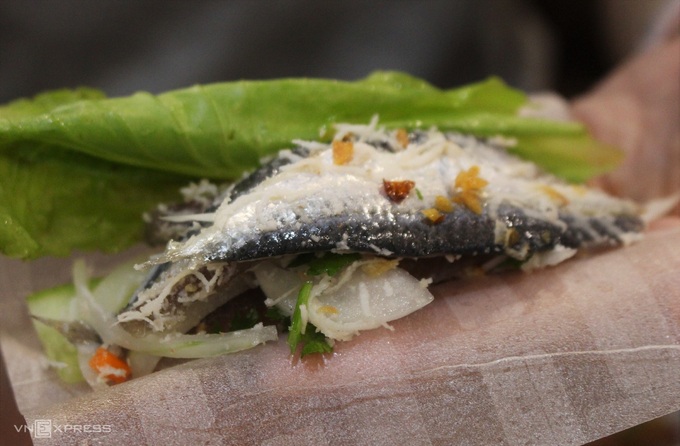 Herring is used as a salad with a moderate size, when the fillet is finished, the skin is still intact. Photo: Huynh Nhi
The delicious herring salad is indispensable for the dipping sauce made from minced garlic chili, peeled yellow peanuts, mixed with delicious Phu Quoc fish sauce, added a little sugar, lemon …
When enjoying, diners take a thin piece of rice paper for raw vegetables, cucumber, fish salad, then curl up firmly, dipping with sweet and sour sauce. The freshness of the fatty herring meat with the grated coconut, the aroma of herbs mixed with the rich spicy sauce will make diners remember forever when experiencing. According to the people of Phu Quoc, herring salad at Khem beach is the best, the price for a plate for 2 people to eat from 70,000 VND.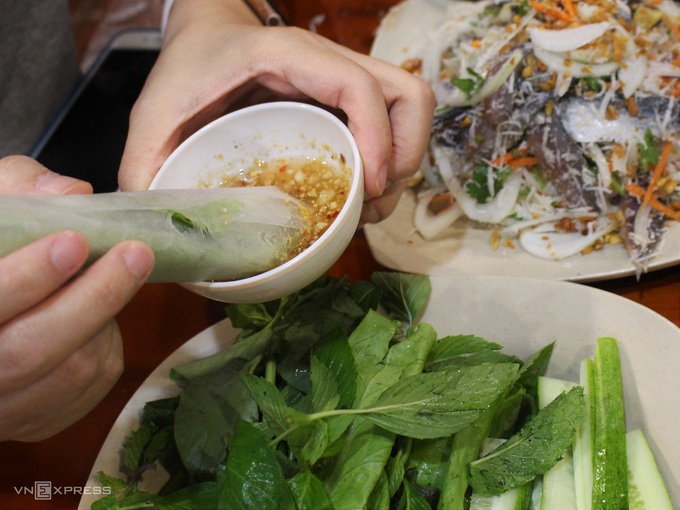 Sauce dish made from chili, garlic and minced roasted peanuts create a highlight for the dish. Follow vnexpress/Photo: Huynh Nhi
You might be interested in