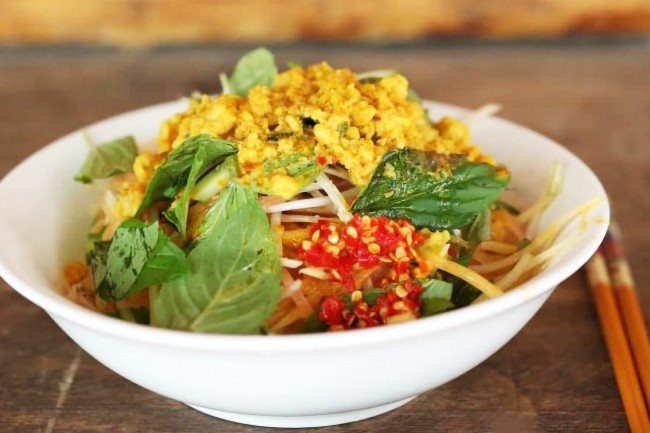 A bowl of Phu Quoc-style "ken" noodle soup - PHOTO: TAUCAOTOC
HCMC - Phu Quoc is referred to as Vietnam's pearl island due to its beautiful scenery. Yet there is another aspect about the island which is worth trying—its gastronomy. Among the local dishes is "ken" noodle soup with its herbs. This specialty can be said to be typical of Phu Quoc Island off the coast of Kien Giang Province.
According to locals, "ken" is a word of the local Khmer language used to designate dishes made from coconut milk. Several versions of "ken" noodle soups are available in Chau Doc and Can Tho cities in the Mekong Delta. However, Phu Quoc-style "ken" noodle soup is different from its counterparts in one way or another.
The broth of the dish is cooked from nhau or ngan (Salangidae) fishes instead of snakehead fish like normally found in other versions of the noodle soup. The fish to be used are cleaned and boiled until they become soft. Next, they are filleted and pounded finely. This phase is indispensable as it helps the noodle soup have a special flavor.
In fact, making the broth is quite complex. Pounded fish flesh is stir fried with garlic, ginger grass and chilies until it turns crispy. Then, the crispy fish flesh will be cooked with coconut milk and the broth from boiled fish flesh. This mixture should be simmered to make it thicker. Among the accompanying spices, five-spice powder or curry powder is essential to create an eye-catching yellow for the dish.
The Phu Quoc-style "ken" noodle soup is served with herbs, green papaya salad and sweet and sour fish sauce. Moreover, diners can enjoy the broth with bread instead of noodles.
The noodle soup is an ideal combination of a wide range of ingredients such as coconut milk, sea fish, chili and green papaya, to deliver an unforgettable taste.
You might be interested in