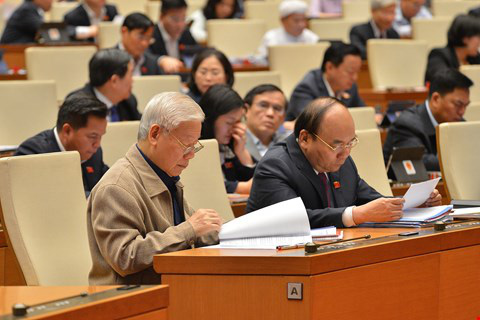 What you need to know today in Vietnam:
Politics
-- Vietnam's lawmaking National Assembly is slated to dismiss Prime Minister Nguyen Xuan Phuc and State President Nguyen Phu Trong on Friday. The legislature will elect their replacements on Monday next week.
-- Vietnam will strive to outstandingly perform its role as the United Nations Security Council (UNSC) President in April, the Vietnam News Agency cited Deputy Prime Minister and Foreign Minister Pham Binh Minh as saying on Thursday.
Society
-- Vietnam reported zero coronavirus cases on Friday morning, with the tally standing at 2,617 patients and 2,359 having recovered from the respiratory disease.
-- Prime Minister Nguyen Xuan Phuc has signed a decision to allocate VND1.237 trillion (US$54 million) from the central budget to buy COVID-19 vaccines and carry out vaccinations, according to the Vietnam News Agency.
-- Ho Chi Minh City's Can Gio District will be turned into an eco-tourism resort city in the future, Nguyen Thanh Phong, chairman of the municipal People's Committee, said on Thursday. 
-- A court in southern An Giang Province sentenced two to death on Thursday for trafficking almost 40kg of drugs from Cambodia to Vietnam in May last year.
-- A Da Nang court on Thursday condemned a 36-year-old man to life in prison for killing his own daughter in 2019. 
-- The director of the National Mental Hospital 1 in Hanoi was suspended on Thursday after a patient was found running a drug racket at the institution. 
Business
-- Vietnam's Masan Group has rebranded VinMart and VinMart+ as WinMart and WinMart+ after it acquired the retail brands from Vingroup over a year ago.
-- Prime Minister Nguyen Xuan Phuc agreed on Wednesday that Vietnam would borrow $2 billion from the World Bank, Germany, and France to develop the country's Mekong Delta region.
Sports
-- The Vietnam Football Federation is seeking for a new president after its head Le Khanh Hai, a politician, was named Chairman of the Presidential Office on Tuesday.
World News
-- Dutch couples marked the 20th anniversary of the world's first same-sex marriages on Thursday, Reuters reported.
You might be interested in