UK's weather forecast
The start of the New Year has seen temperatures plunge and flurries of snow blanket parts of Scotland and northern England. But in the coming days, large swathes of Britain can expect to be hit by wintry showers and up to 11inches (28cm) of snow, as a Scandinavian freeze moves in.
The latest weather charts show a northeasterly wind moving in from Monday, bringing with it freezing temperatures and the risk of sleet and snow.
According to snow risk charts, much of the UK could be hit by wintry weather this week. The map shows the wintry conditions moving in from the east, before sweeping across England later in the week.
At 6pm on Monday January 4, there is a 100 percent risk of snowfall in parts of southern Scotland and northern England, as indicated by the areas of white and bright red. The south of England and east of Northern Ireland also has a moderate snow risk, with between a 30-85 percent chance of wintry showers.
By 6am on Tuesday the snow risk intensifies across much of northern England and Wales. The weather chart also shows the risk increase for parts of the southeast of England. Scotland continues to have a high chance of snowfall. The charts predict similar areas of the UK will see snowfall through Wednesday.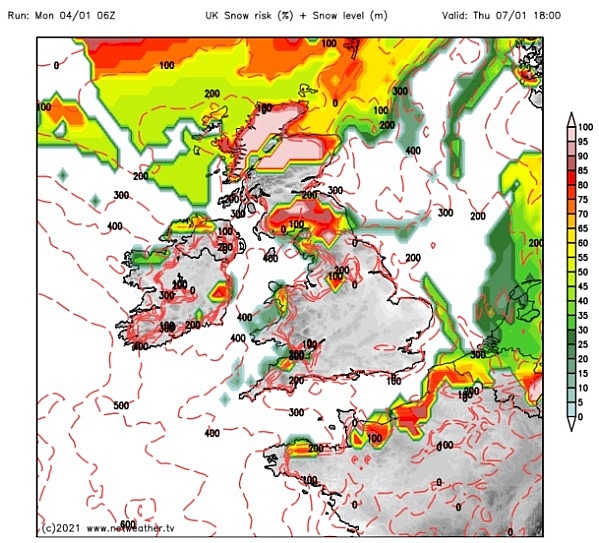 K snow forecast: By Thursday much of the snow risk is confined to Scotland (Image: Netweather)
By Thursday much of the snow risk is confined to Scotland and northern parts, as Netweather forecasts expect a 100 percent snow risk across northern Scotland at 6pm.
From the early hours of Friday morning, the snow risk pushes further south, covering Manchester and much of the west of the UK by 6am. By midday, much of central England is seen to turn white, indicating a 100 percent snow risk.
The Met Office said the South East could see some snow by Friday but added, "if it happens, it won't stay around for long".
Writing on Twitter, BBC Weather forecaster Simon King said: "It stays cold this week with a northeasterly wind and overnight frost/ice. Risk of some sleet/snow in places but it's actually going to be mostly dry."
Alongside his Tweet, the forecaster posted a video showing colder winds moving towards the UK from Scandinavia at the start of this week.
Forecasters WXCharts expect the northwest of Scotland to see upwards of 8.6 inches (22cm) of snow all week. By 3pm on Friday, the snow depth weather maps show 11 inches (28cm) of snow.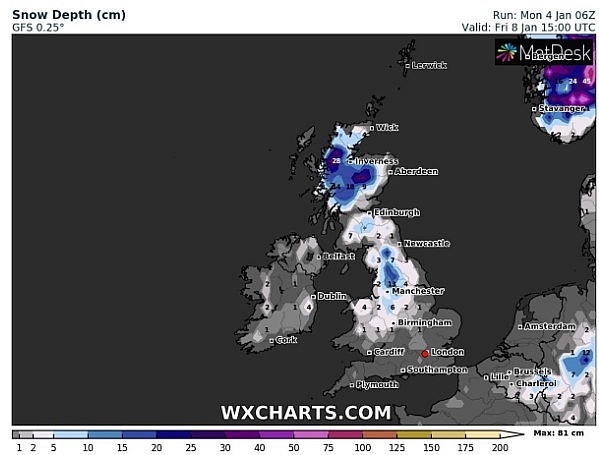 UK snow forecast: 11inches (28cm) of snow is forecast at 3pm on Friday in north west Scotland (Image: WXCharts)
At this time five inches (13cm) of snow is expected in Manchester with small amounts expected further south. The first full week of January is expected to see temperatures dip below average. Temperatures will stay in single digits across the UK in the coming days, with rain, sleet and snow expected in parts.
Met Office spokeswoman Nicola Maxey told the PA news agency: "This cold spell will last certainly this week and into next week, although we should see a little bit of recovering temperatures as we start next week."
"By the time we get to Friday, we're starting to see the chance that things might warm up a bit, but we're still looking at 3C (37.4F) or 4C (39.2F) for London with isolated areas perhaps seeing 6C (42.8F)."
Some parts of the UK may also see sleet and snow, though it will largely stay on higher ground.
Ms Maxey said: "We may see the odd flurry down to lower levels, particularly in the North East, maybe the North West depending on what day you're looking at, but certainly any snow to lower levels will be quite transient really and not last very long."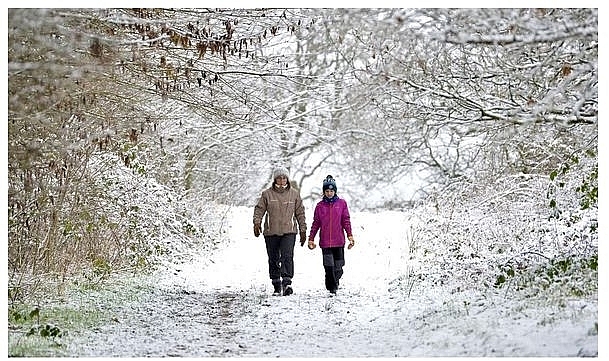 Met Office warnings MAPPED: Snow to smash UK today in chilling cold weather blast (Image: PA)
On January 6
According to Weather Online, Wednesday sees high pressure squeezed to the south as a front approaches from the northwest. Prior to this, it's a mostly dry and fine day for much of the UK and Ireland though isolated wintry showers affect eastern coasts of England, Ireland and Scotland as well as southern coastal regions of England. Cloud thickens over northwestern areas throughout the day and a band of rain, sleet and snow works its way inland over northwest Scotland later. Winds pick up here too. High temperatures of -1 to 4C for most.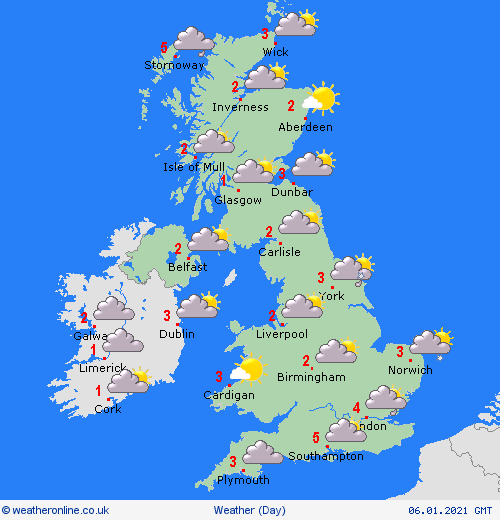 Photo: Weather Online
Europe's weather forecast
BBC Weather forecaster Tomasz Schafernaker said temperatures across Europe will be just below average for the time of year. He noted cold air from Russia is impacting parts of Europe and creating wintry conditions. He revealed Portugal and Spain can expect snow and "nasty" wet and wintry conditions over the next few days as a new weather front develops in the Canary Islands.
In addition to this, the Mediterranean will see snow, heavy rain and wintry conditions as well. Mr Schafernaker said: "It is pretty cold although not desperately cold."
"The air is originating out of Russia and is moving across the Baltic and North Sea to the UK. Many of these major cities will be experiencing temperatures a little below the average but nothing too cold."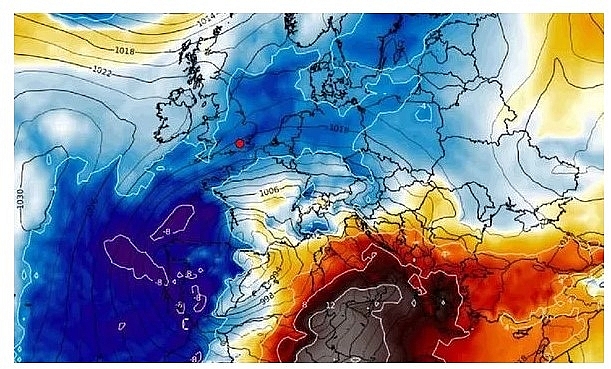 BBC Weather: Spain and Portugal struck by 'nasty' snowy wintry conditions as Europe freezes (Image: BBC)
The BBC Weather forecaster explained where in Europe could the coldest weather be expected. He said: "As far as winter weather is concerned, most of it is happening in the central Mediterranean and the Alpine region. There was a lot of snow here recently and more winter weather to come."
"You can see some rain and snow piling into the mountainous regions as we go through the middle of the week. Some really nasty conditions here."
Mr Schafernaker also forecasted an intense shift towards wintry weather for parts of Portugal and Spain over the coming days.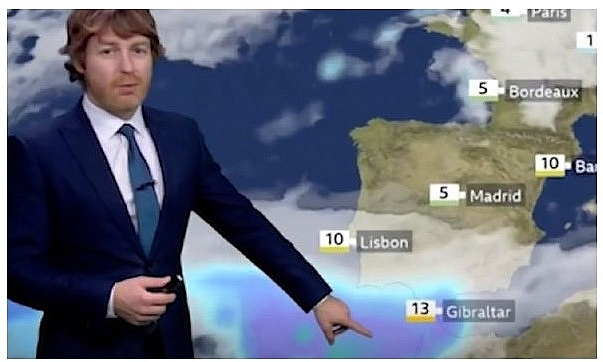 BBC Weather: (Image: BBC)
He said: "We are also watching this nasty area of weather developing very closely to the Canary Islands. That is going to spread into Portugal and southern Spain in the middle of the week. That will bring some nasty conditions and some snow to elevated regions."
The BBC Weather forecaster noted that in eastern parts of Europe temperatures will remain relatively dry and warm. The temperatures will vary from 13 degrees in Bucharest to 21 degrees in Nicosia, with areas in between settling around the mid-teens.
He said: "Across the Balkans, it is much milder and temperatures are around 15 degrees"
On January 6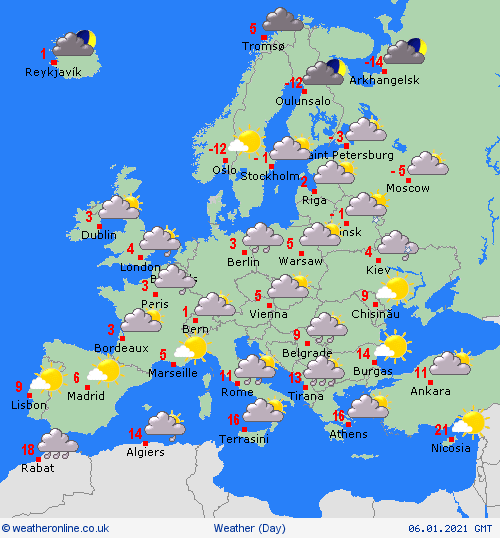 Photo: Weather Online
You might be interested in