Considered a locality with may chances for development, Quang Ngai has the opportunity to become a priority choice for international partners shortly.
Opportunities for development
Quang Ngai has an important strategic position in the key economic region of the Central region. This area still has a lot of opportunity for development and is among the top 20 provinces and cities in the nation for economic development scale.
That is the assessment of Ms Nguyen Minh Hang, Deputy Minister of Foreign Affairs, at the Quang Ngai Introduction Conference organized by the Ministry of Foreign Affairs in coordination with the People's Committee of Quang Ngai Province on October 25 in Hanoi.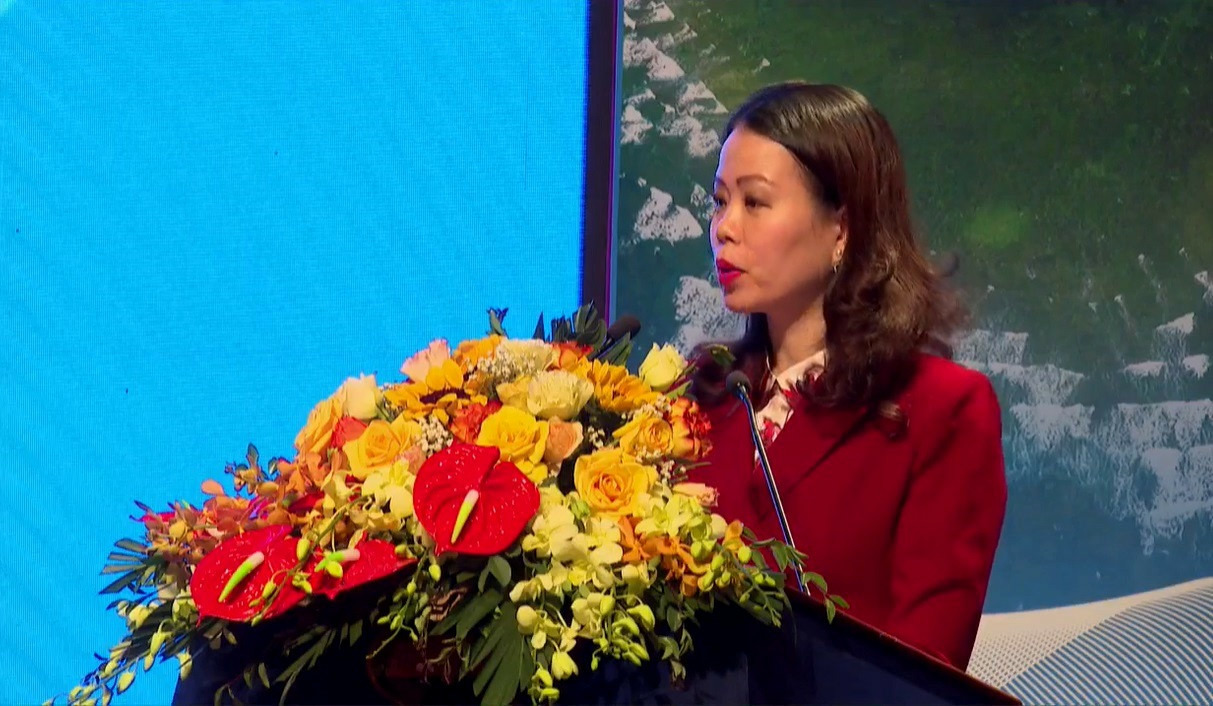 Deputy Minister of Foreign Affairs Nguyen Minh Hang assessed that Quang Ngai still has much room for development. (Photo: N. Le)
The Deputy Minister said that in the coming time, the Ministry of Foreign Affairs will continue to support and accompany localities, including Quang Ngai, to deploy economic diplomacy work to promote connection with foreign partners and open expanding import and export markets, attracting FDI and ODA to serve the province's development drivers such as tourism, marine economy, logistics, trade, industry...
Also read: Majestic scenery in Quang Ngai Province
Mr Dang Van Minh, Chairman of the People's Committee of Quang Ngai province, said that according to the Master Plan for the socio-economic development of the province to 2030, with a vision for 2050, Quang Ngai will develop based on the harmony between the three pillars "economy - society - environment".
Accordingly, the goal is that by 2030, Quang Ngai will become a well-developed province of the country, with sustainable and diverse development with green industries and high-tech industries concentrated in industrial parks and clusters, logistics, combining potentials and strengths in tourism development, high-quality agriculture and marine economic development.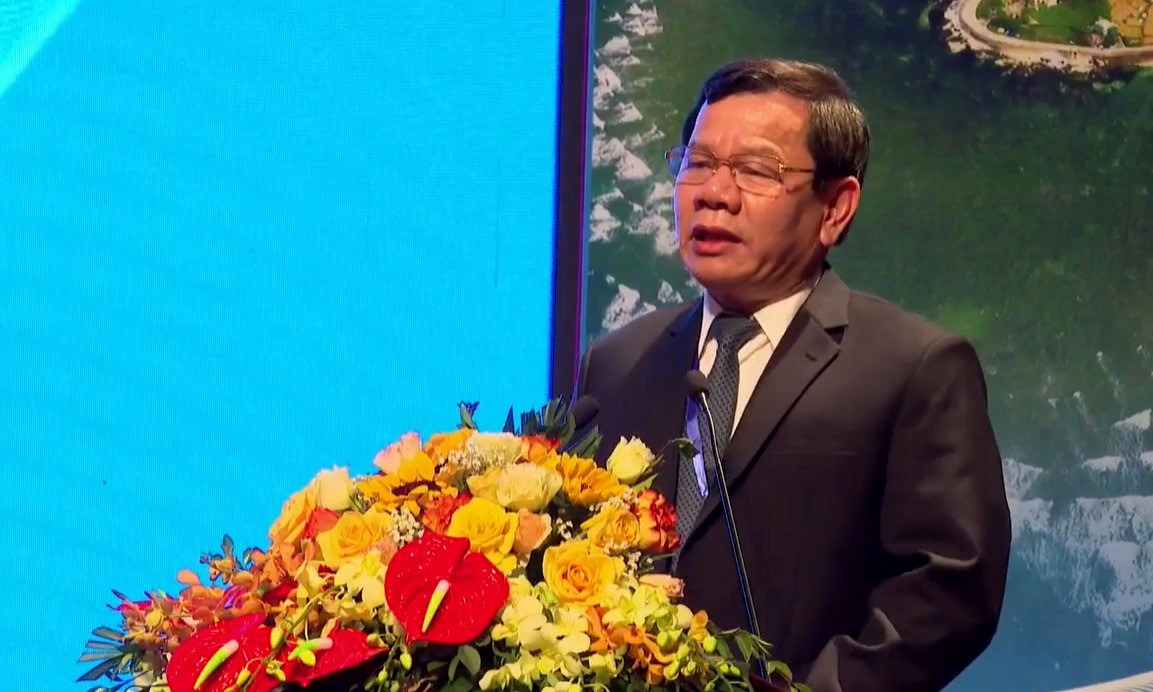 Chairman of the Provincial People's Committee, Mr. Dang Van Minh, introduced Quang Ngai at the conference. (Photo: N. Le)
Besides, 6 dynamic economic space regions were formed, especially building the National Energy and Petrochemical Refining Center in Dung Quat Economic Zone and developing Ly Son to become a national island tourism centre.
To attract resources for development investment, Quang Ngai has implemented many solutions to improve the business investment environment and promote administrative reform strongly.
Also read: Dung Quat refinery operates at 110% capacity during Tet
Meanwhile, Mr Vo Phien, Vice Chairman of Quang Ngai Provincial People's Committee, said that Quang Ngai calls for cooperation and attracts investment from the perspective of "Your success is the province's success. Enterprises are the objects of service of state agencies. The provincial government and leaders wish to accompany you to create new success and prosperity for localities, communities and businesses."
Many foreign businesses want to invest
Mr. Nakajima Takeo, Chief Representative of the Japan Trade Promotion Agency (Jetro), said that the number of investment projects in Vietnam increased by 55% compared to last year. There are many Japanese and Chinese enterprises gradually shifting production to Vietnam.
He assessed that Vietnam has great potential, leading in the region in attracting investors to expand business. Next to China and the United States, Vietnam has been ranked second on the favourite investment list of Japanese businesses.
"We want Vietnam to strengthen its electricity development further while still achieving its goal of reducing CO2 emissions. Foreign-invested enterprises hope to contribute to the sustainable economic development of the Vietnamese people," said Mr. Nakajima Takeo.
As a very important source of foreign direct investment in Vietnam, Mr. Michael Chiu, Chairman of the Hong Kong (Chinese) Business Association in Vietnam, informed that Hong Kong businesses participate in investment activities in many industries. Among them, industries attracting significant FDI from Hong Kong include manufacturing, real estate, finance, services and technology.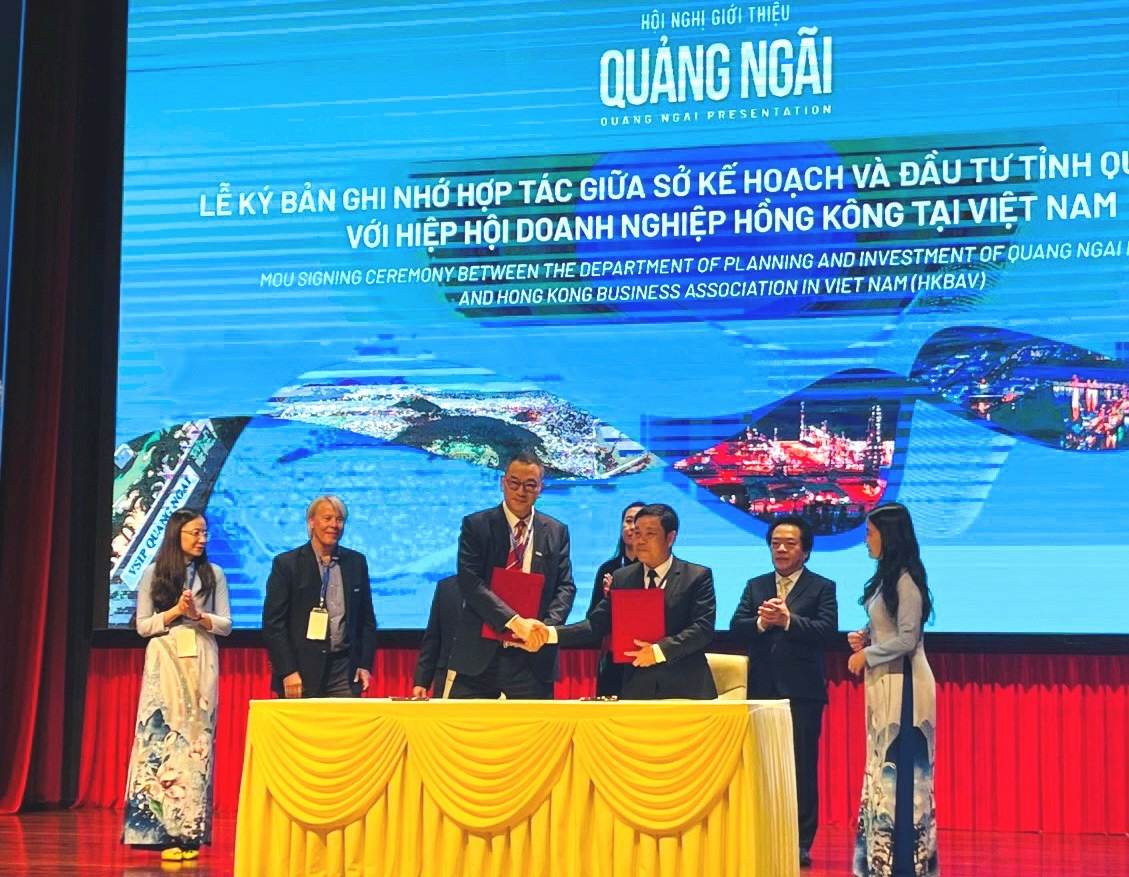 Memorandum of Understanding signing ceremony between the Department of Planning and Investment of Quang Ngai province and the Hong Kong Business Association in Vietnam on October 25. (Photo: N. Le)
"Hong Kong investors are attracted to Vietnam's favourable business environment, critical position, and young and dynamic workforce. In particular, Quang Ngai is rich in natural resources such as minerals, oil and gas, seafood,... bringing economic growth opportunities.
According to the Ministry of Planning and Investment, Hong Kong is in Vietnam's top 5 FDI investors, with a total investment capital of 2.2 billion USD in 2022. The two sides have many joint venture projects and investment projects. These projects contribute to the economic growth of both Hong Kong and Vietnam, create job opportunities, and promote trade between the two sides. We chose to invest in Quang Ngai because of its attractive investment policy and favourable human resources," said Mr Michael Chiu.
He assessed that Quang Ngai has untapped potential for developing the hotel tourism industry. With the local investment environment increasingly favourable, Mr Michael Chiu said Hong Kong wants to stand alongside other FDI investors such as Singapore, Japan, and Korea...
Read more: EU foreign direct investment in Vietnam will increase by the end of 2023
Within the framework of the conference, a memorandum of cooperation signing ceremony took place between the Department of Planning and Investment of Quang Ngai province and the Hong Kong Business Association in Vietnam. Along with that was the signing ceremony of a memorandum of cooperation between the Management Board of Dung Quat Economic Zone and Quang Ngai industrial zones and the Investment Consulting and Information Center of the Association of Foreign Investment Enterprises.
You might be interested in