Vietnam has a favourable location, and the Government is very interested in promoting the development of the semiconductor industry, according to Minister of Planning and Investment Nguyen Chi Dung.
The Vietnam Business Summit, with the theme "Connecting Vietnam with the Southeast Asia semiconductor ecosystem", took place on September 29 in Hanoi. At the event, Minister of Planning and Investment Nguyen Chi Dung said Vietnam has a stable political system and favourable geographical location. The Government is also keen to foster investor collaboration and grow the semiconductor sector. Developing action plans and strategies to develop the industry has been delegated to many ministries, including Planning, Investment, Information, and Communications. Vietnam is also building a human resources development project to form a team of 50,000 engineers by 2030.
Besides, there is an abundant labour source in the field of engineering and technology suitable for the semiconductor industry. There are research and training units and large enterprises in the industry. Many large corporations in the semiconductor industry from the US, Korea, Taiwan... have implemented investment projects. We included the semiconductor industry's growth in the recent joint declaration between Vietnam and the US.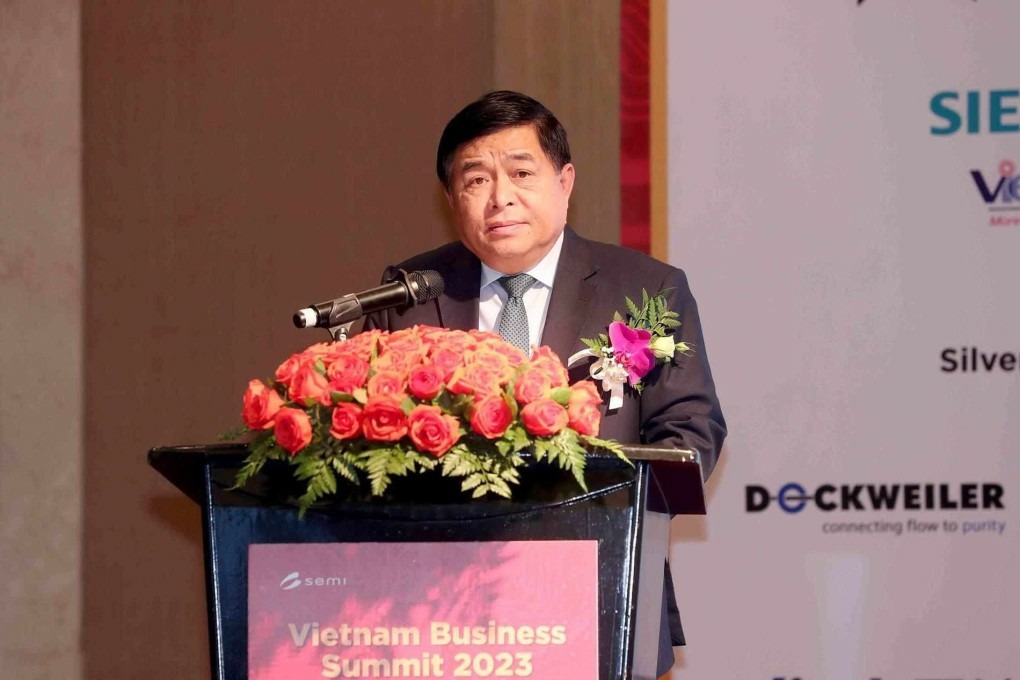 Minister of Planning and Investment Nguyen Chi Dung shared at the conference. 
Vietnam has constructed some investment incentive schemes for businesses and enterprises in this sector. The largest incentives are provided for high-tech semiconductor investment projects. In addition, three high-tech parks in Hoa Lac (Hanoi), Da Nang, and Ho Chi Minh City were built and are open to investors.

"The summit is an opportunity to connect and cooperate to promote the semiconductor industry in Vietnam and Southeast Asia. The potential for cooperation is extremely large and has many meanings for the common development of the countries worldwide," Minister Dung said.
Nguyen Huy Dung, Deputy Minister of Information and Communications, stated that Vietnam is prepared for the semiconductor industry's groundbreaking expansion. According to him, this industry will help Vietnam participate more deeply in the global supply chain, creating a breakthrough in economic development.
The Ministry will coordinate with relevant agencies to promote the semiconductor supply chain development in Vietnam and the region and closer cooperation between businesses in the Southeast Asia semiconductor supply chain.
"All cooperation will be a bridge for the development of the semiconductor industry in the region, playing an increasingly important role in the global semiconductor industry chain in the coming years," Mr. Dung said.
For more information, Mr Nguyen Thien Nghia, Deputy Director of the Department of Information Technology and Communications Industry (Ministry of Information and Communications), said that Vietnam is developing a draft Strategy for developing the semiconductor industry to 2030, vision 2035. One key task is accelerating participation in the regional semiconductor ecosystem, attracting global businesses to present and produce.
In 2022 the information and communications technology (ICT) sector will generate 148 billion USD. Vietnam has about 300,000 engineers, 1.6 million workers, and 42,000 companies in technology and engineering. Besides, Vietnam has many companies designing, assembling and testing chips, but no company is in the chip moulding stage.
Attending the conference, Mr. Arnaud Ginolin - Director of BCG Vietnam, highly appreciated Vietnam's determination to participate deeply in the semiconductor supply chain, facing great opportunities from restructuring Global supply chains.
"Southeast Asia, including Vietnam, is currently the leading candidate thanks to its advantages in production costs, labour quality, and the ability to access large markets," Mr Arnaud Ginolin shared. 
Many global firms specialising in electronic assembly and circuit design have come to establish facilities in this economy of 100 million people due to its advantageous location and stable economic and political climate. Vietnam's integration into the Southeast Asian electronics and semiconductor value chain, according to Mr. Arnaud Ginolin, can produce a competitive ecosystem.
According to Technavio, a business that conducts technology research and consultancy, the semiconductor market in Vietnam might reach $6.16 billion by 2024.
Also read: Korean semiconductor manufacturer to pour US$1.6 billion in Bac Ninh
Global semiconductor makers seen coming to Vietnam
You might be interested in