The Ministry of Planning and Investment's 2022 white book on Vietnamese enterprises showed that there were 811,538 businesses in Vietnam as of December 31, 2020, but only 684,260 produced goods and generated revenue during the year. This translated into 16% of Vietnamese enterprises without an income or generating goods and services.
Sector-wise, 56.6% of agricultural, forestry, and fishery firms posted revenues. The figures stood at 82% for construction and industrial companies and 86% for service providers.
Meanwhile, service providers accounted for 67% of the total registered businesses, of which 40% were retailers. Companies in the industry and service sectors accounted for 31.5%, while agricultural, forestry, and fishery businesses made up 1.5%. Thus, it could be drawn from the nation's sector structure that Vietnamese service providers and retailers did not generate wealth for society.
The white book also indicated that the average debt ratio of all Vietnamese enterprises in 2020 registered at 2. In other words, their debt doubled their equity in 2020, on average. The service sector posted the highest ratio of 2.7, while the industrial and construction sectors recorded a debt-to-equity ratio of 1.3. Financial leverage at agricultural, forestry, and fishery companies was the lowest, with a debt ratio of 0.6.
The debt ratio of the service sector remained unchanged in 2020 compared to the previous year. However, the industrial-construction and agro-forestry-fishery sectors saw their debt ratio rise in 2020 by 0.87 and 0.79 compared to 2019.
By category, the average debt ratio of state-owned enterprises, domestic private companies, and foreign direct investment (FDI) firms registered at 3.5, 1.9 and 1.7, respectively.
By debt structure, state-owned enterprises accounted for 14.3% of the nation's total corporate debt, while domestic private companies and FDI firms made up 62.7% and 23%.
Domestic firms' debt was 332% higher than the country's gross domestic product (GDP) in 2019, and the figures rose to 336.7% in the following year. Of the total, state-owned enterprises' debt was equal to 97.5% of the 2019 GDP and 101% of the 2020 GDP, compared with domestic private companies' debt-to-GDP of 224% in 2019 and 235.7% in 2020.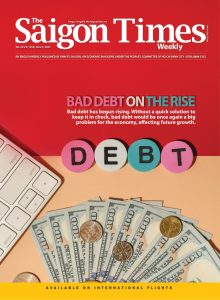 Despite the mountain of debt, enterprises' return on asset (ROA) ratio in 2020 dropped 5% over 2019 to 2.1%. By sector, the industrial and construction sectors had the highest ROA ratio of 3.6%, followed by agro-forestry-fishery sectors with 2.3% and the service sector with 1.3%. By category, state-owned enterprises recorded the ROA ratio at 1.9%, FDI firms at 1.9%, and domestic private businesses at 5.2%. Meanwhile, the ROA ratio of enterprises is reduced by scale, with large companies posting a ratio of 3.1%, medium-sized enterprises seeing a ratio of 1%, small-sized firms having a negative ratio of 0.1%, and microenterprises recording a negative ratio of 0.7%.
Fundamentally, enterprises' operations contributed to GDP growth. However, the book pointed out that only 60% of companies that generated income and commodities contributed to Vietnam's GDP expansion over the past few years. And who contributed the other 40% to the GDP growth? Was it coming from non-income-generating activities such as state management, non-profit organizations, or the household sector? According to the System of National Accounts, the added value of those activities must be included in GDP calculations, as they stemmed from workers' base salary and fixed asset depreciation. Should such an economy be considered deviant?
In 2023, domestic manufacturers grapple with difficulties, which is a grave risk for the banking system and the economy.
You might be interested in