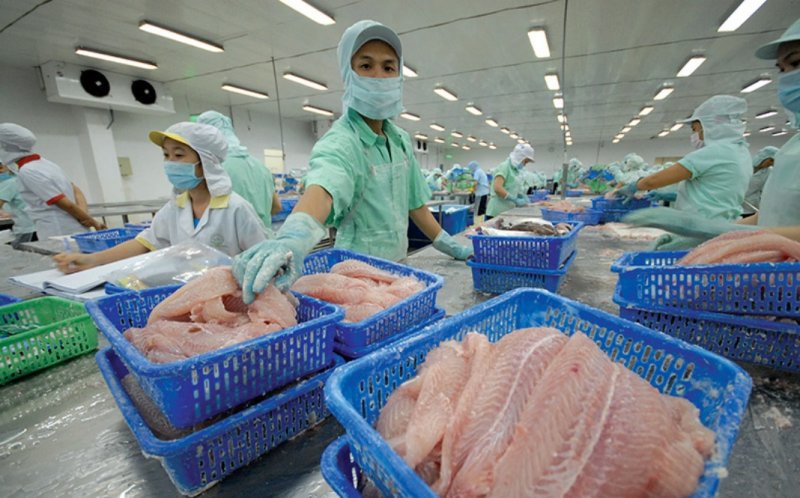 HCMC – Japan has overtaken the U.S. as the largest buyer of Vietnamese seafood products, with its imports from Vietnam reaching over US$310 million in the first quarter of 2023.
But the total value of Vietnamese seafood exports to Japan fell by 11% year-on-year between January and March, according to data of the Vietnam Association of Seafood Exporters and Producers (VASEP).
Some Vietnamese seafood products exported to Japan recorded sharp declines in value, such as whiteleg shrimp falling by 35%, salmon by 4% and octopus by 6%.
Meanwhile, the export values of seafood products such as squid, scad fish, pollocks, tuna and jack mackerels saw a year-on-year increase of 13-88%.
The U.S. lost its position as the top importer of Vietnamese seafood products, with its imports amounting to only US$290 million, plunging 50% compared to the same period last year.
The six main exported products to the U.S., including whiteleg shrimp, tuna, tra fish, freshwater shrimp, tilapia and sentinel crabs, recorded sharp decreases in export values, ranging from 31% to 57%.
The drop in export value was attributed to the significant competitive pressure from other countries, such as India, Ecuador, and Indonesia, on the supply and prices of seafood products, especially frozen seafood.
Additionally, Vietnam gained nearly US$255 million from sending seafood products to China in the first quarter of 2023, down 22%. Among those, tra fish accounted for 61% of the total value, while shrimp amounted to 20%.
South Korea spent nearly US$178 million on seafood imports from Vietnam in the first quarter, down 13% year-on-year. Meanwhile, Vietnam's seafood export value to the EU market also decreased by 29% in the first quarter, reaching only US$210 million.
According to VASEP, China will likely become the largest export market for Vietnamese seafood, but exports to this market face stiff competition from other countries.
Due to high inflation and weak consumer demand, it is hard to achieve a breakthrough in exporting to other major markets such as the EU, the U.S., Japan and South Korea.
You might be interested in