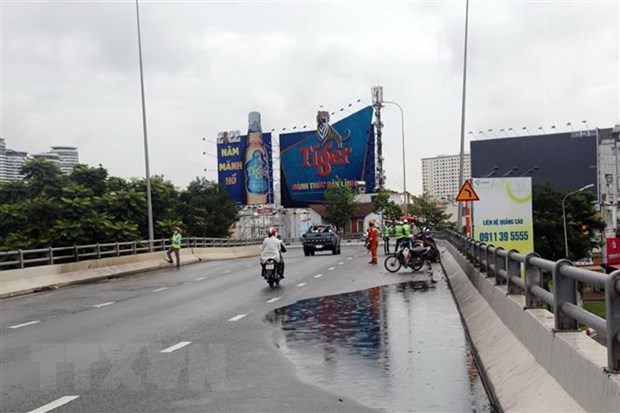 HCMC – Nguyen Huu Canh overpass in HCMC's Binh Thanh District will be reopened to traffic late this month, after four months of being closed to automobiles for repair, according to the municipal Department of Transport.
Speaking at a press conference on socio-economic activities in the city on February 16, Bui Hoa An, deputy director of the department, said that the repair of the overpass would be completed in late February. Motorcycles have been running on the overpass since late December last year, while cars are banned.
The overpass was closed after an underground prestressed cable broke in September last year due to the construction of a sewer system as part of the project to repair Nguyen Huu Canh Street, the local media reported. The incident caused the middle span of the overpass to sink.
As such, the HCMC Department of Transport spent VND490 million checking, evaluating and fixing the overpass.
Lying on the main route connecting the western gateway and downtown HCMC, the 600-meter-long Nguyen Huu Canh overpass was opened to traffic 20 years ago.
You might be interested in