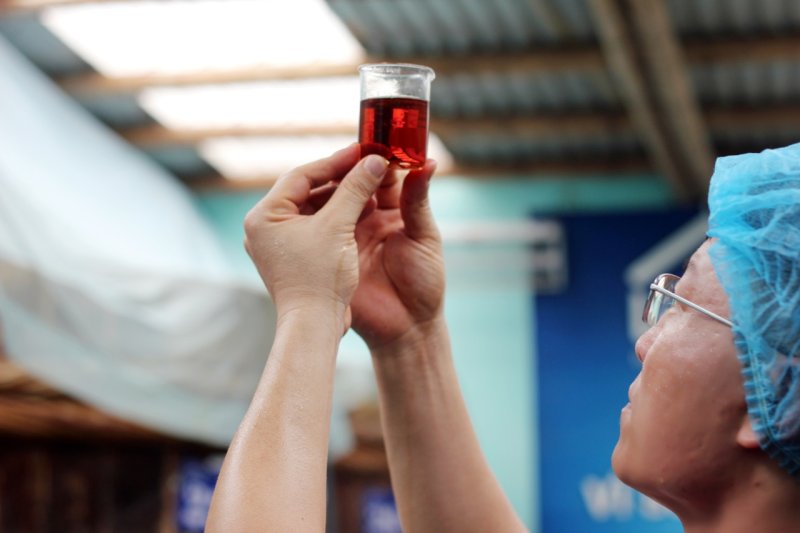 Le Anh, a native of the north-central province of Thanh Hoa, decided to quit a civil engineering job that paid him thousands of U.S. dollars per month to establish a startup to make traditional fish sauce. After multiple difficulties, Le Anh managed to make Le Gia (*) a favorite traditional fish sauce brand among consumers.
The three key factors that make a good traditional fish sauce comprise fish, salt and the craftmanship of fish sauce makers, Le Anh, owner of the traditional fish sauce business Le Gia, affirmed, adding that making traditional fish sauce is a highly complicated process and fish sauce makers are truly craftsmen.
"Things made from nature remain sustainable"
The first key natural ingredient to make the traditional fish sauce is anchovy, a common forage fish of the family Engraulidae. When a fishing net is pulled toward a boat, fishermen catch anchovies using a specialized fishing racket, then rinse them several times with sea water.
Rinsed anchovies are mixed with pure salt right on the boat in the ratio of 3 fish:1 salt. After reaching the shore, the fish and salt mixture is fermented in wooden barrels for two years using traditional Vietnamese methods to produce a premium fish sauce with an amber color, salty flavor, and natural sweet aftertaste.
Aside from using anchovies to make fish sauce, Le Gia has used Acetes japonicus, a.k.a. moi in Vietnamese, a shrimp species which inhabits shallow waters, to make shrimp paste products. Between the seventh and 10th lunar month, during which Acetes japonicus has thicker meat and a thinner shell, fishermen will catch and rinse it with sea water before mixing it with salt in the ratio of 4 shrimp: 1 salt. The mixture will then be crushed with some spices and fermented.
The next important ingredient is salt. The same fish mixed with various types of salt will produce a fermented fish paste of different quality. The ingredients, fermentation time and the amount of salt will directly affect the quality of the fish sauce. Good quality salt and proper fermentation will produce tasty fish sauce and vice versa.
The salt used to make Le Gia-branded fish sauce and paste comes from Ba Ria-Vung Tau and Ninh Thuan provinces, where salt workers produce pure white, large salt grains with sodium chloride reaching over 97%. Then, they store salt for two years to remove impurities to make a tasty fish sauce.
Last but not least, it is the craftsmen that contribute to the good quality of the fish sauce. When Le Anh made up his mind to manufacture fish sauce, one of the first things he did was consult Dr. Tran Thi Dung, an expert in the fishery and fermented fish paste-making sector, about the process of making a traditional high-quality fish sauce, because the fish sauce in his hometown in Thanh Hoa was too smelly despite being pure.
After spending months traveling to various traditional fish sauce craft villages nationwide to gain experience for his business, Le Anh stopped for a while in Phu Quoc, an island city off the Mekong Delta province of Kien Giang, where he found the secret to making a premium fish sauce.
It is generally known that fermenting wine in oak barrels makes it tastier. He learned that fish and salt must be fermented in litsea glusinosa wooden barrels to make a good fish sauce.
Each litsea glusinosa wooden barrel used by fish sauce makers in Phu Quoc cost up to hundreds of millions of dong, a steep price compared to the prices of plastic or concrete items at just several millions of dong, leaving him shocked. However, he decided to invest in litsea glusinosa wooden barrels to make the premium fish sauce.
He said it required enormous efforts to search for appropriate wooden barrels and other related materials as well as to closely monitor the fish fermentation to keep the taste of the fish sauce intact, adding that these items were rare and cost a lot. Finally, he and his team managed to make 30 wooden barrels for fish fermentation, but then some barrels leaked and they had to start over again, Anh recalled.
He also shared his business motto: "Only things made from nature remain sustainable." He said the Le Gia fish sauce had been made following long-standing traditional methods, making the sauce completely natural.
[/b]
[b]Selecting a niche market: fish sauce for kids
Opting to make the traditional fish sauce, which is more time-consuming and expensive than industrial fish sauce, was like plunging into difficulties, but Anh still stepped onto this bumpy road.
During the first two years of his startup, Le Anh worked as a civil engineer for a South Korean firm at the Nghi Son refinery project in Thanh Hoa and also grew his fish sauce-making business, Le Gia. Therefore, he could only sleep for a few hours a day. When the anchovy fishing season came, he was extremely busy constantly commuting between his construction site, his home, his fish sauce production facility, and local seaports, which are hundreds of kilometers apart, to handle the two jobs.
It took him three years to be able to launch his first fish sauce product. After that, he plunged into other difficulties linked to product promotion activities.
The competitiveness between industrial and traditional fish sauce in the local market remained fierce. A latecomer like Le Gia, which offered new products in the mid- and high-price range, found it tough to approach customers. Around 7-8 out of 10 customers said they preferred the industrial fish sauce to the traditional version since the former was convenient and low-cost. Others said they had a wide range of fish sauce products to choose from and hardly wanted to try new ones such as Le Gia.
Being aware of such obstacles, Le Anh decided to choose a niche market to develop his business by producing fish sauce for kids. Le Gia launched its fish sauce for kids in the weaning stage with 100% natural ingredients, and the product quickly won the hearts of young mothers.
Diversifying products in combination with tourism
In late 2018, Le Gia shipped its first container of fish sauce to South Korea. The Le Gia-branded fish sauce later appeared in other markets such as Taiwan, South Africa, Russia, and Panama. Until now, Le Gia has developed eight types of fish sauce and a wide selection of fermented fish paste. The company annually offers 40,000 liters of fish sauce plus 350 tons of fermented fish paste to the local market, mostly in Hanoi, HCMC, and tourist areas. It currently employs 30 people, excluding seasonal workers, with its input materials mostly sourced within Thanh Hoa.
The company is working to build a plant producing traditional fermented fish paste and offering tourism services on a 7,000-square-meter plot of land adjacent to its existing workshop.
A customer named Luong Viet Anh said, "I rarely saw anyone putting their heart into producing traditional fish sauce like Le Anh. He is meticulous in implementing every single stage of the production process. He even studied how to design a bottle cap so that the fish sauce would not be stagnant on the cap after use. Since he has put his heart and mind into making quality products, I believe he will go places."
Having been through many ups and downs in his fish sauce-making business, Le Anh believes that consumers would not give up the traditional fish sauce as it is considered the soul of Vietnamese cuisine and has been an indispensable part of every Vietnamese meal for centuries. Fish sauce is not only a liquid condiment but also part of the Vietnamese culinary emotion and culture.
(*) Le Gia Foods and Trading Services Co., Ltd.
You might be interested in