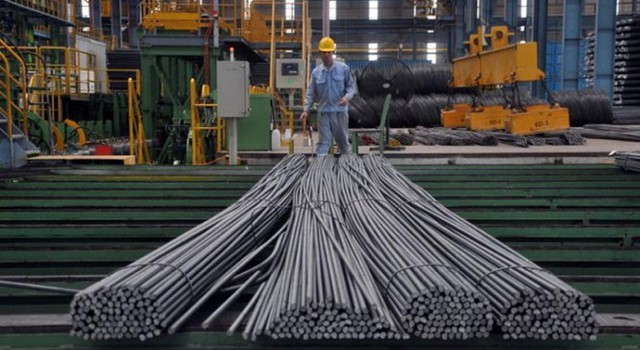 HCMC – Domestic steel prices have picked up after a long time of staying high, reported the local media.
Each ton of steel now exceeds VND15 million, up VND200,000 compared to a week ago, but down over VND3 million against its peak in May 2021.
The Hoa Phat steelmaker announced its second price hike in the first month of 2023 three days ago with a rise of VND200,000 for each ton of rolled steel CB240, making every ton of construction steel of this corporation amount to VND14.94 million in the north and VND14.91 million in the central region.
Similarly, each ton of construction steel at steelmakers such as Thai Nguyen, Viet Nhat and Viet Y increased by VND200,000.
Plain steel CB240 and rebar CB300, CB400 and CB500 of Thai Nguyen steelmaker were adjusted up from January 12, at over VND15 million excluding value added tax (VAT). Specifically, plain steel CB240 was increased at VND15.4 million each ton, rebar CB300 at VND15.75 million, and CB400 ranging from VND15.45-15.65 million, subject to its diameter.
Meanwhile, Viet Duc steelmaker recorded the highest price hike this time at VND210,000 per ton, resulting in an increase of rolled steel CB240 and rebar CB200 D10 at VND14.7 million and VND14.9 million, respectively (exclusive of VAT).
According to VNDirect, local steelmakers are still facing hardships in the first half of this year due to a plunge in construction demand and an increase in input material prices. However, the domestic steel industry is expected to rebound in the second half, resulting from the country's increased public investment disbursement and China's reopening.
You might be interested in