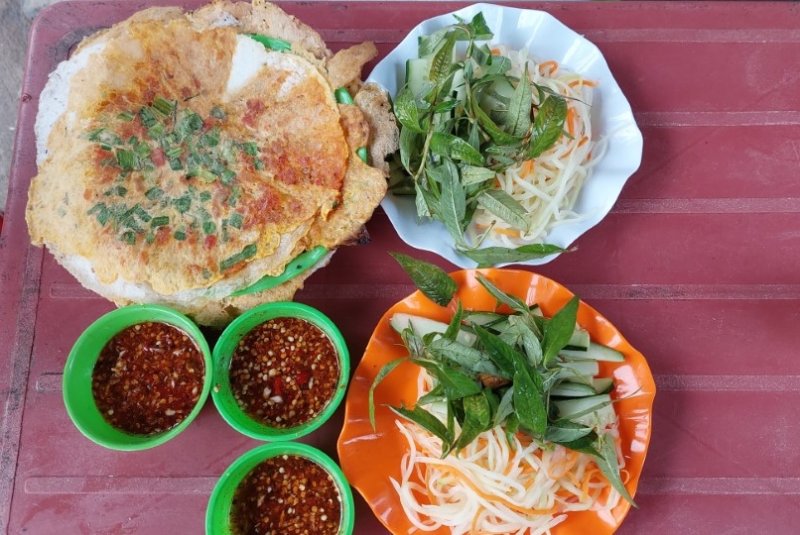 Hue pressed cake, also known as "banh ep", attracts people's hearts (and stomachs) not only for its combination of various flavors but also for its reasonable price.
The main ingredient for banh ep is tapioca flour. First, the cook kneads the flour thoroughly with water and then divides it into small round doughs. The cook then places ground meat and minced green onions on the dough. The meat is marinated and stir-fried first, so the cake is processed faster and has more flavor.
Before pressing the cake, the cook places the pressing mold, made from cast iron, on the stove to heat both sides of the mold evenly. A thin layer of oil is added to the mold, so the cake does not stick when pressed.
The dough is put in the middle of the mold. The cook uses force to squeeze the mold, making the dough small and thin. After 20-30 seconds, the cook opens the mold again, adds some quail eggs or shrimp and terrine, and presses the mold even tighter than before so the cake achieves the maximum thickness.
A bowl of sweet and sour fish sauce is served with banh ep and made spicy to meet Hue's standards. Diners roll the cake with herbs, pickled papayas, shredded cucumbers and carrots, dip it into the fish sauce and savor it.
Each cake is reasonably priced at only VND3,000-5,000. Tourists can visit Thuan An Ward of Hue City, the birthplace of the Hue pressed cake, to enjoy the cakes.
You might be interested in