Advantages not fully tapped
Although industrial sectors are Hai Phong's strengths, supporting industries have not developed commensurately. For example, the shipbuilding industry has almost no accompanying supporting industry, such as enterprises assembling ship diesel engines, producing boilers and ship hatch covers, painting, welding rods, welding wires, fireproofing doors, making anchor chains and marine instruments.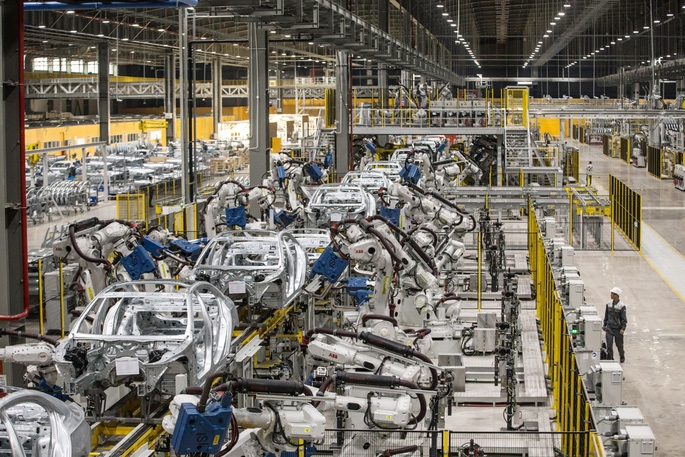 Hai Phong prioritizes the development of mechanical industries in its long-term strategy
In 2021, Hai Phong's shipbuilding industry continued to face many difficulties with slowing growth and its industrial production index falling to 23.21 percent.
Despite many preferential state policies, the auto manufacturing and assembly industries have also attracted very few enterprises manufacturing parts for the supply chain.
The automobile manufacturing industry in Hai Phong still maintains an average growth rate for traditional products, such as trucks under 10 tonnes, and it recorded strong growth in 2019 and 2020 thanks to the building of the Vinfast automobile production complex. In 2020, the industrial production index increased by 19.03 percent and rose to 57.27 percent in 2021. The VinFast complex attracted foreign investment in large-scale factories to manufacture spare parts, car seats, front and rear bumpers, and assemble engines and weld car frames.
Policies for support industries
The Hai Phong City People's Committee plans to adopt policies to boost the supporting industry and attract investment, especially in mechanical, automobiles manufacturing and assembling projects and in support industries of the auto industry in the city, and improve scientific-technological capacity and human resources of supporting industries.
Hai Phong will launch a support program for building technical infrastructure of industrial clusters and a program to develop supporting industry in Hai Phong City to 2025. Accordingly, infrastructure development and investment attraction in a number of planned industrial clusters to develop mechanics and supporting industries will be synchronously deployed and built.
The city will also prioritize the development of support industries to serve key industries so as to increase production value and participate more deeply in the global value chain. These are industries that play an important leading role in the city's industrial restructuring process.
By 2025, Hai Phong plans to develop 15 industrial parks covering a total area of ​​6,418 hectares, and 23 industrial clusters of ​​973 hectares to attract investment in supporting industry development.
As part of its long-term strategy, Hai Phong City strives to restructure its local industries, prioritizing the
development of mechanical engineering, electrical and electronic equipment, chemicals, and related support
industries.
Viet Anh
You might be interested in