Thang spoke at an event in Hanoi on reduction of plastic waste co-organized by ISPONRE, the Worldwide Fund for Nature (WWF) Vietnam and other partners. He said this is one of the initiatives under the "Rethinking Plastics: Circular Economy Solutions to Marine Litter" project co-funded by the European Union and the German government and implemented by the Expertise France agency in Vietnam.
Plastic waste pollution is a major global problem. Each year, 400 million tonnes are produced, with 79 percent ending up in landfills, while only nine percent are recycled. Like other countries in the world, Vietnam is facing a problem of dealing with this huge amount of waste.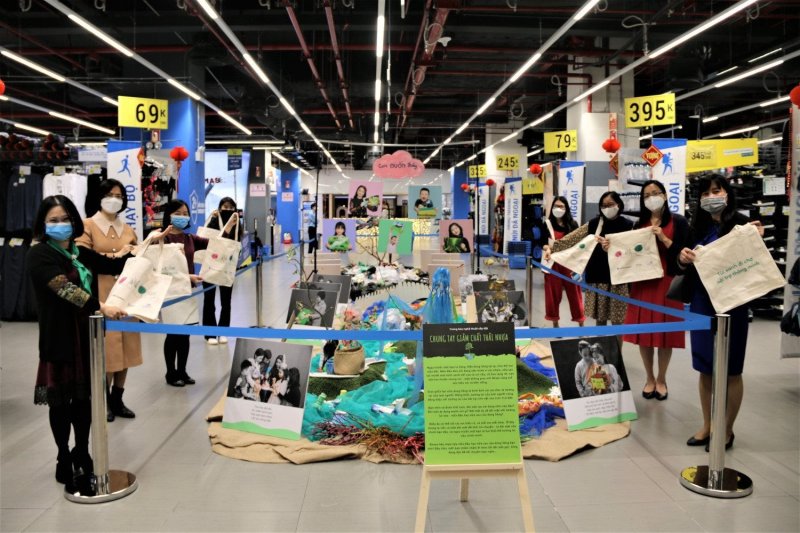 Hanoi has launched communication campaigns in recent years on plastic waste reduction
In order to minimize plastic waste, Hanoi has supported many manufacturers, businesses and retailers in efficient use of materials to reduce waste generation, promote the circular economy and sustainable development, advance innovation, creativity and application of environmentally-friendly technologies, and upgrade equipment and management processes in order to enhance the position and competitiveness of environmentally friendly enterprises.
Environmentally friendly packaging
In 2022, Hanoi aims to strive for all supermarkets and trading centers to stop using non-biodegradable plastic bags and switch to using environmentally friendly packaging.
One of the businesses in the capital strongly responding to the call to reduce plastic bags in retail systems is the Decathlon store at Vincom Royal City. "Decathlon is always committed to taking action for the environment. We are excited and looking forward to the debut of the Retailer's Alliance in Hanoi, which will contribute to protecting the environment as well as conveying the message of environmental protection to customers," said director Doan Binh Duong.
According to Deputy Director of Hanoi's Department of Industry and Trade Nguyen Thanh Hai, the department has been deploying a number of measures, including promoting sustainable supply chains, encouraging the distribution of environmentally friendly products at supermarkets and commercial centers, introducing sustainable production and consumption into training and teaching curricula at all levels, and minimizing plastic waste in distribution and consumption.
Minh Ky
You might be interested in