Bitcoin (BTC) has been on the rise since hitting a local low of $33,000 on Jan. 24. It is currently approaching the first critical Fib and horizontal resistance area.
Ascending parallel canal
Bitcoin has been trading in an ascending parallel channel since April 2021. It hit a low of $32,917 on January 24, 2022 and recovered. The move was intended to confirm the channel's support line, and BTC has since rallied 13%.
The main resistance area is located at $40,800. This is an area that previously acted as support until BTC broke below it on Jan. 21. Therefore, this zone is now expected to resist.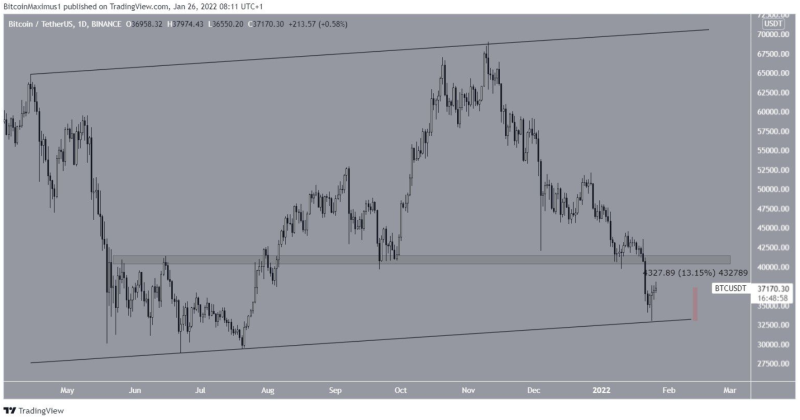 BTC/USDT daily chart | Source: TradingView
The leap continues
The two-hour chart shows BTC approaching the $38,200 resistance. This is both 0.5 Fib retracement resistance and horizontal resistance area. A break above this would be an important development in creating a bullish structure.
Technical indicators are also giving bullish signals. The RSI, which is a momentum indicator, has moved above the 50 level (green symbol), which suggests that the short-term trend is bullish. Similarly, the MACD is about to break into the positive zone.
However, it remains to be seen if this move above 50 (red circle) is a short-term deviation similar to what happened on January 20th.
A break and close above $38,200 would do much to confirm that the uptrend was more than just a mild rally.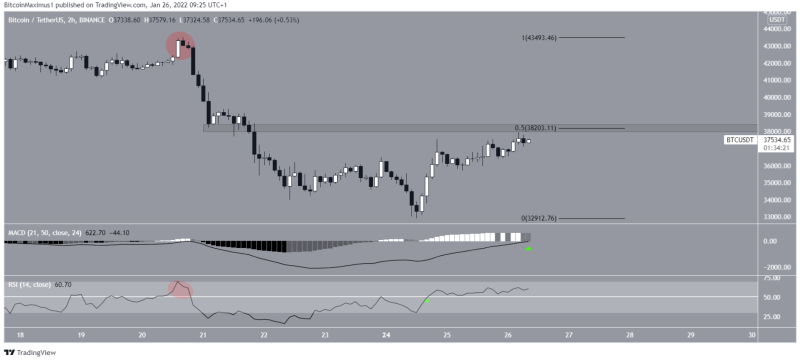 BTC/USDT 2 hour chart | Source: TradingView
Short term movement
The 15-minute chart shows BTC attempting to move above the $37,400 area, where it previously rejected it twice (red icon).
However, the price is trading within an ascending parallel channel, which is usually a corrective pattern. Movements within the channel also have frequent crossovers, further supporting the possibility of BTC correcting.
Based on these signals, a break below the channel seems the most likely scenario.
Despite this potential short-term drop, the long-term wave number suggests that BTC has bottomed.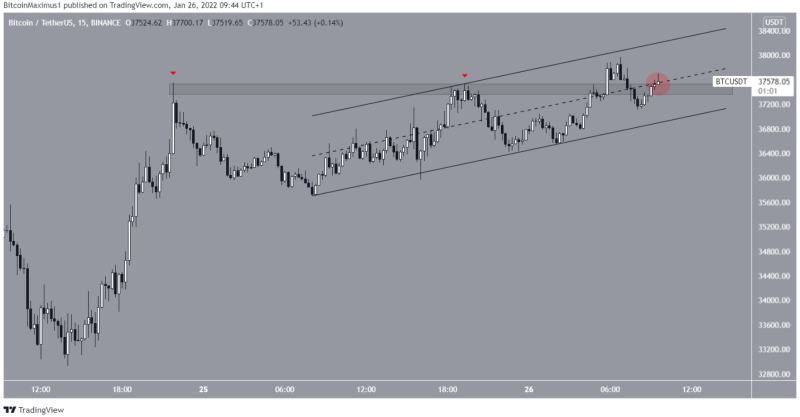 BTC/USDT 15-minute frame | Source: TradingView
You can see the BTC price here.
Join Bitcoin Magazine Telegram to follow news and comment on this article: https://t.me/coincunews
Disclaimer: This article is for informational purposes only, not investment advice. Investors should research carefully before making a decision. We are not responsible for your investment decisions.
SN_Nour
According to beincrypto
You might be interested in