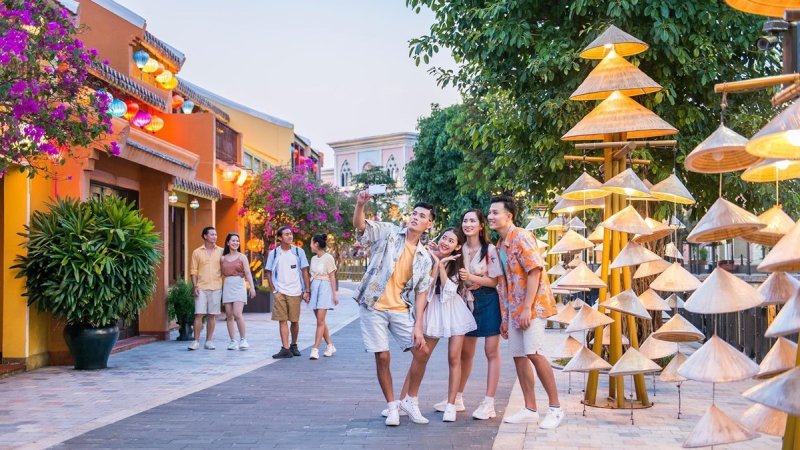 Illustrative image    
NDO - At the end of December 2021, the Ministry of Culture, Sports and Tourism issued a programme to launch domestic tourism with the theme "Safe tourism - Full experience". The programme is being implemented in accordance with Resolution 128/NQ-CP of the Government, aiming to gradually contribute to the recovery of the tourism industry and adapt safely and flexibly to effectively control the COVID-19 epidemic and create market confidence in safe and attractive domestic tourism.
The two focus areas identified by the tourism industry are: to safely welcome and serve tourists; and organising communication, advertising and promotion activities to reopen domestic tourism. Accordingly, the task of local tourism management departments is to develop and implement plans and criteria for reopening domestic tourism in the spirit of safe and flexible adaptation under the direction of the Government. In the immediate future, the industry will focus on measures to promote domestic tourism associated with disease safety, especially during the New Year 2022 and Lunar New Year holidays. At the same time, it is necessary to ensure disease safety for tourism activities in the area according to regulations.
It is necessary to organise the recovery of domestic tourism in the area; connecting with localities in the country to develop inter-regional routes and safety points. It is necessary to have specific plans to support businesses to soon bring tourists to the locality under package tour programs. The localities should publicise the stimulus policies, information, and conditions for welcoming tourists to the localities so that businesses can actively organise tourism programs. It is necessary to strengthen training on regulations and measures to ensure the safety of tourists, and strengthen state management towards the effective reopening of tourism while ensuring security and safety.
Tourism service businesses must have specific plans and criteria to ensure safety, flexibility, and effective control of the COVID-19 epidemic.
It is necessary to respond to and develop tourism stimulus programmes and packages, diversify services, and improve product and service quality. It is necessary to provide adequate information and notice on the conditions of readiness to welcome guests, regulations on safety assurance, services and promotional prices, and fulfil commitments to tourists, while at the same time actively building new tourism products and services and improving professionalism in serving tourists. It is also necessary to use the "Safe Vietnam travel" application and the COVID-19 safety registration and declaration system to connect to the national COVID safety system.
The Vietnam Tourism Association and the local tourism associations need to have a plan to implement a programme to restore domestic tourism. It is necessary to encourage member enterprises to develop stimulus policies to serve tourists, coordinate with airlines and transport and service providers to establish alliances, stimulate tourism demand, and improve product quality.
The Vietnam National Administration of Tourism has asked airlines and tourism transport enterprises to coordinate with tourism businesses and destinations to develop package tourism programmes with quality and incentives to stimulate domestic tourism demand, as well as to implement and promote the work of ensuring passenger safety.
Immediately after the Programme was launched, many localities signed tourism cooperation agreements. Hanoi signed cooperation agreements with 11 provinces and cities on building a "safe corridor for tourism"; Kien Giang and Binh Dinh signed a cooperation agreement on tourism development under new normal conditions; and Ho Chi Minh City's tourism industry launched a series of new tourism products and hundreds of promotions and incentives on the occasion of the Lunar New Year. This is a steppingstone for the recovery of the tourism industry in 2022.
Currently, the Government has directed to continue implementing support packages while quickly removing obstacles in the implementation process, synchronously deploying policies to support businesses and workers in the tourism industry to recover and adapt to the new situation, and accelerating the injection process to increase vaccine coverage in the country, especially in big cities and areas with tourist attractions .
In addition to the Government's social security policy to train skills in a new context to attract tourism workers back to work, businesses need to develop and publish contingency plans, commitments, policies to support, employ workers, safe working conditions, ensure the health of workers when the epidemic is complicated at each level, so that employees can work with peace of mind.
With the strong, proactive, and active participation of local authorities, the tourism industry and the companionship of businesses, and the joint efforts of relevant ministries and sectors, it can be said that New Year 2022 will bring new opportunities for Vietnam's tourism industry to recover strongly and regain growth momentum.
QUANG DONG
You might be interested in