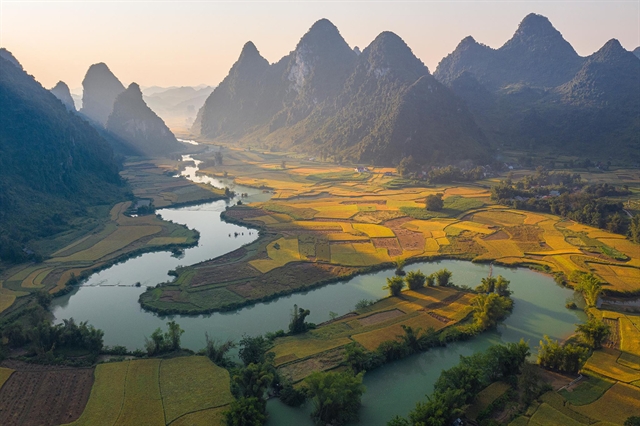 Quay Sơn River is a very poetic and beautiful place. — Photo didauvui.com
Thanh Giang
As one of the rivers flowing along the borders of the country, Quay Sơn River as poetic and beautiful as a picture. It runs through the rolling limestone mountains of Trung Khanh District, Cao Bằng Province.
In the Sino-Vietnamese sense, Quay Sơn is a river flowing around the mountain. The river originates from countless small murmuring streams flowing down from the mountains along the length of the Viet Nam – China border, the confluence of two small tributaries from Phong Nặm and Ngọc Con communes, forming the magnificent mainstream of Quay Sơn in Đình Phong Commune in Trung Khanh. The river flows through Chí Viễn Commune to Co Muong Hamlet in Đam Thủy Commune, before reaching the legendary Bản Giốc Waterfall.
The entire river is about 89km long, covering an area of 1,160sq.km. The average altitude of the river is 556m. The section flowing through Cao Bằng is 49km long, with a basin area of 475sq.km.
With its persistent internal force, Quay Sơn River is always full of water, weaving through the limestone mountains. River water from majestic and poetic Bản Giốc Waterfall flows, accreting fertile alluvium on both sides, creating a productive strip of land with lush crops all year round.
We went to Quay Sơn River in the early autumn days. Fortunately, the weather was very beautiful. The section of Quay Sơn River flowing through Co Muong Hamlet, Đam Thủy Commune is very peaceful, flat and beautiful like a watercolour painting.
The weather was cool, the sunlight bright like honey, the sky blue, and the water of Quay Sơn River as clear as a giant mirror, with silhouettes of stilt houses and lush trees. In the distance, each flap of reed cotton bloomed dreamily on the hillsides, bamboos swing in the rustling wind, ripe rice fields look like a beautiful picture.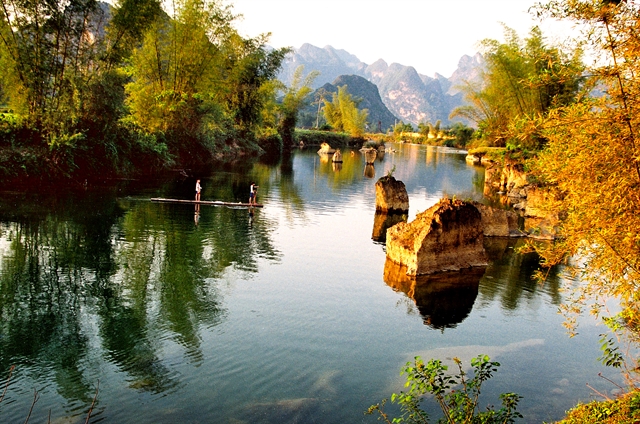 The charming scenery of Quay Sơn River. — Photo baocaobang.vn
Getting out on the water
To be immersed in nature and feel the wonderfulness when discovering the Quay Sơn River, some young people go kayaking and Stand Up Paddle Boarding (SUP). In the area of ​​Quay Sơn River, there are also some places to rent kayaks and SUP. This is a great way to experience nature.
To go kayaking on the river, visitors must go in groups with a group leader, with protective equipment.
According to Nguyễn Hải, who used to lead many groups of tourists rowing on Quay Sơn River, people can only row about 6-10km of the river, from Bản Giốc Waterfall to the Đam Thủy border post, or along other routes such as Keo Na Village – Dít Village, Hang Thoang – Dít Village, Thoong Cót – Dít Village.
At a spillway, after warming up on the shore, the kayaks and their owners launched.
Kayaking is a favourite sport on Quay Sơn River. — Photo vietnamtourism.gov.vn
"Warming up to let your limbs get used to the water for a few minutes before paddling will help you feel less suffocated when you sit on the boat," said Hanoian Phương Thủy, who has been passionate about kayaking for several years.
Sitting on the boat, Quay Sơn River begins to appear with an overwhelming beauty that we can't feel when walking on the shore. At that time, the bamboo groves, fields, and mountains appear very close. Floating on the deep blue water, in the middle of the vast space, we feel like we are in heaven. — VNS
You might be interested in