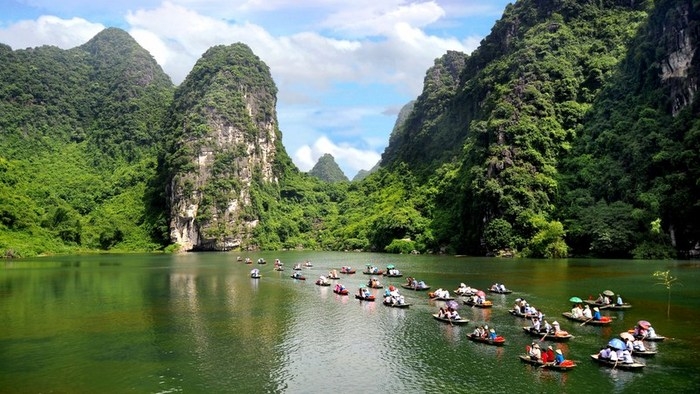 Visitors to the Trang An scenic landscape complex. (Illustrative image)   
NDO – The Ministry of Culture, Sports and Tourism on December 16 announced a programme to promote the domestic tourism in a safe and flexible adaptation and effective control of COVID-19 pandemic.
The programme, themed "Safe traveling - Full experience", aims to restore the market's confidence in safe and attractive domestic tourism.
Under the programme, the tourism activities will be restored under a roadmap, from the intra-provincial and regional to domestic markets, contributing to gradually the tourism sector's recovery to meet the traveling and relaxing demand of people.
In addition, the programme will contribute to introduce the destinations as well as diverse, attractive and safe products and experiences.
The Ministry of Culture, Sports and Tourism assigned the Vietnam National Administration of Tourism as the host unit in organising, urging and review the implementation of the programme.
The Departments of Tourism, the Departments of Culture, Sports and Tourism and the Departments of Culture, Information, Sports and Tourism will advise the provincial People's Committees to implement the programme depending on the situation of the pandemic in association with epidemic prevention and control measures.
The tourism associations and businesses should also develop specific plans related the programme and report obstacles to the ministry.
You might be interested in