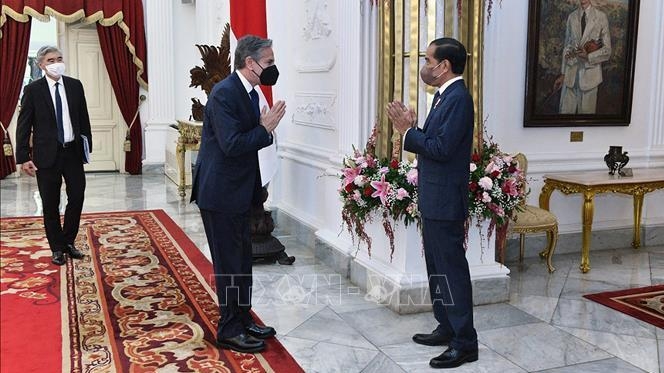 US Secretary of State Antony Blinken and Indonesian President Joko Widodo (Photo: AFP/VNA)   
NDO/VNA - Indonesia and the US have committed to reinforce their concrete cooperation, based on mutual respect and mutual benefit during a visit by US Secretary of State Antony Blinken to Jakarta.
At a press conference following the talks with the US guest, Indonesian Foreign Minister Retno Marsudi affirmed that the US is a strategic partner of Indonesia.
On December 14, the two countries inked an MoU on the extension of maritime cooperation, which covers, among others, maritime security cooperation, marine resources, conservation, and fisheries management, as well as maritime safety and navigation.
In order to strengthen their security cooperation, the two countries also agreed to establish a 2+2 dialogue mechanism between senior officials from their ministries of foreign affairs and ministries of defence.
Indonesia and the US also commit to increase trade and investment cooperation. Two-way trade from January to October 2021 reach 29.6 billion USD, or increasing by 33.9 percent from the same period in the previous year.
In 2020, US investment in Indonesia reached 749.7 million USD, and from January to September 2021, US investment reached 1.3 billion USD, increasing by 73 percent only within just 9 months. Indonesia conveyed its hopes for the US to continue granting GSP facility. Investment opportunities in Indonesia are wide open, including in health sectors, digital, as well as energy transitions.
On development cooperation, Indonesia appreciates the US's increased commitment within the framework of Millennium Challenge Corporation Compact II for sustainable development projects in Indonesia, such as green economic development, digitalization, and access to funding, as well as gender equality and financing for women-owned MSMEs.
Blinken's visit to Indonesia aims to affirm the strategic partnership between the two countries and the importance of a free and open Indo-Pacific region. Earlier, the US Secretary of State met with President Joko Widodo on December 13.
You might be interested in