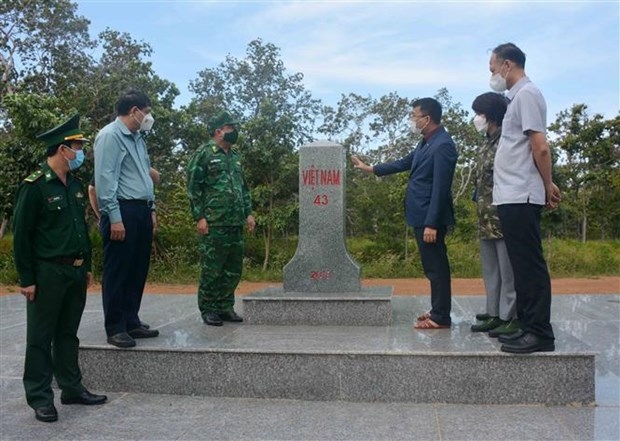 Officials from the Ministry of Foreign Affairs check Border Marker No. 43 in Dak Lak province. (Photo: VNA)   
NDO/VNA – A delegation from the Ministry of Foreign Affairs examined the border and territory management in the Central Highlands province of Dak Lak on November 11 and December 1.
The Dak Lak border guard force is assigned to manage and safeguard more than 73km of borderline with the Cambodian province of Mondulkiri. There are seven border guard posts located in four communes of Ea Sup and Buon Don districts.
At a meeting with the province's Border Guard Command, Deputy Minister of Foreign Affairs Nguyen Minh Vu spoke highly of the force's performance, especially in managing and protecting the border, dealing well with issues emerging, and advising the provincial administration about border demarcation and marker planting.
Vu, who is also Chairman of the National Boundary Commission, asked the force to push ahead with border management and defence.
The Command should continue assisting the Dak Lak Party Committee and People's Committee to work with relevant agencies of Mondulkiri province to soon open the Dak Rue (Vietnam) - Chi Miet (Cambodia) border gate pair.
The force also needs to maintain the traditional friendship and close coordination with its Cambodian counterpart so as to build the shared land boundary into a border of peace, friendship, cooperation, and development, according to the official.
The two countries share 1,137km of land border that runs across 10 provinces of Vietnam and nine provinces of Cambodia.
You might be interested in