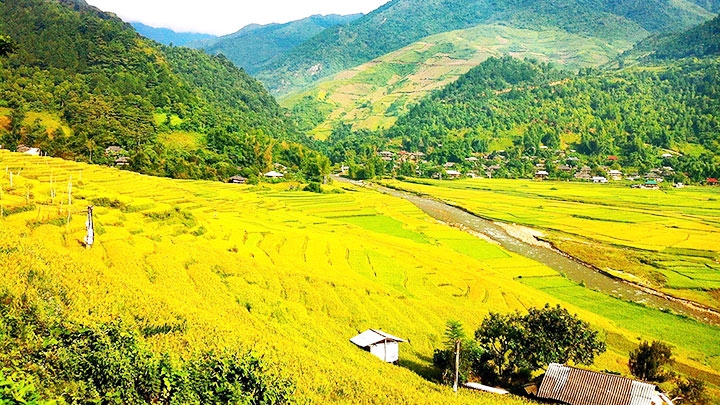 Rice paddies in Tu Le Valley bask in the golden glow of autumn (Photo: My Hanh)   
NDO – When autumn comes, the terraced rice fields are turning yellow in Tu Le Valley, Van Chan District, in the northern mountainous province of Yen Bai, casting a golden glow across the valley.
300km from Hanoi, Tu Le Commune is a stop on the journey to the touristy district of Mu Cang Chai, located close to Khau Pha Pass.
The autumn morning in the mountainous land is filled with a fresh and cool atmosphere even when the sun has risen high. The fragrance of ripe rice wafts in the air.
Tu Le Town is surrounded by three high mountains, Khau Pha, Khau Than and Khau Song. In early September, local people enter the rice harvesting season. Terraced rice fields in the valley are coloured with different shades of yellow and several places are dotted with green, creating a wonderful colour palette of the nature.
Nam Lung Stream flows through the rice fields, bringing water for irrigation and daily life for the area.
'Com' (young sticky rice) is a don't-miss dish for visitors to Tu Le. During the harvesting season, people can see images of Thai ethnic women busy with pounding and screening rice for making 'com'.
Diners should also try sticky rice served with grilled pork, which are other specialties of Tu Le.
In addition to admiring the golden charm of ripen rice fields, visitors to Tu Le can relax in the natural hot mineral water to soak in the refreshing energy of a blessed land.

You might be interested in