"Vietnam has adopted a series of policies to attract greater investment and modernize its agricultural sector," deputy prime minister Pham Binh Minh said.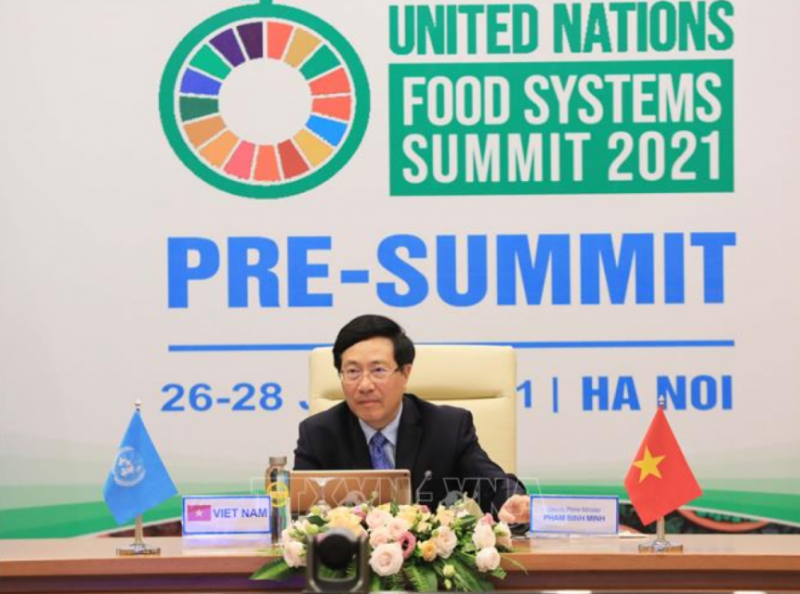 Deputy PM Pham Binh Minh speaks at the meeting. (Photo: VNA)
Deputy Prime Minister Pham Binh Minh has addressed the session "Catalyzing Country-led Innovation to Transform Food Systems" during the Pre-Summit of the UN Food Systems Summit held online on July 27. Vietnam aspires to become one of the food innovation hubs of Asia, he said.
It is necessary to promote the linkage of national and trans-national innovation networks, by connecting sci-tech research and application with the needs of businesses, the food systems as well as the whole economy, Minh said at the session as part of the Pre-summit of the UN Food Systems Summit.
"Vietnam has adopted a series of policies to attract greater investment and modernize its agricultural sector. We also took the lead in establishing the Partnership for Sustainable Agriculture in Vietnam under the World Economic Forum (WEF).
Vietnam will actively contribute to expediting the transformation of global food systems as a food-providing country that upholds "transparency, responsibility, and sustainability." This would serve to create comprehensive and sustainable breakthroughs for the entire system, and fulfill the 2030 Sustainable Development Goals (SDGs)," he said.
He emphasized the need to advance the use of digital technology and tap the achievements of the 4th Industrial Revolution in order to develop smart agriculture value chains, according to VOV.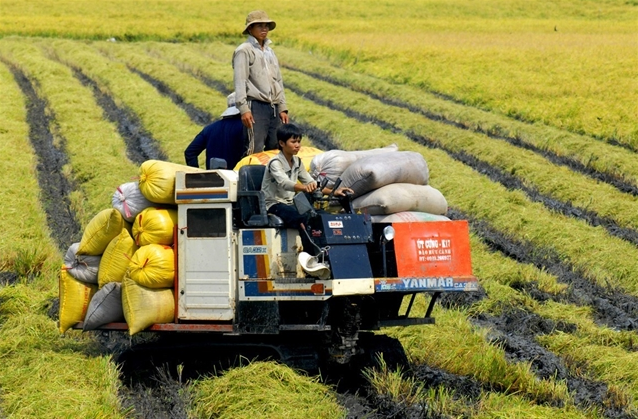 Photo: Vietnamnews
"Vietnam has made digital transformation a key priority in the agricultural sector and encouraged the application of digital technology in agricultural production and business activities," VNA quoted the deputy prime minister.
According to the Vietnamese official, food systems need to be transformed into "green", sustainable and low-emission models. Due attention should be given to eco-friendly agricultural production. Vietnam considers this approach an opportunity to promote "green" growth and develop new "green" products, services, and jobs, he said.
In this connection, he stated "Vietnam aims at fostering large-scale, low-emission and sustainable agricultural development, and strives to reach net-zero emissions. Vietnam will actively take part in the "100 Million Farmers Initiative: Transitioning towards net-zero, nature-positive food systems" and other initiatives on agricultural innovation in response to climate change."
During the meeting, senior leaders of participating countries and leading businesses shared experiences and made recommendations to accelerate food systems transformation, so as to ensure food and nutrition security, and help realize the Sustainable Development Goals.
Vietnamese Minister of Agriculture and Rural Development Le Minh Hoan proposed replicating initiatives put forward by farmers' organizations and small and medium-sized enterprises in connecting value chains, promoting the consumption of agricultural products in a transparent and fairway, and ensuring consumers' rights and health. He also proposed replicating their ideas of reducing greenhouse gas emissions and applying new achievements of technology 4.0 industry to maximize the value of agricultural products.
According to Hoan, effective innovative models constitute the prerequisite for all actors in the food systems to share the values, responsibilities, actions, and benefits in all socio-economic and environmental spheres.
The pre-summit is taking place in Rome, Italy, from July 26 – 28 to prepare for the UN Food System Summit 2021 scheduled for New York in September.
" "
Valerie Mai
You might be interested in