New Zealand's companies have been donated nearly 10 tons of fresh fruits to hospitals in Ho Chi Minh City - the country's currently largest pandemic hotspot.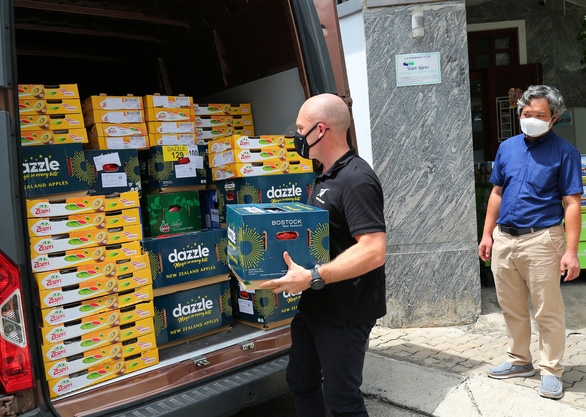 New Zealand fruits are loaded onto trucks for distribution to hospitals in Ho Chi Minh City. Photo: New Zealand Embassy
More than 9 tons of fresh fruits included 535 boxes of apples and 1.100 golden kiwis are set to arrive in eight hospitals in HCM City this weekend, providing patients and staff with some substance during this latest wave of Covid-19 cases.
The donations have been made by Bostock Group, Freshmax Exports, Golden Bay Fruit, Scales Corporation, T&G Global, and Zespri International, according to information from New Zealand Embassy in Hanoi released on a July 14 Facebook post.
New Zealand Ambassador to Vietnam, Tredene Dobson, said the donation by six of New Zealand's largest fresh produce exporters came from a real desire by New Zealand companies to show appreciation for the incredibly hard work that health care workers are doing right now and to provide a small amount of relief for patients.
"The New Zealand Embassy is pleased to show our support to Vietnam by assisting New Zealand exporters who, with current travel restrictions are not able to travel to Vietnam, but still want to contribute where they can by donating the highest quality fresh apples to the local communities they work with. These are very difficult times but through small gestures like this we can show the deep friendship between our two countries," said Ambassador Dobson.
New Zealand Trade and Enterprise (NZTE) Trade Commissioner and Consul-General to Vietnam, Joe Nelson, said NZTE is pleased to partner with New Zealand companies to help facilitate the donations.
"It's been an honour to partner with New Zealand companies for such an important cause – Vietnam is an important export destination for many of our companies but more than that, we have a strong personal relationship with a number of our Vietnamese partners and we want to do whatever we can to help," stressed Nelson.
This joint donation drive effort by the New Zealand Embassy and the NZTE was done in conjunction with the "Be Strong Vietnam Campaign" launched by Song Foundation, a HCM City-based non-profit organization.
Hospitals that receive fruits included Binh Chanh Hospital, Thu Duc City Hospital, Cu Chi Hospital, HCM City Medicine and Pharmacy University Hospital, Cho Ray Hospital, Hospital for Tropical Diseases; along with medical centers of Binh Thanh and Tan Binh districts.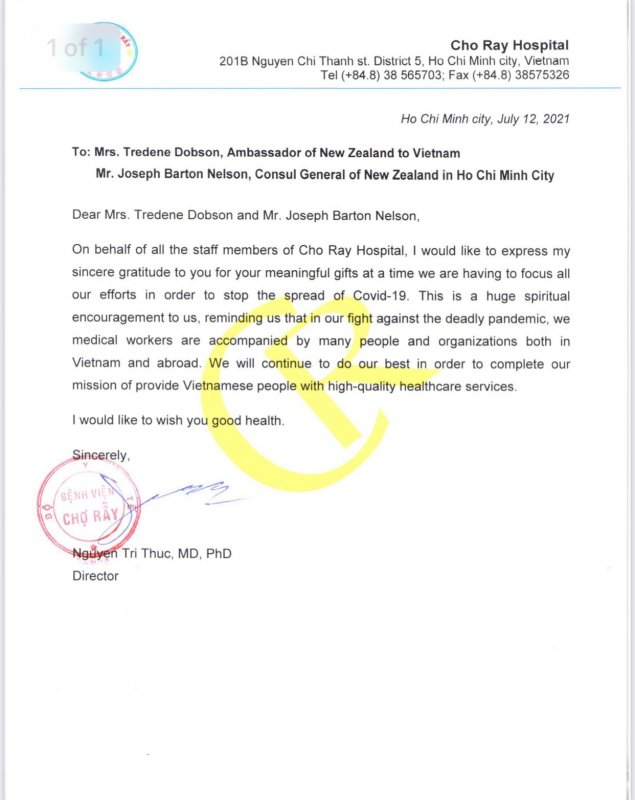 A thank-you letter from Cho Ray Hospital. Source: New Zealand Embassy
Since April 27, 2021, the fourth wave of Covid-19 has affected many provinces and cities across Vietnam. In which, HCM City is the country's currently largest pandemic hotspot.
As of July 14 morning, the city logged over 17,000 cases, with the number predicted to further increase. Although the number of asymptomatic and mild symptoms cases account for a high proportion of the city's count, the current treatment pressure is high.
The Vietnam's largest economic hub has imposed a 15-day social distancing order since July 9 to curb the raging coronavirus, leaving its bustling streets hushed up.
Earlier, the New Zealand Embassy has been working with the Vietnam General Confederation of Labour (VGCL) to provide immediate financial support for 420 female workers from factories in Bac Giang and Bac Ninh which have been economically affected by the recent outbreak.
New Zealand and Vietnam are celebrating 46 years of diplomatic relations this year (June 19). Over that time, New Zealand has worked closely with Vietnam to develop shared prosperity and stability, drawing on the best of New Zealand's knowledge and skills.
" "
Hannah Nguyen
You might be interested in