In Germany, the Vietnamese embassy held a ceremony on June 10 to present the Friendship Order to Siegfried Sommer, chairman of the Germany-Vietnam Association, and the Friendship Medal to Paul Hoffmann, former Vice-chairman of the German-Vietnam Association.
Speaking at the ceremony, the Vietnamese Ambassador to Germany Nguyen Minh Vu said he was honored to represent the Vietnamese government to confer awards to Sommer and Hoffmann. Furthermore, the ambassador praised Siegfried Sommer and Paul Hoffman, close and sincere friends of Vietnam.
Sommer worked in Vietnam for 10 years, modernized Hai Phong port, and improved human resources training in Vietnam. After completing his work in Vietnam and returning to Germany, Sommer played an important role in Germany – Vietnam Association. For the past ten years, he has contributed to strengthening friendship between the people of Germany and Vietnam as chairman of the association.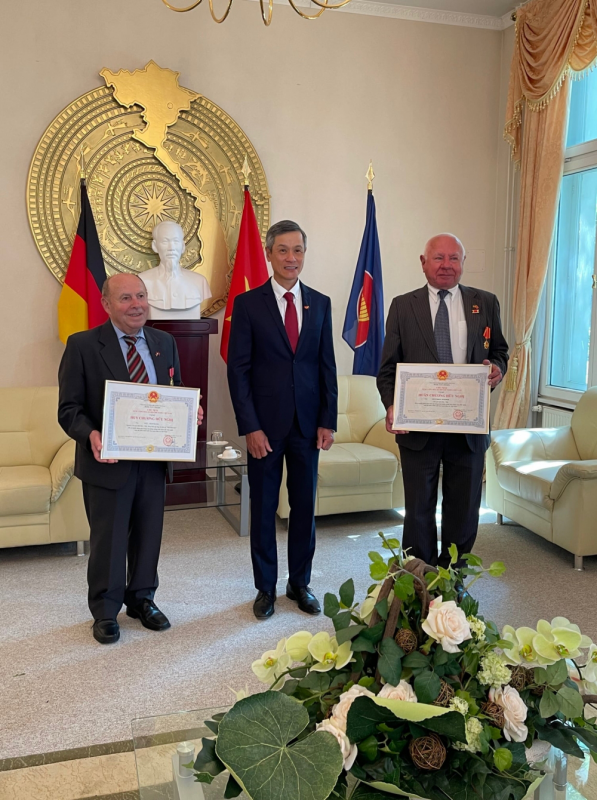 Ambassador Nguyen Minh Vu standing next to Siegfried Sommer and Paul Hoffmann/ Thang Muoi Performance Club
Hoffman worked at the representative offices of many German companies in Vietnam for many years, starting with German Democratic Republic's Interflug Airline in 1973. Since 2008, he has been participating in the Germany – Vietnam Association. In addition, Hoffmann is the founder and editor-in-chief of the e-newspaper Vietnam Info, bringing up-to-date information about Vietnam to German readers.
Recognizing their sincere feelings for Vietnam and contribution to Germany-Vietnam relations, the president of the Socialist Republic of Vietnam conferred noble distinctions of the State of Vietnam to the two Germans.
Touched by the recognition, Sommer expressed his affection for Vietnam. Sommer said he treasured the warm sentiments that the people of Vietnam had given him. Sommer felt the need to continue to enhance relations between Germany and Vietnam to respond in kind to the sincere feelings that his Vietnamese friends gave him.
Expressing his great honor to have received the prestigious award, Hoffman said he had spent most of his life working side-by-side with Vietnam since the Vietnam War. During the war, he witnessed and admired Vietnamese bravery, perseverance, and positivity, which left an everlasting impression. He stressed that he would never forget the warm and sincere feelings and the friendship the people of Vietnam gave him.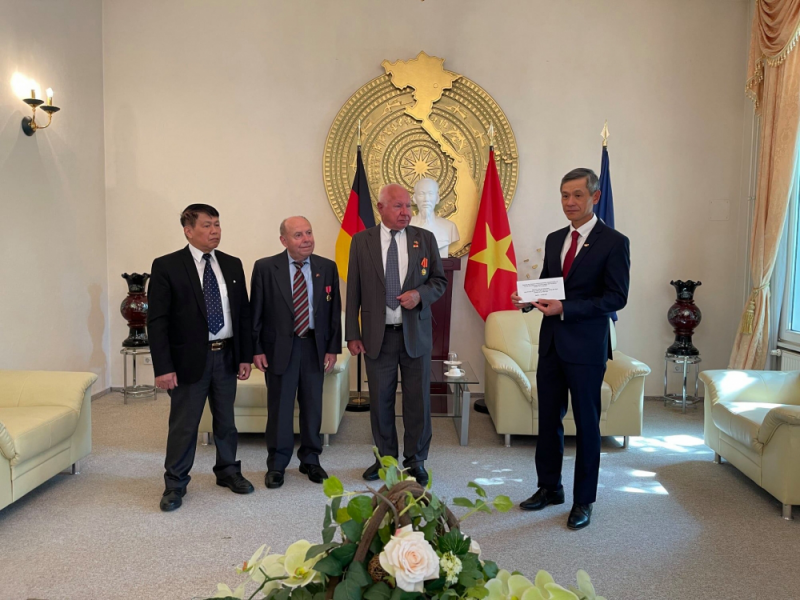 Sommer and Hoffmann donate to the Covid-19 Vaccine Fund of Vietnam / Thang Muoi Performance Club.
Following the ceremony, Siegfried Sommer, Paul Hoffman, and Nguyen Duc Thang, member of Germany – Vietnam Association Executive Committee, presented 200 euros to Ambassador Nguyen Minh Vu on behalf of the association for Vietnam's Covid-19 vaccine fund.
You might be interested in